Debutant director Om Raut on what went into the making of his blockbuster Tanhaji: The Unsung Warrior
The film has been shot entirely inside a studio in Mumbai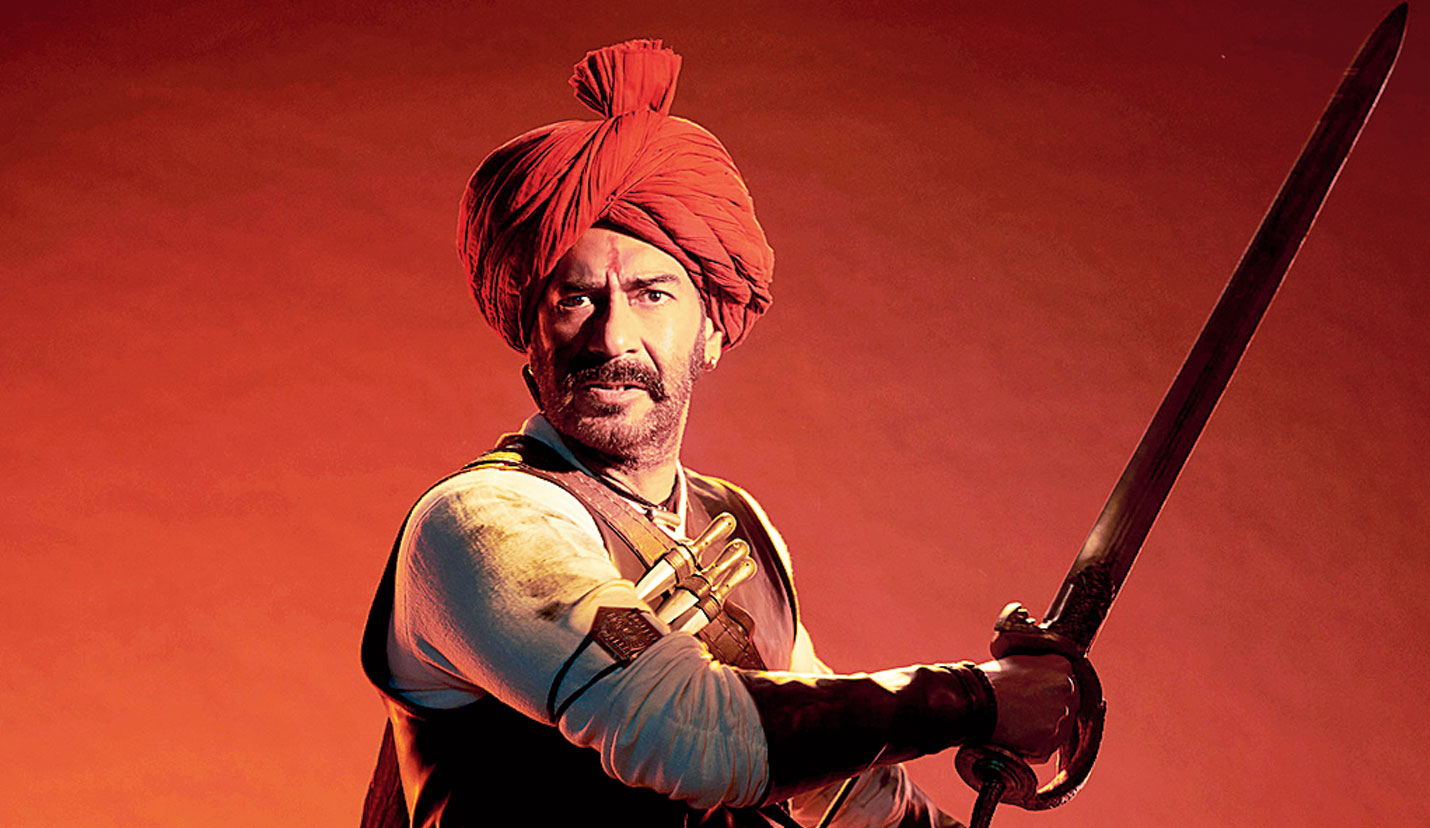 Ajay Devgn in Tanhaji : The Unsung Warrior
(Movie poster)
---
Published 27.01.20, 01:43 PM
|
---
Om Raut's journey into showbiz started as a child actor in Marathi theatre and films. He made his directorial debut with the Marathi film Lokmanya: Ek Yug Purush. Earlier this month, Om made his big Bollywood debut with Tanhaji: The Unsung Warrior, with Ajay Devgn, Saif Ali Khan and Kajol in the lead. Set in the 17th century, the war drama revolves around the conflict between the Marathas and the Mughals for the southern fort of Kondhana. With the film inching towards the Rs 200-crore mark, t2 chatted with Om to know more about his fascination with Tanhaji, how he envisioned Saif's Udaybhan Singh Rathore and why he decided to edit a particular dialogue from the film.
When you started work on Tanhaji, did you have a sense that it would be loved as much as it has been? 
Yes it is (being loved), and I did believe in it 110 per cent. I knew the power of the subject and that it had the depth required, so I was quite bullish about it. I might sound pompous but I'm just being honest about it. I wouldn't say this about my other films, but this one I would. It's not just about it working at the box office and doing the numbers it's doing, I think it's touching people's hearts. I truly believe that Tanhaji: The Unsung Warrior is no more unsung.
I hear you've been interested in stories about Tanhaji from your childhood...
Yeah, I grew up in a Marathi household in Mumbai, so the story was told to me as a child by my parents and grandparents. It was fascinating to know what it took to be a solider in Chhatrapati Shivaji Raje's army... the climb up on the back of a mountain to a fort which was 4,000 feet high in the middle of the night when the enemy was least expecting it. My parents had also told me stories about Maharana Pratap, Rani Lakshmibai, Tantia Tope, Chhatrapati Shivaji Raje, Tipu Sultan and others, but this one was very close to my heart.
In 2006-2007, a Greek friend of mine dragged me to watch Zack Synder's 300 while I was studying in the US. Two weeks after the film's release, we were constantly talking about the film, the war tactics and the type of political impact the war had on Greece at the time. He was very excited and proud about a Greek warrior's story being told. It was something that I couldn't get out of my head... that's when I thought there are so many stories of Indian warriors that I need to tell. The first one that came to mind was that of Tanaji Malusare.
When you returned to India after completing you education, you first made the Marathi film Lokmanya: Ek Yug Purush. When did Tanhaji the film start to take shape?
After the film on Lokmanya released in 2015, I straight away dived into Tanhaji. It's been exactly five years since I started the scripting and research. I narrated the film to Ajay (Devgn) in November 2017 and explained to him my vision for the film. We shot this in a very different way, it's a very atypical way of making cinema and different from how cinema is made conventionally in our country.
When you talk about making films in an unconventional way, what does that mean?
If you've seen the film, it looks different. It's its own world. From the clear skies that you see to the doors in the forts, everything had to be created from scratch. The film has been shot entirely inside a studio in Mumbai. It's a radical way of shooting…
So you shot completely against a green screen?
(Pauses) Yes and no. It's actually a lot more than just a simple green screen. I don't like talking about the making of a film because I think it takes away from the magic of what the audience sees on screen.
Saif Ali Khan has got a lot of praise for his interpretation of Udaybhan Singh Rathore. What was your brief to him for the character?
It's an author-backed role. Uday, for me, is like a wild animal. You can't predict his next move. I draw a lot of inspiration from gaming and every character, including Uday, has a special move. Saif had to work very hard on the swordplay. He would rehearse for seven-eight days before shooting every action sequence. Every time I spoke with Saif about Uday, I would compare him to Shahid Afridi. He is a master batsman, brilliant bowler and has so many world records but I don't like him because he plays for the rival team. That's who Uday is for me.
This is the second film you've made that is based on real people and real events. Is there an added responsibility compared to any other film?
You have to be extremely careful to not portray history incorrectly. Even though there are disclaimers at the beginning of every film about creative licences, it's important to remember that the penetration of cinema is a lot more in our country than say, books. What people see in films, they believe. As a maker you have a responsibility. Taking cinematic liberty means that you enhance a story but you can't tell untrue stories, like some makers have done in the recent past.
You talk about the responsibility of a filmmaker. It's hard to ignore the saffronisation of history in Tanhaji. A lot of critics have also remarked on this. How do you react to that?
When I am historically accurate, I can't change the colour of Shivaji Raje's flag, right?
But it's more than the colour of the flag. I am talking about the tone of the film.
I disagree. There is no intention to… I… I really don't know how to answer this question. There is no saffronisation... it is saffron (pauses). You know what I mean?
Fair enough. What happened to the 'Brahmin ka janau' dialogue that you had in the film's trailer?
Some people didn't approve of that dialogue. I realised that editing it wouldn't affect the narrative of my film, so we cut it out. I didn't want to get into an unnecessary controversy.