Be prepared for your brain cells to die a million painful deaths
Drive aspires to be a mash-up of Fast & Furious and the Oceans films, but is the kind of script that even Abbas-Mustan would have rejected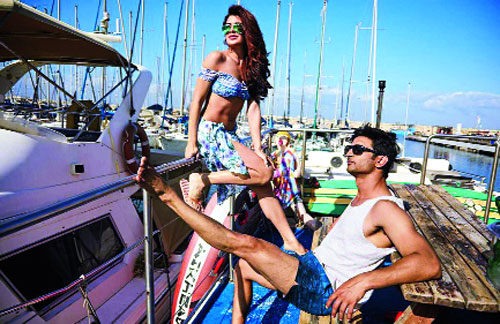 Sushant Singh Rajput and Jacqueline Fernandez in a still from the movie
---
Calcutta
|
Published 04.11.19, 01:34 PM
|
---
If you walked out of the hall in June 2018 thinking that Bollywood couldn't possibly churn out a worse film than Race 3, then we have news for you… Drive has just vroomed into Netflix. Drive aspires to be a mash-up of Fast & Furious and the Oceans films, but is the kind of script that even Abbas-Mustan would have rejected. Produced by Karan Johar and directed by Tarun Mansukhani — who gave us the tone-deaf but somewhat entertaining Dostana more than a decade ago — the best thing about Drive is that it's gone straight to a streaming platform, enabling you to skip major portions of this 159-minute torture fest. That is, if you choose to stream it in the first place. Well, we did and here are some reasons why you shouldn't!
⚫ The gang has been outwitted at a heist by a thief called King, who like Hrithik Roshan in Dhoom: 2, leaves behind a card with details of his next robbery at every place that he carries out a heist at. Even as they look out for King and the gold bars he's made off with, the gang plans to pull off the biggest robbery of their lives — at Rashtrapati Bhawan. Yes, you read that right!
⚫ Everyone has free access to Rashtrapati Bhawan, which is so overrun with tourists at every point that it looks like Alipore Zoo or Nicco Park on a Sunday. And no, you don't get to see the President even once.
⚫ Boman Irani and Pankaj Tripathi play some kind of government officers who get a whiff of the plan, plant a mole in the gang who does nothing but hang out with pretty women and drink himself silly, and then spend the rest of the film trying to gauge what the gang is up to when they could just easily walk up to them and arrest them. Their brain cells are put to work — while yours die a million painful deaths — when they compete with each other to crack the coded messages exchanged by Tara and her gang. One of them involves the gang 'talking' to each other through spam SMSes. The next time a weight loss clinic spams you, it could well turn out to be the location of 300kg of gold. #DontDeleteSpam
⚫ Sushant, who seems to be the only one visibly embarrassed about being a part of a film like this, smirks his way through the film, wearing a permanent smug expression that seems to make one feel that he's enjoying the torture that the rest of us are going through.
⚫ Tara and her gang get wind of the location where King has stashed his gold, but despite the race-against-time template, they first have to go home and change into leather pants and bomber jackets. After the final heist, the girls make sure that they are wearing glitzy gowns beneath their overalls, while the boys have on their black suits, right down to their bow ties. They need to dodge cops who are hot on their heels, but what better way to blend into the crowd than four shiny red Ferraris?
⚫ This is a film in 2019, but the VFX is of the lowest standard. Most of the races are so badly mounted that the cars look like Hot Wheels miniatures pasted on chart paper. There's even a VFX rendition of India Gate which almost ends up looking like The Gateway of India.
⚫ In a job that involves watching a couple of films a week and then writing about some, Drive is the kind of film that makes one rethink one's choice of a career. But then did someone say Karma badi kameeni hai?