Anil Kapoor — Young in Spirit
'The biggest advantage I have always had is that I have never been delusional'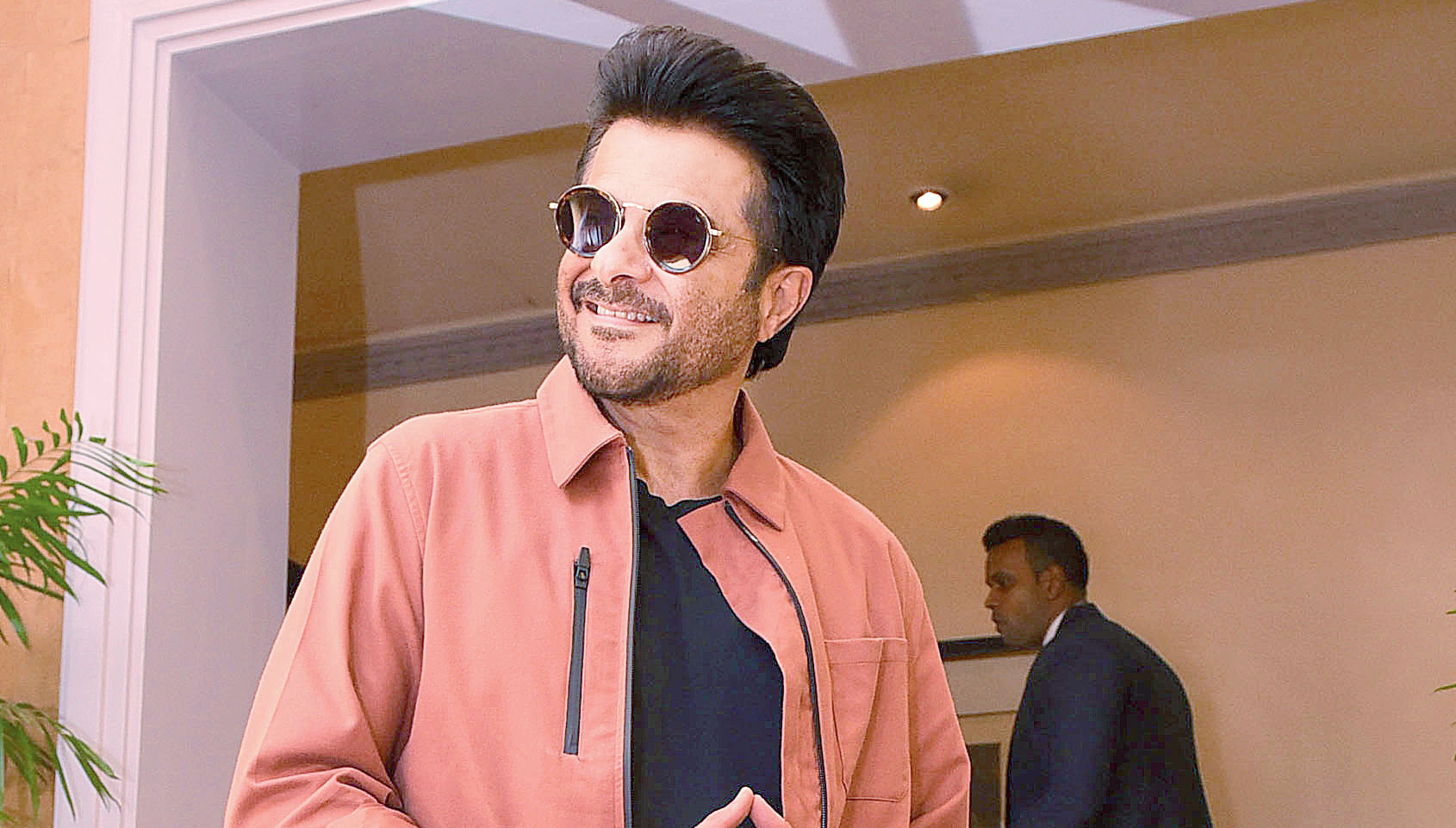 ---
|
Calcutta
|
Published 11.11.19, 02:46 PM
---
I love this kind of weather. Garmi se toh bahut zyaada achha hai, yaar. I like the rains, there's something romantic about the rains," were Anil Kapoor's first words to t2 as we settled down for a chat in his suite at Taj Bengal on a rainy Saturday afternoon. Dressed sharp in black tee and denims with a pop of colour added in the form of a jacket and, in true Anil Kapoor-style, looking way younger than 62, the actor who has defied both age and convention to script a career run spanning over 40 years, looked relaxed. He was in town to lend support to the initiative of Royal Stag Barrel Select Large Short Films.
After staring at the rain outside for a bit and exchanging notes on Calcutta vs Mumbai weather, we got talking on life and career at 62, how he looks back at Parinda @30 and what makes him proud of his kids.
Are there any must-dos when you come to Calcutta, or at least any potential must-dos that you can't fulfil because of paucity of time?
My trips are always so hectic, you know. And I always have a lot of commitments when I am here. The one thing that I always want to do when I am here is eat… eat like a maniac! (Laughs)
You eat?!
I do, of course I do! People think I don't eat, but I have a big appetite. Even last night, I told the chef here to get all the specials on the menu. Saari cheezein mangwaadi aur phir poora khaya and then I realised bahut khaa liya, yaar! (Laughs) I knew that I was going to come and eat here, so the first thing I did when I came in was go for a workout, kyunki mujhe dabaake khana tha. I had a good workout, ate like crazy and slept… and even when I woke up in the morning,
I was like, 'Zyaada khaa liya!' (Laughs) So then I did hot yoga in the sauna… it was fun (smiles).
So is working out a must-do, no matter how hectic your day is?
I try to. It's not necessary it has to be in a gym, but I somehow find a way. If not anything else, then a brisk walk or a run works for me. I always feel that I should earn my food! (Laughs the trademark Anil Kapoor crinkled-eye laugh) I feel good to eat when I earn my food. People get very surprised, but I never compromise on my food… I eat everything.
On Karwa Chauth a couple of weeks ago, you posted a video in which you literally ran as fast as lightning, eliciting comments like 'You are the next Usain Bolt'. The video went viral. What do you attribute this energy and never-say-die attitude to?
It's not something that's happened overnight. I had a condition called Tendonitis that had affected me badly… I was in a lot of pain for a few years and that was primarily the reason why I started doing comedy films because my body wasn't allowing me to do action films. I had swelling for weeks together and no one even knew. I went to doctors all over the world, but nothing helped. Finally, I went to Germany and met Dr Muller (Dr Hans-Wilhelm Muller-Wohlfahrt) who got me up and running in six months. I used to love jogging and running and had to stop that because of my condition… I have started that again and that makes me very happy. Very slowly, I am upping the ante.
I also went to Austria and met this sports scientist called Michael. He changed my technique of running. I used to run on my heels… he taught me to run on my toes. Dr Muller also treats Usain Bolt. When I entered his room, the first thing I noticed was a pair of golden boots that Usain Bolt had presented him… I took pictures of them like a fan! (Laughs)
The running video was, as you mentioned, on Karwa Chauth. I thought let me do something special for Sunita (wife). I had finished my exercise and was pretty warmed up and thought, 'Let me do a sprint'. It was a school ground packed with kids… I managed a small place and decided to run. Then I don't know what happened… I just flew! (Laughs) My trainer has very steady hands and he was the one who shot the video. More than asking me how I did it, a lot of people wanted to know who had shot it! Many people thought the camera was in a car. After that, I have tried to repeat it but I can't run as fast (laughs). I think it was Karwa Chauth, my warm-up, love for my wife… everything put together.
I feel blessed, you know. To be healthy and fit is a blessing, there is nothing quite like it. Baaki toh, you can buy everything, yaar. You can have a good bank balance and a great career… but if you don't have health, what will you do with all of that? I am trying to work on a 360-degree approach to healthy living. And I don't think I am doing badly (smiles).
You are here today to lend your support to short films. What do you think of the medium and how have you seen it evolve over the years?
Communicating what you want to say within such a short duration is an art, and anyone who can do that is extremely talented. I always admire people who make great short films. I do watch quite a bit of them time and again. Anything that is short today works well because attention spans are so less, you know. People don't have patience. Even my running video wouldn't have gone viral if it was longer… it was just a 100m dash. Anything short done correctly has tremendous impact nowadays. Of course, storytelling is storytelling. One cannot make one's film short just for the sake of it. Sometimes, films lose their soul on the editing table when they are snipped. You need to allow everything to breathe. Everything has its pluses and its limitations.
How easily adaptable are you to non-cinema forms of storytelling? You were one of the earliest to do TV with the Indian version of 24…
I am not suicidal but I have always been quite daring (smiles). I have taken risks in my career as well as in my personal life… so many of my decisions have been based on instinct. In terms of films, in terms of mediums, I have taken unconventional decisions. Even my marriage was a very instinctive decision… I was like, 'That's it! She's the person who I want to live all my life with'. Over the years, my instincts have sharpened… that's come about with travel, meeting new people, reading, watching new things…. The key is to be a good listener.
Since we are talking about non-traditional platforms, is working in the digital medium something that intrigues you?
I haven't done anything yet. 24 was streamed, of course later. I did a streaming pilot for Left Bank Pictures who also made The Crown. It was directed by Kevin MacDonald who made The Last King of Scotland and co-starred Richard Madden. It was called 'The Oasis' and was based on science fiction but unfortunately, it wasn't greenlit… I really don't know why. I have produced a Netflix show called Selection Day. There are a lot of scripts I am looking at, but I haven't made a decision yet.
Do you stream content?
I just saw The Game Changers.
I have started seeing The Spy… it's very good.
Your co-stars unanimously say that you are the youngest person on set. At 62, what still powers you?
First of all, let me tell you, I am not delusional… I know where I stand — physically, mentally, career-wise…. I think that's the biggest advantage I have always had… I have never been delusional. I have always under-estimated myself, in a way. And yet, I haven't under-estimated myself in a way that people walk all over me. I have always been a student, a listener, I try and keep my mind sane for my own longevity.
Obviously when they say I am the youngest on set, I don't take them seriously (smiles). Sometimes, they mean it, sometimes they say it to make fun of me, sometimes it's their way of being nice to me…. The energy I bring to my work is not for anyone else, it's for myself. If you are fit and leading a clean life mentally and physically, it reflects on the person you are.
I am not doing anything extraordinary… I am pretty normal, actually (smiles).
You have to work towards being energetic… it's not something you can fake. So I have my energies for a given time and then I fade away. After eight-10 hours, I start fading and I need my rest, like everyone else does. I need to be with my family, have a good meal and go to sleep. It's very normal. Sometimes, people burn both ends… I don't do that.
On what basis do you pick and choose your scripts now? Would doing a Pagalpanti, due to release on November 22, have more to do with the comfort and equation you share with a team you have worked before and less to do with the script and your character?
It's a combination of many things. With Pagalpanti, Anees (Bazmee, director) and I have collaborated so many times before. I also know the producers well. There's John (Abraham) in the film… we have done four films together before this one. There's Arshad Warsi… when I saw Munna Bhai, I was blown… I remember I was in Canada and I called him to congratulate him. I signed him for a film (Shortkut: The Con Is On) that, unfortunately, didn't work. I was happy to work with him in Pagalpanti. The presence of all these people, plus my role made me sign on. And, of course, the money (smiles).
Parinda just turned 30. What are your memories from making that film that still remains a landmark gangster film in Indian cinema?
To be honest, I never look back. I only looked back, thanks to Vinod (Vidhu Vinod Chopra, director) who recently uploaded a video talking about the behind-the-scenes of the film. And I was like, 'Yaar, yeh picture mein mujhe ab zyada credit mil raha hai! (Laughs) Jab release huyi thi toh tum log sab credit leke chale gaye thhe!' And it was all true… about Jackie (Shroff, who played Anil's brother) slapping me 17 times for a scene or that we shot that song (Pyar ke mod pe) in just six minutes. I had completely forgot about it because I don't like looking back. But in this case, it was fun to look back.
But I do remember how Sunita and Ayesha (Shroff, Jackie's wife) came to the set on New Year's Eve… we were supposed to pack up and go partying together. Vinod said he would pack up at 11 at night, but only did so the next morning at six. When we came out, we found Sunita and Ayesha sleeping in the car. Apni apni gaadi mein baith ke ghar chale gaye… that was our New Year's Eve night (laughs).
Today, all of us have gone ahead in life and made so many films, but Parinda was a film we all put our heart and soul into. It's a film we are all still known by and I feel proud to be associated with that film.
Today (November 9) is your son Harshvardhan's birthday. Do you see a little bit of yourself in each of your children?
Genetically toh hai hi… emotionally bhi hai… all three (Sonam, Rhea and Harsh) have a lot of me in them.
Are you closest to Sonam?
I am close to all three. Sonam keeps saying I am closest to her! (Laughs) Actually, what makes Harsh very similar to me is his commitment and his passion to work… much more than me, actually. He knows what he wants… confusion nahi hai. I find that to be a very special quality. I am very brutal and critical of my children's work, but I have liked Harsh's work in both his films (Mirzya and Bhavesh Joshi Superhero), especially in Bhavesh. Wherever I go, everyone talks to me about Bhavesh. He's doing some interesting work now. I am very proud of my kids.