Irrfan Khan is the best thing about a confused film that's about two halves and two ideas
It's a performance all right, but one that never feels like he's acting. It's in the eyes.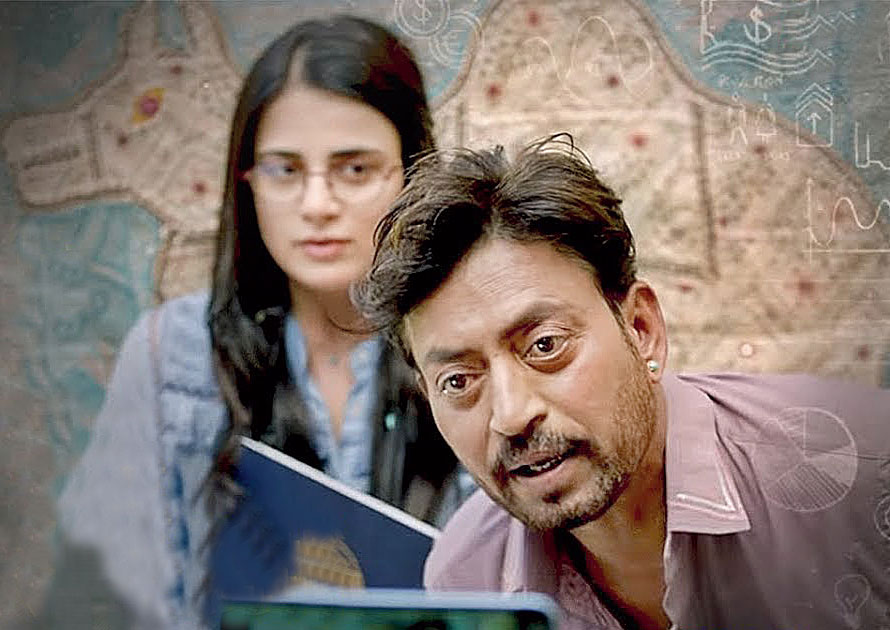 Angrezi Medium is, of course, not a Homi Adajania film. It's an Irrfan Khan film.
Still from the film
---
Published 13.03.20, 01:10 PM
|
---
There's a strange thing about Homi Adajania's films. They start off as being woke (which you realise later was "wannabe" being passed off as "woke") and before you know it, regressive ideas start being peddled in the garb of family values and a woman's need to toe the line. His 2012 film Cocktail — that gave us the Deepika Padukone of today — championed a woman's free spirit in the first hour, only to dish out the message that bowing down to conservatism and convention was her only shot at winning over the man she loved.
Angrezi Medium is a confused film about two halves and two ideas — one that talks about dreaming one's dreams and going out into the world to fulfil them and the other that says that a child's dream of freedom equals rebellion and can only come at the cost of losing emotional intimacy with the parents. Which only means that Angrezi Medium starts off with a lot of promise with the father-daughter bond at its core, but loses the plot in Half Two, over-bloating itself with contrived subplots and unnecessary characters.
Angrezi Medium is, of course, not a Homi Adajania film. It's an Irrfan Khan film. And the going's good as long as the man — in what is his first release in two years, and still in the throes of battling a critical illness — is in his element, playing off the emotions and energies of his co-stars and delivering an 'Irrfan act' in the way only he can. Take for instance, a scene in the dead of the night that involves Irrfan's small-town sweetmeat seller Champak downing a few drinks with his cousin Gopi (Deepak Dobriyal) and childhood pal Gajju (Kiku Sharda) on the terrace of his home. Since Amar Akbar Anthony released 40-odd years ago, almost every actor in Indian cinema has played drunk channelling Amitabh Bachchan sticking a Band-Aid on to his reflection in the mirror. But Irrfan brings his own to what is a Bollywood cliche, effortlessly delivering both tears and laughs in that one scene. It's a performance all right, but one that never feels like he's acting. It's in the eyes.
If only the rest of Angrezi Medium was as good as the man in the middle. A spiritual sequel to the 2017 hit Hindi Medium, that also starred Irrfan with Saket Chaudhary in the director's chair, Angrezi Medium explores the same idea of a parent pulling out all the stops to ensure his child gets a shot at good education. Hindi Medium seamlessly oscillated between making a comment on classism to invoking laughter organically. Angrezi Medium wants to be a commentary on many things, sometimes all at once, but most of it doesn't land as well as it should have.
The film starts off balancing humour with heart and establishing the indelible bond between Champak and his daughter Tarika (Radhika Madan). A single parent, Champak dotes on Tarika, although he isn't really on board with her childhood dream of studying in London. Tarika's goal of flying the nest and living in a foreign land is more romanticised than real, fuelled by watching the British royal weddings on TV and lurking on the sets of the odd Hollywood film shot in her hometown. On the cusp of 18, Tarika secures a seat in a London university on merit, but Champak's inadvertent words and actions jeopardise her future, prompting him to promise to her that he will do all it takes to ensure that she makes it to London.
Angrezi Medium benefits from the easy and heartwarming chemistry between Irrfan and Radhika. The scenes between the two in the first half bring on the smiles and the odd lump in the throat. Adajania competently mines small-town quirks to add tone and texture to the first hour. A delightful courtroom scene involving Champak and Gopi embroiled in a battle over a trademark in their sweet-selling business is especially memorable.
But the curse of the second half undoes much of the good work. The action shifts to London, prompting Adajania to lose focus of the core of his film and cram it with subplots and situations, most of which have little or no bearing on the story. Seasoned actors like Dimple Kapadia and Pankaj Tripathi are wasted in underwritten roles. Kareena Kapoor Khan, appearing in a couple of scenes as a perpetually angsty London cop, gets the worst deal, her role being strictly disposable.
It's left to Irrfan and Deepak Dobriyal to do much of the heavy lifting to keep Angrezi Medium afloat. The two play off each other well, with Irrfan ensuring that you do walk out with a smile — despite the film's overbearing sexist worldview — once the lights come on. Welcome back, Irrfan!
I liked/ didn't like Angrezi Medium because...Tell t2@abp.in