10 things that we don't see in Bollywood films anymore
Jaane kahaan gaye woh din!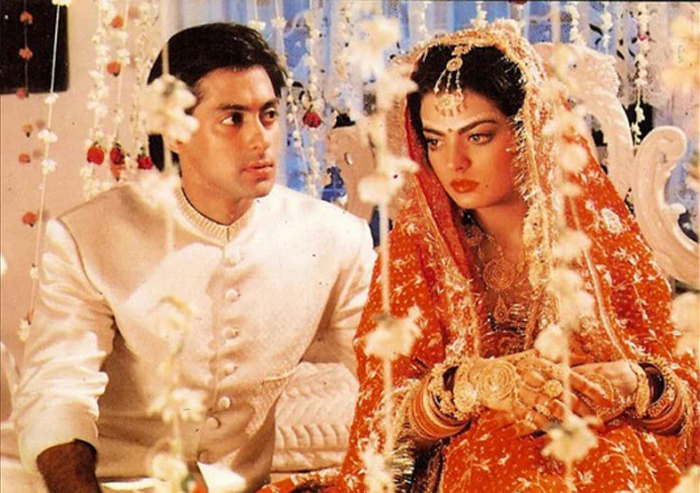 The demure bride, her heart pounding, sitting in the middle of the bed, waiting for her groom to walk in and gingerly lift her ghoonghat… this image is as old as Bollywood itself.
Movie still
---
Published 21.01.20, 02:29 PM
|
---
1. Blank cheque
Used as a bribe in various instances, but mostly deployed by a stinking rich Bolly dad to try and ward off his daughter's relatively poor boyfriend, often accompanied by the words, "Yeh blank cheque lo aur mere beti ki zindagi se hamesha hamesha ke liye dafaa ho jao." In most cases, the hero being the hero would turn out to be a honest bloke and either scoff at the blank cheque and walk away, or dramatically tear it up into pieces. Its second most popular function in Bolly films of the '70s, '80s and part of the '90s was as fee to a contract killer to bump off a nemesis. In the 1988 Yash Chopra multistarrer Vijay, the blank cheque became an important part of the plot, used several years later after it was signed to wreak revenge. Aah, the power of multiple zeroes!
2. Cash in briefcases
A contract killer, however, barely respected the worth of a blank cheque. Most often, it was a shiny briefcase stuffed with wads of gleaming notes acting as fee for every kind of shady assignment, from a hit job to a smuggling stint, that made him get down and dirty immediately. Mostly handed out in advance, the briefcase of cash — in case of a more lucrative assignment, it could well be a suitcase — was invariably afforded more gravitas by the line, "Baaki... kaam ho jaane ke baad". Sometimes, it functioned as ransom for a kidnapping where the briefcase had to be most often left behind in a dumpster. Today, the job is done with a duffel bag.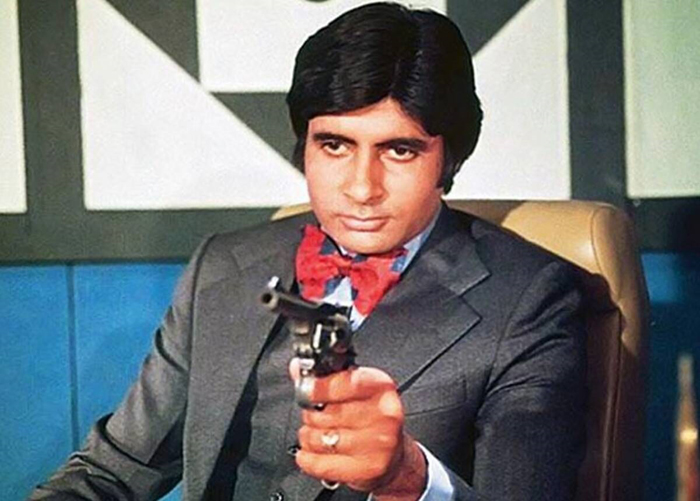 3. Smugglers, ahoy!
Smuggling was lucrative business in Bolly in the '70s, a reflection of the rise of many a Bombay real-life don and ganglord during that period. From charas to gold bars, the stash would invariably land in a boat somewhere on Madh Island in the dead of the night. There were no cell phones back then, so co-smugglers did the next best thing to communicate with each other — flash torches to a count of three — to signal they had arrived. That often backfired, with cops lying in wait swooping down on the smugglers and nabbing them. Smugglers were often protagonists, like Amitabh Bachchan in the iconic 1978 film Don. Their worth was best summed up in the 2010 film Once Upon A Time in Mumbaai, that was loosely based on the lives of Haji Mastan and Dawood Ibrahim… "Zindagi ho toh smuggler jaisi ... saari duniya raakh ki tarah neeche aur khud dhuen ke tarah upar".
4. Ramu kaka
The benign and benevolent old man who could be depended upon without hesitation, Ramu Kaka was more than just a domestic help. Always ready with a warm plate of food and an even warmer smile, Ramu Kaka went above and beyond his duties, and could be entrusted with top-secret information. He would often dole out invaluable advice that no one could take offence to because it would always start with, "Hain toh hum naukar, lekin….". The epitome of loyalty and trustworthiness, Ramu Kaka was often played by A.K. Hangal. Even when he had different names — like Raghu Kaka in Anand or Ramlal in Sholay — Ramu Kaka essentially remained the same.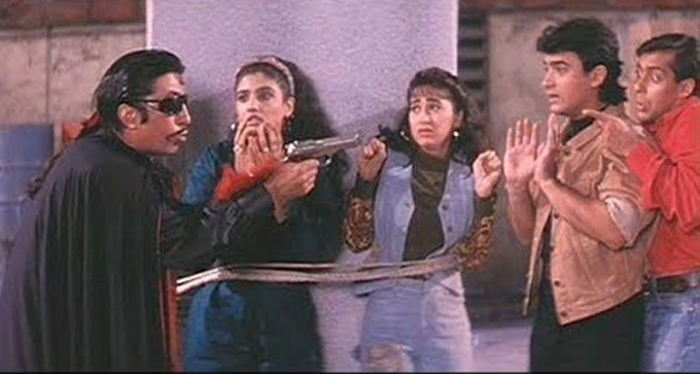 5. Heroines tied to pillars
The function of a heroine in some Bolly films of yore was to get kidnapped only for the hero to stage a daredevil rescue. This, of course, mostly happened in the climax, with the hero making a blazing entry to discover his love interest tied to a pillar in the villain's lair, which would often resemble a godown. There would be a couple of oil drums strategically placed to be thrown around during the free-for-all fight at the end. The distraught heroine — sometimes, there would be two — would wriggle and writhe but could do nothing to free herself from what looked like very loosely-tied ropes. Of course, the hero had to do it for her. In some films, like Andaz Apna Apna, this trope was used for comic relief, bringing on as many laughs as Gogo and his ghagra.
6. Firangi henchman
Every villain worth his salt had a white-skinned baddie as sidekick. While Gavin Packard was the guy beating many to pulp all through the '90s, the most recognisable firangi baddie was Bob Christo, whose one punch was enough to send many reeling, before he was inevitably smashed black-and-blue by the hero in the climax. Most often, the firangi henchman was the villian's trump card, called on when everyone else had failed. For the record, Christo, who also gave us a peek into his comedic chops in Mr. India, came to India from South Africa in search of actress Parveen Babi after spotting her on a magazine cover. He, of course, never went back.
7. Suhaag raat
The demure bride, her heart pounding, sitting in the middle of the bed, waiting for her groom to walk in and gingerly lift her ghoonghat… this image is as old as Bollywood itself. This was, of course, after the hero was literally pushed into the room by a gang of the heroine's giggling sahelis. From whispering sweet nothings to downing the ubiquitous glass of milk, the suhaag raat is a quintessential Bolly trope that has all but vanished from our movies, aided perhaps by the disappearance of the shy, virginal heroine. Songs were written around it — remember Suhaag raat hain ghoonghat utha raha hoon main/ Simat rahi hai tu sharma ke apni baahon mein from the 1976 film Kabhie Kabhie (that the film had a vastly problematic suhaag raat scene is the stuff of another discussion).
8. Singing over the phone
It would sometimes be a happy song, but pining for the beloved often meant singing to each other over the phone. This mostly happened in long-distance relationships, but could also come to the rescue of lovers when parental opposition to their relationship meant they couldn't meet. Amitabh Bachchan and Hema Malini took it a step further in Baghban by singing Main yahaan tu wahaan to each other in a public phone booth (hell, even PCOs have vanished now!) while Aman Varma had a tough time navigating the cord of his landline phone while wooing (and subsequently failing) Preity Zinta with Mujhe raat din in Sangharsh. Imagine how this vanishing trope would play out in this age of cellphone call drops!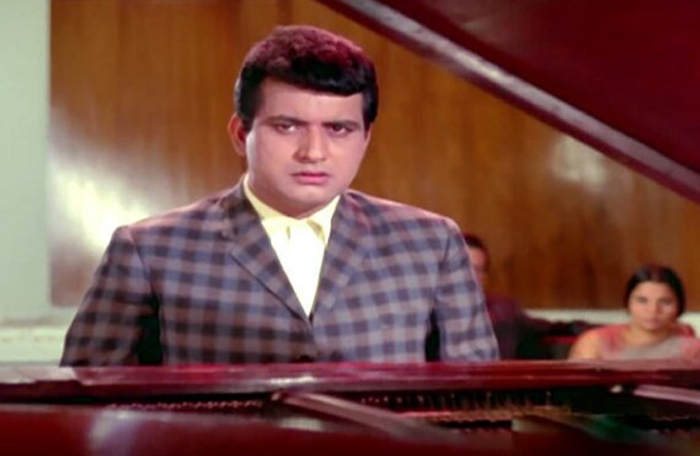 9. A piano... and a party!
Party at a mansion. Check. Piano right in the middle of the living room. Check. Mournful hero hammering away at the piano and singing a number with an odd mix of sadness and derision directed at the heroine. Check. Heroine stealthily wiping her tears in a corner. Check. Villain sneering menacingly. Check. Invitees at the party looking completely lost and clutching on to their empty whisky glasses. Check. Now how many times have we seen that? And yes, thank god we don't see it any more!
10. Villain's lair
All through the '80s, the over-the-top villain was the guy having all the fun. Shakaal in Shaan to Mogambo in Mr. India, the villain's lair was his playground. Shakaal (played by Kulbhushan Kharbanda) had an underwater den where he could gleefully stare at crocodiles while planning his next murderous move (of course, he fed anyone who double-crossed him to the same creatures). Mogambo (Amrish Puri) was the one with the more elaborate lair — secret doors that opened at the touch of a button, a gas chamber to impale his enemies and even a set-up to set off missiles (remember the genius Dr Fu Manchu?) to obliterate Bombay city. The 1982 film Teesri Aankh went full throttle. Owl and skull motifs jostled for space alongside a bar and a slide, with henchmen dressed in satin harem pants and item girls sporting talons.