Biye Scenes: a wholly Bangali tale
'This film is about a love triangle with various obtuse family angles, acute relationship angles, and the eternal search for the right angle' — Aditya Sengupta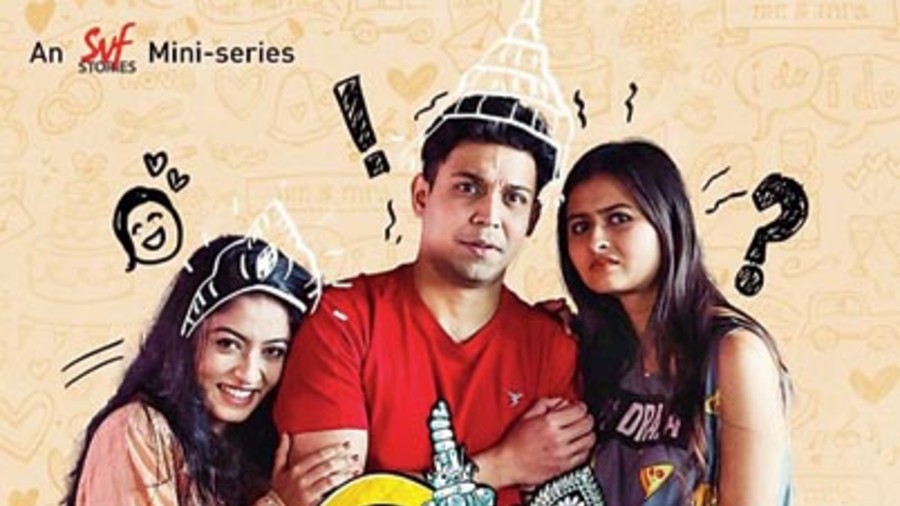 ---
---
After directing music videos, short films and films for television, Aditya Sengupta — who had turned in a fine performance in the critically acclaimed film Biye Scenes — has directed his first web series Biye Scenes, which is streaming on SVF Stories on YouTube. A chat with Aditya...
How is the feedback till now?
The feedback so far has been wonderful! The word-of-mouth publicity, on which shows like this rely on, is happening and the response from audiences have been overwhelming. People are relating with the family, and the simplicity of the story. We really hope that this story reaches out to more people, and eventually makes a place of its own among viewers' hearts.
What's the genesis of the story of Biye Scenes?
The idea was to present a wholly Bangali tale, with moments that are strongly reminiscent of our own middle-class Bengali families. The story was given to us by SVF, and we had creative freedom to tweak around. Kheya (Chattopadhyay) and I sat down with our team and we came up with a variety of scenarios and situations that Bengali families often find themselves in. Some supporting characters came out as key characters including Ujan (Ganguly) who plays Batul and Yashoroop (Dey) as a mad man, both incidentally our crew members as well. We at DhikChik (production house) decided that complicated times needed simple tales.
In a nutshell, what is the web series about?
It is the story of a young Bangali man returning home, only to find himself stuck between his family (adamant on arranging his marriage) and the one he loves. A love triangle forms the core, whilst traditional family values are battling with the next generation's messy modernism. That is the core of Biye Scenes. A love triangle with various obtuse family angles, acute relationship angles, and the eternal search for the 'right' angle.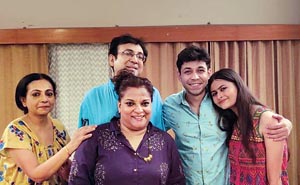 What's the deal with middle-class Bengali, mollycoddled sons and their overbearing, overprotective moms? Has the dynamic changed or is it the same over the years?
Bengali mothers and their sons are worth studying. Speaking from my own experience, I've been mollycoddled myself to a certain extent, and while my mother is not overbearing or overprotective, she is as Bengali as it gets. I think the deal is simple... mothers have certain expectations, and in a middle-class setting those expectations often shift from their own potential to the potential of their children... and through the children's successes and jubilation, a mother tries to find security and solace. The dynamic has indeed changed over the years. There is a definite stereotype about the 'Ma-er bhalo chhele', and it's not just a Bengali thing, but often a South Asian stereotype. The dynamic has now become more self-aware (owing to social media) but somewhere, the overbearing/over protectiveness still exists, to varying degrees.
Why is the protagonist called Baban?
We were trying to come up with an extremely relatable daaknaam (nickname) for our protagonist, Siddharta. We had a list of around 20-30 names and we would sit and try and say out some of the lines with those names, trying to see which name would bring the desired effect. The name Baban is instantly recognisable, and when Baban's mother keeps shouting "Babaaaaaaan", I'm sure we would recognise that tone... as if our own mother is calling out for us. Be it Babai or Babu or Baban... every Bangali household has one.
The format of a romcom is predictable. How did you try to make it innovative?
This was one of the bigger challenges. The story itself is simple and direct. When Kheya and I sat down to plan out what we could do, we stuck on one core element — "this needs style". The plan was always to make the show treatment based. There are certain stylistic choices that we've made in this show, which I think would be unique to the viewers. For example, an entire episode (episode 4) is edited in a non-linear structure, edited to music, and the chaos in the scene is distilled into a musical performance of sorts. We've received excellent feedback about such an experimental episode, which just goes to show audiences are always keen to experience newer perspectives. We tried to use music as a driving force of the show in unique and innovative ways. And I believe that the series has a unique vision, a different perspective, told entirely from the POV of a seemingly supporting character.
How was it like directing Kheyali Dastidar and Arindam Ganguly? Did they guide you during the shoot?
Directing Ma and Bapi was amazing! The last time they both acted for me was in a film I did for TV, and before that a short film. It is always exciting for me to explore their acting range and versatility. They've always been my biggest teachers. And their excellent performances in this series forms the backbone. Where the story of the young ones and their mess forms the limelight, the parental struggle behind them is the essential subplot.
We found a shadow of Chandrabindoo's Anindya Chattopadhyay (in the wordplay of jam and forcefully and more) and Mainak Bhaumik in your treatment of a romcom.
Both Anindyada and Mainakda are two incredible film-makers. Anindyada's films are fun, nuanced and effortlessly Bengali in nature, with protagonists in search of emotional answers. Mainakda's films are youthful, with sharp and smart stylistic experimentation. There is much to learn from both. And while having worked with Anindyada, his wordplay, his punning and his Bangaliana have been influences... I am yet to work with Mainakda. I'm always inspired by the great talent that is around, but I also hope to create our own defining voice, a personal unique voice which resonates through the work that we do. We have many stories to tell, and I hope that our voice remains distinctive, original and entertaining. And I hope that this voice shines through Biye Scenes.
Tell us about the edit style for the sequence when the big reveal happens on the terrace in the evening, with a guy saying 'Ruko na' on repeat mode and the clinking of glasses?
I've always been a passionate editor. I have edited most of our projects, and with Biye Scenes, this episode in particular was both a challenge and a cathartic experience. Due to multiple issues on the night of the shoot, we were not able to get all the footage we needed. We ended up with 40 per cent of the shots we needed. Plus, Kheya's dogs were barking constantly and that created audio issues. We went down at 3am to feed biscuits to them, and suddenly thought of shooting the entire scene as a play, a single take. At the editing table, the brainwave hit. Cacophony and chaos gave rise to rhythm and loops. The shots were meticulously cut to beat, edited in a non-linear style.... This scene is just pure fun... both for me as a maker, and for the viewers as well. The 'Ruko na', the glass clinks, and the dialogues, all cut to beat, set to a thumping rhythm. I think this sequence depicts my own style and our vision with Biye Scenes in its entirety, and I am glad that this sequence is being noticed.
Why did you cast Duke, Srishty and Dipanwita?
The casting was entirely done by Kheya, and I was elated with our three leads. Duke strikes a great balance between a hapless/confused Bangali man and a loving boyfriend with a strong moral compass. He fits the role like a glove. Srishty has excellent screen presence. Plus being a newcomer, her performance hits like a breath of fresh air. Dipanwita has been acting in a variety of interesting projects, and has great emotional range, versatility and depth. And the three of them had crackling chemistry between them.
How does the music/score inform the story and moments?
Whenever I approach films, or a series, or even a commercial campaign, music is the heart and soul of it all. My musical preference has always been scores and soundtracks, BGM and OSTs, over bands and songs. For Biye Scenes, Amit-Ishan composed a beautiful, ethereal title song, Keno mon okaron, which has been winning hearts. The music of the series changes track with smoothness. From hip-hop inspired dramatic beats, to '80s synth wave... from Indian percussion to African drum beats... from disco to orchestral strings — Biye Scenes is heavily reliant on music and how it takes the story forward. I always think musically... most of our past work has music playing a deep role and going forward I think music will always be a huge element of all the stories that we have to tell.