Birthday girl Susmita Chatterjee talks straight from the heart
'It's my special day, so I am going to live it my way!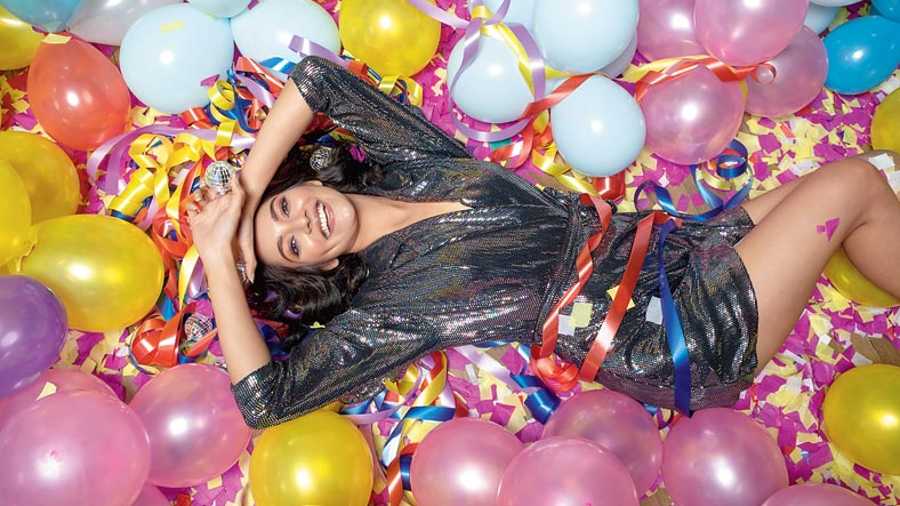 ---
Published 15.11.21, 12:33 AM
|
---
It has been a big year for Susmita Chatterjee. With Prem Tame releasing early this year, Susmita has shown the promise and flair to succeed in all formats. She has already shot for two star-studded Bengali films, a Hindi film and a web series. A t2 chat...
Happy birthday! What are your birthday plans this year?
Why should I plan for my birthday (smiles)?! My favourite people should plan for me, nah?! Haha! Jokes apart, nothing at all. It's my special day so I am going to live it my way. But definitely I am going to have the perfect birthday lunch with my parents on a video call.
What's your fave birthday memory?
I remember giving chocolates, cakes, pencils, erasers, glitter pens, bags and more to my whole class during my school life. Every year my parents used to do that on my special day and that's what I will never forget because my classmates used to get very excited for my birthday as they knew that it was their gift time of the year.
What's the one thing you must do on your birthday?
Pujo. Every year on my birthday the first thing I do is I visit a temple to thank the lord and definitely the first thing I have is payesh made by my mom. Also there's an orphanage where the kids are really close to me, so I celebrate my birthday with them. This I have been doing since my childhood days with my dad.
What's the one birthday wish you want the genie to grant you?
Practicality! I am way too emotional and sometimes it hits me hard. I want to be more practical in life so that the tough situations around wouldn't affect me at all.
What's been your fave birthday present?
This article in t2. I think it's the best birthday gift till now in my life. Gratitude and gratitude. And I should definitely tell you about a gift I received today, a book named Jonathan Livingston Seagull by Richard Bach. This book celebrates the strength of the individual and the joy of finding your own way.
I love it because this is the first time some unknown admirer has sent me an inspirational fable.
How does it feel to be a November child, celebrating post Diwali and pre-Christmas?
Hahaha… my birthday itself seems like a festival to me. Also it's the start of winter, which is my favourite season. Definitely for me it's nice... when Durga Puja and Diwali get over, we all become sad and Christmas comes later and in this empty period I get to become happy by thinking about my special day.
Do the Zodiac traits work for you?
Definitely. I am a true Scorpion and I am passionate, determined, brave, extremely honest, ambitious, secretive, stubborn and more.
You got to work with Mimi Chakraborty and Nusrat Jahan in different films this year. How was your experience?
I am highly honoured to have got this opportunity to work with Mimidi and Nusratdi. Both are absolutely strong and amazing human beings having the purest soul. I worked with them in two different films, though both the films are completely different from each other but the similarity is that they both gave me the love and care like their own sister, helped me every time, stayed there to support, made me so comfortable on set. There's a lot to learn from them and I am learning every time everyday. I am fortunate to have two beautiful sisters who are actually helping me to become successful in life. This is the gift 2021 gave me and I will always be grateful to Mimidi and Nusratdi.
What are the new things that you have discovered about Calcutta this year?
People are back to cinema halls. This is what is making me happy. This pandemic has ruined everything but it's good to see that we all have accepted the new normal and are trying to live again. How was 2021 for you professionally?
Big year for me. By God's grace it's been really nice professionally. My debut film got released and people showered me with love. Soon after that I got some beautiful projects and amazing characters. Also currently I am shooting for a Hindi film and a few projects are lined up next. So yeah this is a year to remember. I am grateful.
What were the lessons learnt?
A lot. I am learning something every day. Experience makes a lot of difference in life. Also you get to know people if you are really close or else it's all a different world from outside. Being humble is good but being too humble might put a lot at stake.
What kind of films would you like to do next year?
It's a huge list! I would definitely love to do meaningful concepts and challenging characters and most importantly, I would like to do more "women-oriented films". I love action, thriller, drama, horror and more. I want to do projects that will make people say, "Is this Susmita?"
What do you feel is the key to make it in films?
It's all about five very important things — passion, talent, hard work, patience and luck. If you have these, no one can stop you from achieving your goals.
What's the one change you would like to see in Tollywood next year?
I would definitely love to see more  "women-oriented films". I am a woman and I feel that someday I will become the hero of a film.