Taaza Khabar focuses on how the life of a sanitation worker — played by the hugely popular Bhuvan Bam in what is his OTT acting debut — changes overnight when he receives the gift of a miracle. Releasing this Friday on Disney+Hotstar, the six-episode series also stars Shriya Pilgaonkar as a lead character, alongside Bhuvan. The Telegraph caught up with Bhuvan and Shriya to know more about their show and what magic and miracles mean to them.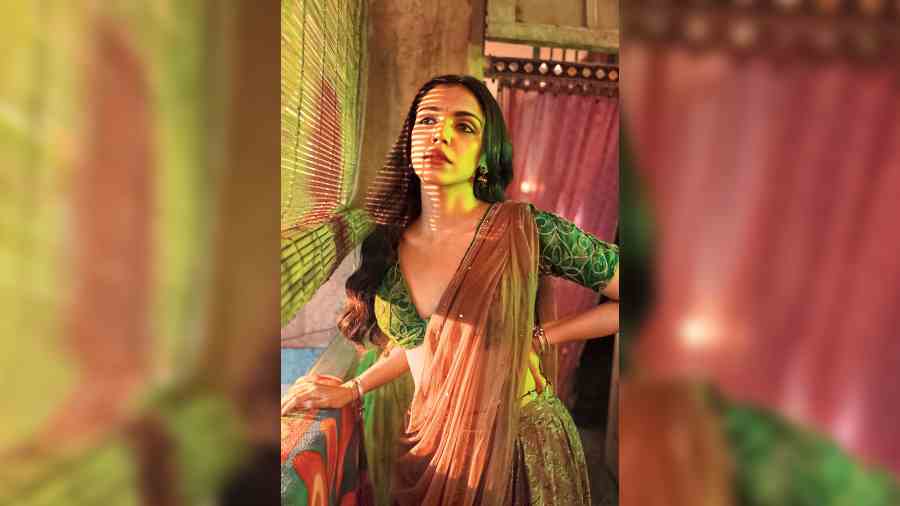 Shriya Pilgaonkar
Before this, both of you hadn't played people like the ones you play in Taaza Khabar. Was that a major reason to sign on?
Bhuvan Bam: The show came to me when it was in the very initial stages of development, and I started developing it further with (creators) Hussain Dalal and Abbas Dalal. They have written the story. Because I was there since the beginning, I kind of started to relate to the story. It's an aspirational story... it's a story about the decisions that you make, the kind of dreams you have and what you go through to achieve those dreams. I think it's a very rooted and relatable story of every boy and girl in India.
Also, coming from a very different background, and doing all my characters on my own (on his YouTube channel BB Ki Vines), it was a step up for me to share screen space with such wonderful co-actors.
Shriya Pilgaonkar: First, I absolutely loved the story! Sometimes, as actors, when you hear a story, you instinctively feel it's going to be special, and for me, Taaza Khabar was that. And it also came to me at a time when I was seeking to play a character which would be very different. I had already shot for Guilty Minds where I was a lawyer and Broken News where I was a news reporter; very consciously I wanted to attempt a genre which would be different from what I have done before.
Madhu is such a beautiful character and it was interesting for me to play her on this show because we aren't really viewing her through the lens of a sex worker as much as seeing her as just a person stuck in circumstances. What I love about her the most is that she's not somebody who is burdened by the life that she's led... she still has a sense of humour, she still has aspirations and dreams for a better life and she is a source of strength for the people around her.
The bond that Vasya (played by Bhuvan) and Madhu share is so endearing and sweet that when their lives change because of this vardaan (miracle), and how that affects their dynamic is very interesting.
Everything about this project felt right to me. Also, I knew that the narrative and the telling of this story is going to be slightly more commercial. As an actor, I want to balance my filmography with different kinds of things.
Shriya, is it sheer coincidence that you have acted in two back-to-back shows called Broken News and Taaza Khabar, which essentially mean the same thing?
Shriya: Yes! (Laughs) But let me tell you the stories and the genres are completely different. One is reality and the other is magical reality (smiles).
Bhuvan, you had recently shared a social media post about visiting Mumbai's Marine Drive a decade ago and then life coming full circle now with you shooting at that same spot. Does Vasya's aspirational story of rising against all odds also mirror yours?
Bhuvan: Both the stories are completely different, and the graph is completely different. As a child, I was never deprived of anything... I always got what I wanted. It's another thing that I didn't have much needs and so I never bugged my parents.
Honestly, the rags-to-riches story of Taaza Khabar has been done many times on screen. We have seen this multiple times and while making this series, we were fully aware of that. But it's that one twist of miracle or magic that we have in the show which makes it completely different.
Shriya: In the show, because Vasya gets the vardaan and the rest of us are so closely associated with his life, invariably our lives also change. I don't necessarily see an obvious parallel between our lives, other than the fact that as a person, I am also extremely over-protective of the people I love.
This story really is about that... the extent to which we can go for love and for family and to really prove ourselves. I love the fact that the character I am playing can also laugh at life. I took life a little too seriously till a few years ago, but now I have evolved to living life simply, quite a bit like Madhu does.
Keeping in mind the theme of the series, do the two of you believe in magic or miracles? How much of that has played a part in your career so far, of course, coupled with hard work?
Shriya: It's never just hard work, let me tell you that. I am a firm believer in the fact that it's hard work, luck, opportunity... there are so many factors that are also not in your hands. When we say, 'right place at the right time', it sums up the mystical quality to life that we all have, whether we want to believe it or not. I think it's so much fun to believe in magic.
When I was growing up, as a reverse case, Santa would 'write' letters to Shriya and for a few months, Shriya would reply to Santa. It was obviously my parents communicating with me and even though Santa's handwriting would sometimes change because my parents (actors Sachin and Supriya Pilgaonkar) would take turns to write those letters, I never burst that bubble. I think it's boring to always have all the answers and we all need a little bit of magic in our lives. Even Bhuvan had so many dreams of making it, and it does feel magical, right?
Bhuvan: It does. I take this as a blessing because firstly, I never knew that YouTube is going to be my career path. Seven-eight years ago, it was such an unconventional profession. Now it's everywhere and one can go out and say, 'I have a career on social media'. But back then, my parents would say, 'Bank ke form bharo, beta... padhai karo, sarkari naukri dhoondo.' But I told them that I had given them 12 years of my life, I had gone to school, I had styled my hair according to how they wanted me to (smiles), and now I just wanted two years for myself to figure out what I wanted to do. Thankfully, they were supportive. The magic for me came in in that first step I took... I believe that was the turning point, of me making that first video and uploading it on social media.
Bhuvan, would you say Taaza Khabar is a springboard for a more full-fledged acting career?
Bhuvan: Everything that I do is always an audition towards doing something bigger. I take up every project as the final audition that I ever gave (smiles). Taaza Khabar gives me a chance to be on a leading platform like Disney+Hotstar and I want to be out there and tell people, 'This is what I want to do.'
And Shriya, it's been a dream run for you in 2022... it truly is a gift that keeps giving, right?
Shriya: The way you describe it is exactly how I feel. It's been a very defining year for me. It's given me progress, it's made me more ambitious. It's been very, very encouraging and there have been years before this that have been touch and go for me with some things not working out. The fact that I kept the focus on working on myself as an actor, and on my craft, really paid off. Some hard work, and some magic!