Bhimani vs Bhimani!
Read more below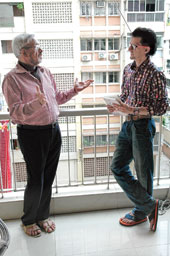 ---
---
On a wet Monday morning, cricket commentator Gautam Bhimani got down to grilling his dad Kishore Bhimani, sports writer, columnist and commentator, on his just-released fiction title, The Accidental Godman (Amaryllis, Rs 325). The interviewee's wife and the interviewer's mother, Rita Bhimani, was given the tough task of refereeing the match between the two men in her life.
Where were the seeds of this book sown, considering the world expects another book on cricket from you and this contains none, except a seven-word reference about an Englishman going to watch a Test match?
(Laughs) Well, it started with my interest in a couple of things over the years. The first is spiritualism, for which I have studied Indian mythology in great depth from when I was eight. My grandmother was a great storyteller. I remember asking how many wives I'd have since Draupadi had five husbands and Krishna had his gopis... the idea of one wife seemed boring! I became passionate about The Mahabharata.
Secondly, when I went to England as a student of the London School of Economics, it was the swinging London of the '60s. Nothing was forbidden. Among the things I was exposed to, there were these establishments that experimented with spiritualism and existentialism for people who were fed up with material life. They used a drug called mescaline, which was later made famous by Aldous Huxley in his book Brave New World. What they found was that the same experience yogis get with meditation you can get with mescaline. Mind you, all this was done by doctors. So it wasn't underground. They'd see how much mescaline was administered. There were a few Hindus, some kind of gurus or monks who used to run them. Many of them were fake. But no matter what they did, it was always connected to sex!
The first time I heard of mescaline was in this book! In my time, parties just had feminine and masculine… (laughs). Coming back to the book, if you were to send a copy of it to any of the modern-day godmen would they a) read it, b) like it, c) agree with it?
I have thought about it, actually. Barring Nityanand, who's behind bars, there are about five known godmen. Most will say that it's the other guys, not me. As for disciples, maybe some of them would say why not more of this? Some other godmen would say yeh toh kuch nahin, we've done worse! Look at Adnan Khashoggi (Saudi Arabian arms dealer and richie rich). For his 55th birthday party, he spent the equivalent of $27million and flew in royalty and politicians from all across the world. Who was his mentor? Chandraswamy. Who was the next richest man? The Sultan of Brunei. He's the kind who wanted superstars in everything. So he hired Viv Richards to coach his son in cricket. Who could be the superstar of spiritualism but Chandraswamy? I'm sure the likes of Chandraswamy would say 'oh this chap doesn't know it all'.
In the book, you've talked about what India's political fabric will be like in 2027. Is it your take or wishful thinking?
To put it in one word, it's fear. I fear that this will happen. I fear population explosion. The whole population programme by the Indian government has been derailed because of that one incident involving Sanjay Gandhi. There are no family planning ministries, and no political party can afford to suggest this. Mine is a sort of ultra-pessimism. We've crossed the Chinese population. And no one talks about it. We see cutoffs of 97-98 per cent for college admissions. Where do you think it comes from?
Pollution is my another fear. Where do we stop? The measures taken these days are palliatives or short-term steps. That is why there are no public parks, that is why you see the Maidan being eaten into slowly. This is a fear of a lesser quality of life.
To describe you in a sentence is to say 'never let the truth come in the way of a good story.' How much of this story, certainly a good story, is autobiographical?
I don't believe that we should write about real characters in books. It's not autobiographical. I believe as a writer you should sublimate your experience and put little bits and pieces of it with some salt and pepper. And some chilli powder. Say, if I were to put you in the book you wouldn't recognise yourself in the book. GG Aryaman for example was based on two or three people. He's permissive, vastly talented and not tied down by social norms. In that sense he reminds me of (artist) Jatin Das. It can go very wrong when you duplicate people in your book. Take for example what [F. Scott] Fitzgerald did in Tender is the Night. Scott and Zelda were very good friends with this very rich couple, Gerald and Sarah Murphy. Sarah had an epileptic condition and was found having a fit in the tub in the middle of the party. And Nicole Diver is found in a similar state in Tender is the Night.
One thing that you might find hard to believe is that I found the love scenes well-written. It never shocked me and never did it cross my mind…
Who it was referring to? (Laughs.) There was never an effort to hide things from you. Calcutta's got very famous scandals like all countries and we talked about everything without gossiping and it stayed in the family.
Were you conscious of bad sex writing considering there's a bad sex award?
To me it's an important and beautiful part of life. Sex has to be written about with style and verve and most importantly, with some delicacy. I remember going to the book reading of a well-known writer and it had a two-page description about what happens between a man and a woman in a garage.
Then there was this guy called Swastibrata Chakraborty who was three-four years my senior in college, who wrote a book called Confessions of an Indian Woman Eater under the name Sashthi Brata. My guru, professor P. Lal, was reviewing the book and he said there was a problem with the book. 'Does he mean confessions of an Indian woman-eater or Indian-woman eater — the hyphen should be in the correct place'. The book had sentences like "WHAM! I was inside". "Bang! I had her where I wanted". "Smack…" and so on. Professor Lal said the only reason he was reviewing that book was because it was given to him by the editor.... So, yes, it shouldn't be crude. You shouldn't go into descriptions.
Books get made into films and since you've acknowledged Mahesh Bhatt in the book, I'm guessing you'd want him as director. Have you thought about who you'd cast as the various characters?
Yes, Mahesh would be ideal as he's never shocked by anything. For Nisha, with her subtlety and beauty, it would have to be Tabu. Boman Irani would be fantastic as GG Aryaman. Ajay Devgn I can imagine as the central character, Rannvijay, especially after how he portrayed Omkara. Piyush Mishra would be good as Swamiji because he has such a sensitive face. Anupam Kher would also be in the role of a swami. Jayant Kripalani, being so versatile, would make a nice Rajat. He can be so many people at once! But these are, of course, only dreams.
Often filmmakers tend to take liberties with the script…
Nobody really sticks to the book. If it's loosely based on a book or one takes some of the characters and makes his or her own interpretation, it's alright. But if you call it Devdas then it has to have the flavour of Saratchandra [Chattopadhyay]. If it's War and Peace, it has to be [Leo] Tolstoy, it cannot be "war and peace" according to Salman Khan!
Unless it's a deliberate spoof...
Then it's different. Then I'd suggest don't ask the author at all (laughs)…
There is no mention of cricket in the book. However, it is tempting to bring in cricketing analogy here! Being a match referee in a contest between father and son, I noticed an inordinately high number of yorkers. But there is no law against it. So I watched the father digging them out repeatedly, although one or two could have struck the target. These refer to autobiographical elements in the deeply religious explorations, wild parties with drugs and rituals as well as steamy sex! The only thing father would concede to son were the rave parties and perhaps the occasional drag on a joint in his more permissive years — RITA BHIMANI
Which Indian author writing in English writes about sex well? Tell t2@abp.in
MALINI BANERJEE OF T2 SAT IN ON THE CHAT