Web series that kept us entertained in 2020
In a year of being locked in and glued to our smartphones, we pick 15 desi web series that hit the high notes and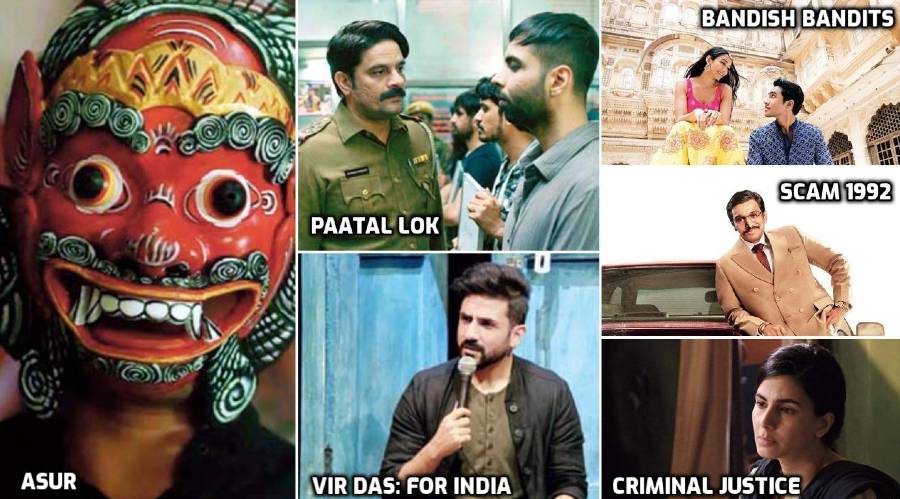 ---
---
Bandish Bandits
Reintroducing (and largely, introducing) classical Indian music to Gen Y India was this winner from Amazon Prime Video. Naseeruddin Shah led an eclectic cast (Ritwik Bhowmik and Shreya Chaudhary are youngsters to watch out for) in this Anand Tiwari directorial that surrendered itself to the beauty and complexity of Hindustani classical music, depicting the clash between the old and the new and the modern and the traditional. Despite some minor hiccups, Bandish Bandits hit the right notes, emerging as a rare show that brought families together for a watch, with Shankar-Ehsaan-Loy dishing out one musical gem after another.
Scam 1992
From the infectious theme music to a career-defining act from Pratik Gandhi, Scam 1992 is, for most of us, the best Hindi web series of 2020. Functioning as both a captivating and cautionary tale, this Hansal Mehta-directed series that traced the meteoric rise and mammoth fall of stockmarket king Harshad Mehta (played by Gandhi), took care to never tip into unbridled adulation nor paint its protagonist/ antagonist as an unmitigated villain. Its success has made Sony LIV (whose subscription base reportedly shot up by 140 per cent after Scam 1992 dropped) an OTT player to reckon with.
Jamtara
This Netflix original that profiled a town known as the epicentre of phishing scams in India provided terrific insight into the business of money and power in rural India, where country kids scam city folk out of cash every day. Serving as a smart social commentary, Jamtara made for a truly fascinating story on paper, and though some of it was lost in execution, the show, on the back of familiar tropes crafted with fresh energy, proved to be largely watchable.
Paatal Lok
The underbelly of crime and grime was emphatically explored in one of the best web series of the year. Arriving in May on Amazon Prime Video, Paatal Lok — that marked actor Anushka Sharma's debut as producer on the web — examined the fault lines of pride and prejudice and portrayed the greys of human character, giving us unlikely heroes and unlikelier villains. The pitch-perfect drama hit it hard with a sledgehammer (and not just with Hathoda Tyagi), and was distinguished by compelling performances, with Jaideep Ahlawat, as downbeat cop Hathiram Chaudhary, giving us a non-alpha hero we found ourselves rooting for.
Panchayat
Riding high on humour and heart, Panchayat showed us that a series set in rural India need not always have to be built around crime and cuss words. Once again hitting bullseye for Amazon Prime Video, Panchayat took a predictable theme and template, but crafted a feel-good story out of it. Its old-world charm and languorous pace was a welcome change in an era of hashtags and Insta stories. The show was lifted by strong acts, with the Everyman of the web, Jitendra Kumar aka Jeetu, winning it with his hangdog demeanour and trademark eyeroll.
Unpaused
Fashioned both as a symptom of and a reaction to a year that's left the globe locked in, this anthology film that premiered on Amazon Prime Video this month, spun together five heart-warming tales of hope in the middle of hopelessness, with each of them stressing on how the pandemic may have physically distanced us, but has, in fact, brought the world emotionally closer. Touching upon subjects as diverse as love in the time of dystopia to the migrant crisis that shook India at its core a few months ago, Unpaused touches a chord, proving to be both relatable and relevant.
Masaba Masaba
Fashion designer Masaba Gupta made her acting debut in this Netflix original, which turned out to be a surprisingly watchable hybrid of fact and fiction. Playing herself — with her real-life mother Neena Gupta slipping into the shoes of her mom even on screen — Masaba Masaba was a breezy watch that didn't make too many demands out of its viewer, proving to be exactly the timepass watch we needed in this pandemic. And yes, Masaba is a natural in front of the camera.
Undekhi
Male toxicity and the abuse that comes with power and privilege was at the heart of this Sony LIV series that operated both as a pulsating thriller and a caustic look at deeply ingrained patriarchy. Focusing on the baser human instincts that come into play both in times of cover-up and crisis, Undekhi's brisk pace and cat-and-mouse narrative translated into an entertaining and relevant watch, with Dibyendu Bhattacharya — as a slow-moving but sharp-thinking Bengali cop — proving to be the scene-stealer.
Asur
Scoring a winner for Voot Select was this thriller that melded murder, mystery and mythology. Buoyed by winning acts from Arshad Warsi and Barun Sobti, Asur stood out because it never tried to dumb it down for the viewer, choosing to see religion and science as two sides of the same coin, even as it traversed a race-against-time template to solve a series of grisly murders. Spiritually operating in the same space as David Fincher's seminal thriller Se7en, Asur was well researched, encouraging the viewer to exercise those grey cells.
Special Ops
Film-maker Neeraj Pandey forayed into the web to do what he does best — craft a largely engaging espionage thriller, lifted several notches by a superlative central act from Kay Kay Menon. Traversing the globe, Special Ops kept it ticking on Disney+Hotstar, emerging as a show that, unlike some recent titles in the genre, showed a genuine respect for and an understanding of spycraft. Special Ops may have been underwhelming in parts, but Kay Kay as Himmat Singh kept us invested, giving us a man — armed with a sharp mind and a glint in the eye — who felt heroic even when he didn't resort to any in-your-face heroics.
Criminal Justice
Season 1 of the Disney+Hotstar series — frontlined by Vikrant Massey but with Pankaj Tripathi stealing the spotlight — was a crime thriller, court drama and police procedural rolled into one. Tripathi returned as the redoubtable lawyer Madhav Mishra, with Season 2 of Criminal Justice that dropped this week, piling on the layers far deftly than the first season, to highlight disturbing and rarely spoken-about issues like gaslighting and emotional abuse in a relationship. Carrying Season 2 on her able shoulders was Kirti Kulhari, who turned in an act that defined both vulnerability and grit.
Vir Das: For India
Every now and then, Vir Das shakes up the comedy scene — his recent streamed-from-home winner Outside In is testament to the fact — and with Vir Das: For India, the 41-year-old comedian gave us his best Netflix original to date. Picking on threads that define the country — Parle G to politics, Old Monk to Chyawanprash — For India proved to be both nostalgic and timely. Vir packed in the smarts, even doing away with the traditional stage format. It's 75 minutes of woke and irreverence we keep going back to.
Aarya
Sushmita Sen roared back like a tigress — and how! — in this Disney+Hotstar series about crime and misdemeanour, but mostly about family. The show followed an arc similar to that of The Godfather, with Aarya's tender, beautiful and heart-warming moments tempering its inherently violent core. Aarya struck the rare balance between its ticking time-bomb premise and yet qualified as a slow-burn watch, proving to be a lesson in how to depict grief on screen without resorting to theatrics. As the title character, Sushmita — her face veering between steely resolve to mirroring her broken dreams, and often plastering on a beatific smile to get out of a tricky situation — was the heartbeat of the show.
Mirzapur
With "Season 2 kab aayega?" acquiring almost the same cult status as "Katappa ne Bahubali ko kyon maara?", the new season of Mirzapur landed in October. Burdened with unprecedented expectations, Season 2 of the Amazon Prime Video hit carried forward the guns and goons, revenge and retribution template that defined the show in its first season, with generational conflict, political powerplay and shifting loyalties becoming the trademarks of this season. Not all of it landed well, with this season coming off as both forced and formulaic in parts, but the entry of new players and with some of the older characters coming into their own, Mirzapur 2 kept the magic and momentum alive — Babloo's (Ali Fazal) 'game of thrones' moment at the end is a standout — with the promise of a few more seasons at least.
Bad Boy Billionaires
Streaming on Netflix was this engaging look at outsized wealth built on outsized greed, with this three-part series chronicling the dizzying rise and thudding fall of some of India's infamous 'bad boys' who built their empires worth billions on a bed of lies, deceit and corruption. Vijay Mallya, Nirav Modi and Subrata Roy were the subjects of Bad Boy Billionaires. The show didn't tell us anything we haven't heard about these 'bad boys' before, but made for a compelling watch as a picture of the fallout of arrogance and hubris, reiterating the fact that in a country of billions, power and money remain within the fists of only a handful.