Behind the scenes with the Jamtara director Soumendra Padhi and cast
Jamtara had become the centre of cyber crime in India: Padhi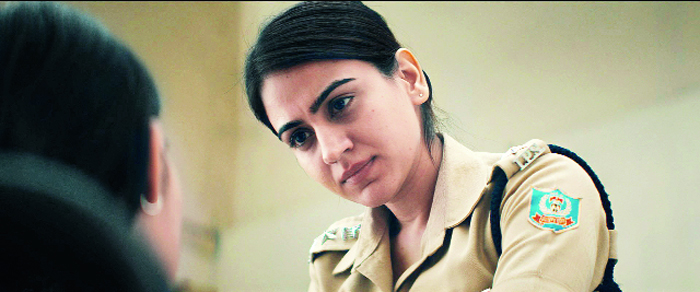 ---
---
Most of us have been the intended victims of scamsters who con people off large sums of money by tricking them into sharing their card details and OTPs. Jamtara: Sabka Number Aayega, Netflix Original's new series, tells the tale of a sleepy but picturesque district of Jharkhand which emerged as the epicentre of the phishing scam a few years ago. Directed by Soumendra Padhi (who won the National Award for best children's film for his debut feature Budhia Singh — Born to Run in 2016), Jamtara centres around cousins Sunny Mondal (Sparsh Shrivastava) and Rocky (Anshumaan Pushkar) and their group of successful teenage con-buddies, most of whom have studied till Class V, some not even that. The story picks up pace when a young and determined superintendent of police, Dolly Sahu (Aksha Pardasany), is posted in Jamtara. The Telegraph caught up with some of the key players. Excerpts:
Soumendra Padhi
Director
What prompted you to pick this subject?
In 2015, I had read a newspaper article that really intrigued me. Kids who had failed Class V were duping these so-called tech-savvy guys from the metros. These boys have hardly seen any school in Jamtara which had a population of less than 2,000 and had around 40 mobile shops. The fact that it had become the centre of cyber crime in India got us hooked. We sent a writing team (led by Trishant Srivastava) there to research and write and kept getting interesting stories.
Have you ever got such calls yourself or got conned?
When we were coming back from Jamtara after the shoot, my wife got a call. The caller was from Jamtara and was trying to extract information from my wife. She listened to the entire conversation and said, 'I know who you are and that you're calling from Jamtara'. The caller was taken aback and, after a pause, said: 'No problem ma'am, I love you' and disconnected the call. That was funny.
Aksha Pardasany
Superintendent of police Dolly Sahu
What interested you about your role?
When I was offered the role, I was surprised, to be honest. When you imagine a lady police officer on screen or off screen, there's a certain image... Physically or otherwise, I don't think I look the part. But I could do it and pull it off because of his conviction. His idea was that she (Dolly) shouldn't look like a typical lady police officer. I think Dolly as a character is extremely layered. She's strong, faces a lot of chauvinism and she is still out there fighting these bad guys. She has such an amazing quality to be tender, fierce, strong, bold, all at the same time.
What's your favourite memory from the shoot?
There's a scene where I'm having a smoke with Saurav (Udit Arora), who's playing a cyber crime officer. In reality, I'm a non-smoker and to be able to pull that off was a bit tough for me. The director was convinced that it'd put another shade to Dolly. I kept coughing after every shot because you can't fake it. After a point, the director came up to me and said, 'You know what, it's fine. Just let it go. We will do without the smoking'. I took that very personally and asked for a little time. I went and smoked a couple of cigarettes so that my lungs get used to it. Then I came and gave the shot.
Monika Panwar
Gudiya
What interested you about your role?
When I think about Gudiya's character, there are three words that define it — she's a chaser, a fighter and a survivalist. She's the most ambitious, the most complex, the most mysterious girl in the whole series. She is complex externally but there are no complexities in her thoughts. That's why she's a decision maker. She's practical and I think that's why Sunny chooses the best girl in town.
What's your favourite memory from the shoot?
You have a positive pressure on yourself during the shoot, of properly executing whatever you've learnt so far about the character. So, all my good memories are actually from the workshop. Most of my scenes are with Sunny or Brajesh (Amit Sial), but during pre-production, we had a 10 to 15 days' workshop along with all the actors. I think that was the best part of Jamtara for me.
Anshumaan Pushkar
Rocky
What interested you about your role?
Rocky is Sunny's elder brother and they together are the pioneers of the phishing business. The character is vibrant, though he's not really educated, he has political aspirations. He always wants to be at the top but at the same time he is very emotional. The vulnerability is what I liked the most.
What's your favourite memory from the shoot?
We shot for more than 50 days and there are a bunch of funny stories. Our cinematographer was such a dedicated guy that during the first fight sequence when I fell on his camera he was more worried about his camera and not his nose (laughs)! In the last schedule, he got bitten by a dog but he was ready to shoot again in five minutes.
Sparsh Shrivastava
Sunny Mondal
What interested you about your role?
Sunny is the mastermind of phishing crimes. He's a good bad guy who brought phishing to Jamtara. He also realised that if a girl makes these calls the chances of duping someone goes up. So he gets married to Gudiya after paying her money. I got hooked by the script.
What's your favourite memory from the shoot?
We were shooting in Nasik and there's a scene where Gudiya is slapping me. It's not one slap, she's slapping me some 10 or 12 times. We were really into the scene and were sitting quietly for half an hour before the shot. I didn't want to break her momentum, so I had asked her to not fake it but at the same time, slap a little softly. During the shot, she slapped me hard but I didn't stop her. Then I had a close-up shot and she again hit hard. Then it was her close-up and by then my jaws were hurting. I thought maybe she'll hit me softly now but instead of slapping me, she punched me in the face (laughs)! For two days after that, my face was swollen and I can never forget that pain.
Have you ever got such calls yourself?
I have never got such calls but I have got mails. My friend had been duped of Rs 25,000. He was at a salon for a haircut when he got a call. My friend was greedy and he got conned. He was told that he will be getting Rs 50 for every Rs 1,000 he sends. The lady on the other end said, 'You'll get an OTP on your number' and my friend gave her the OTP. First, he lost Rs 5,000 and then Rs 20,000. So, be aware, be smart and watch Jamtara because we are not only entertaining people but also educating them.