Behind the Scenes with Michelle Obama in Netflix's Becoming
The 90-minute documentary that released worldwide on May 6 is an extension of the book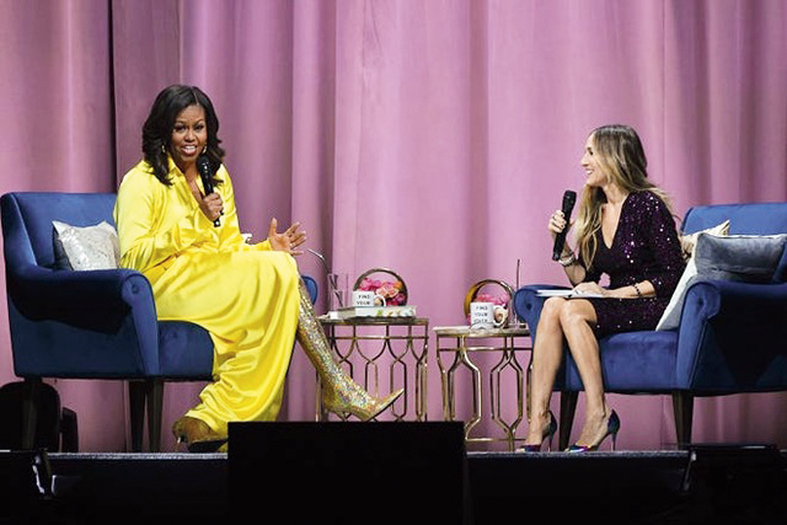 ---
---
Unfortunately, being a woman in our world comes with its own set of challenges. Now add descriptors such as a woman who is a Princeton and Harvard-educated lawyer, a mother of two young daughters and the first African American first lady of the United States of America. I never imagined this to be an easy life but neither did I envision it to be this complicated, until I read Michelle Obama's autobiography titled Becoming, in 2018. If I had always been curious about the Michelle Obama backstory, reading the book had my curiosity piqued and I awaited the Netflix documentary of the same name.
The 90-minute documentary that released worldwide on May 6 is an extension of the book as it followed Obama during the subsequent tour spanning 34 cities in 2018. For a book that sold over 10 million copies (counted till March 2019), it was no surprise that this book tour was not your average bookstore appearance — instead, it featured packed arenas, a rockstar reception and hosts such as Oprah Winfrey, Gayle King, Stephen Colbert and Sarah Jessica Parker; and yes a certain pair of haute and glitzy, thigh-high Balenciaga boots (in picture above) also made an appearance! So when her husband and former president of the United States, Barack Obama made an appearance on stage, he rightly said, "It's like when Jay-Z comes out during a Beyonce concert!"
The documentary, produced by the Obamas's Higher Ground Productions (circa her 2016 speech in support of Hillary Clinton), trails Obama during moments of madness on stage and moments of quiet solitude in hotels or backstage as she reflects on an extraordinary life. Her drive to make a difference and her White House initiatives of empowering the youth remain consistent with that of the book as some of the most endearing moments of the documentary can be seen in the more intimate settings of high schools where she goes to interact with students. Like in the book, her mother, Marian Robinson and her brother Craig Robinson are featured prominently throughout, with brief appearances by her daughters, Malia and Sasha. If the book gave us interesting insight and unknown details of her life, the documentary complemented those through snippets from successive on-stage interviews and those of a few long-time members of her staff.
However, I must admit here that the book managed to pack in a better punch than the documentary as the latter seemed oddly familiar with the gazillion chat-show appearances she has already made during her years of living in the limelight. Yes, unlike her FLOTUS days, she was shown rocking out to A God Like You by Kirk Franklin and Nonstop by Drake, but also unlike the "unplugged" Obama promised to us, it wasn't really a no-holds-barred look into her life. That was more in the book than the documentary.
But instead of comparisons with the book, what the documentary really managed to do for me was that it put forth Michelle Obama's truth of being a strong, inspiring, warm woman out in the world to use the power she yields to make a real difference — and this could be while she hugged her family or a first-generation college-goer; or even when she straddled the stages at sold-out arenas, holding her head high and speaking with passion and without a script.