Beats of a Bong connection
Read more below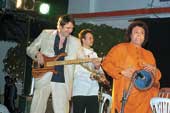 ---
---
Zubeen Garg at the launch of his Bengali album Tumi at MusicWorld. Picture by Bishwarup Dutta
Zubeen Garg sure has his hands full. The Ya Ali man from Assam camped in Calcutta for a week to shoot for the new season of Zee Bangla Sa Re Ga Ma Pa. Meanwhile, he can be heard singing — in Bengali.
What is your Bengali connection?
My first Bengali album, Tumi, has been released. I have chosen eight of my best Assamese compositions. The original lyrics are mine. Bhupenda (Hazarika) was the last to have brought Assamese influences to Bengali music. I am trying to do the same.
Do you know the language?
Absolutely. Eight years of my childhood were spent in Kachhar, where 90 per cent people are Bengali. I still buy Anandamela.
A judge in a music talent hunt in Bengal, a contestant in a reality show in
Mumbai… there will be a lot of you on TV soon.
I have decided to opt out of Jhoom India, the Sahara One show. I even shot for a couple of days with Shama Sikandar. But it appears that I am just another contestant like her and I will have to sing before judges. I don't need this kind of publicity.
What is keeping you busy now?
A film, in its script stage. It will be a political thriller. I do not like song-and-dance movies. My first film in Assamese released in 2000. I directed another in 2005. That won the National Award for best regional film.
Do you believe that singers can act?
Kishore Kumar has shown us that it is possible. I prefer serious roles, though I like to dance in music videos. These days, composers are turning singers. That is a problem for us. None of them can pull it off, except Himesh (Reshammiya).
You released an album in Hindi recently. What is coming next?
My next album Pakeezah will release in February. I am also working on a tribute to SD Burman, my favourite singer. I have chosen eight of his songs — Mere sajan hai uss par, Wahan kaun hai tera, Safal hogi teri aradhana among them — and plan to present them in a lounge fashion.

Sudeshna Banerjee