Her first brush with acting happened when she was in Class III. She performed on stage for about five years but never imagined that she would go on to take up acting as a full-time profession. Till now, Bangladeshi actress Rafiath Rashid Mithila has acted in 100 telefilms, web series and web films.
And her latest web series Ekattor (streaming on Hoichoi) holds a special place in her heart. The Telegraph chats with Mithila, over WhatsApp from Dhaka, where she lives…
How's the last few days been like?
I am very concerned about this pandemic. I am trying to make people aware about the preventive measures against the spread of Covid-19 as much as I can using my social media pages and handles.
How are you using this time to work?
I am working from home full-time. I am working as the Head of Early Childhood Development programme in BRAC International. My organisation (BRAC) is at the forefront of Covid-19 response at the grassroot level globally. We have to plan and strategise in terms of how we can reach the most vulnerable and disadvantaged people around the world. Apart from that I am also pursuing my PhD at this moment. So I also spend some time studying. Rafiath Rashid Mithila in Ekattor, which is streaming on Hoichoi Sourced by The Telegraph
Is there a routine? What's a day in your life like now?
I am actually more busy now as I am working from home and taking care of my daughter (Ayra, 7) and doing household chores at the same time. I wake up in the morning and right away check my work emails. Then I wake my daughter up, give her breakfast and give her home-study assignments. Then I start my work and the days are usually full of conference calls, sometimes until late at night. In between, we take a break in the afternoon and spend some time together painting or singing or just playing. I keep some time for my studies late at night.
Is it also a time for self-reflection?
It is. The weekends are not as busy as before since I always used to have shooting during weekends. I do sometimes now sit in my balcony looking at the horizon thinking about how life has evolved for me like a caterpillar turns into a butterfly and how there's still so much more to do for the world.
Are you honing your skills or pursuing a hobby?!
Yes I am! I am painting sometimes. Also trying to play the guitar.
Are you watching web shows?
Not really. I watched a few movies lately... mainly old classics. I watched Satyajit Ray's Pather Panchali and Aparajito again. I prefer reading more than watching. I am currently reading Sapiens by Yuval Noah Harari and Half of a Yellow Sun by Chimamanda Ngozi Adichie.
Who do you play in the series Ekattor?
I like the plot which is based on Bangladesh's liberation war in 1971. After reading the script I fell for my character, especially because I like to take challenges. I play Ruhi, a Pakistani journalist in 1971. It is a strong female role, someone who never compromises with her responsibility as a journalist and her moral values as a human being, which I loved to play. I also had to speak in Urdu/Hindi, which was another challenge for me as I did it for the first time.
What is your takeaway from the series?
I am happy to be a part of a project like this which has presented a historical plot in a very contemporary manner. Everybody in Bangladesh who has watched it could connect to it.
How is acting in a series different from a film?
To me it's not different. It shouldn't be. To me it's all about how I deal with my character and deliver my role according to the brief that I receive from the director based on how it would complement the entire story. And I solely focus on that.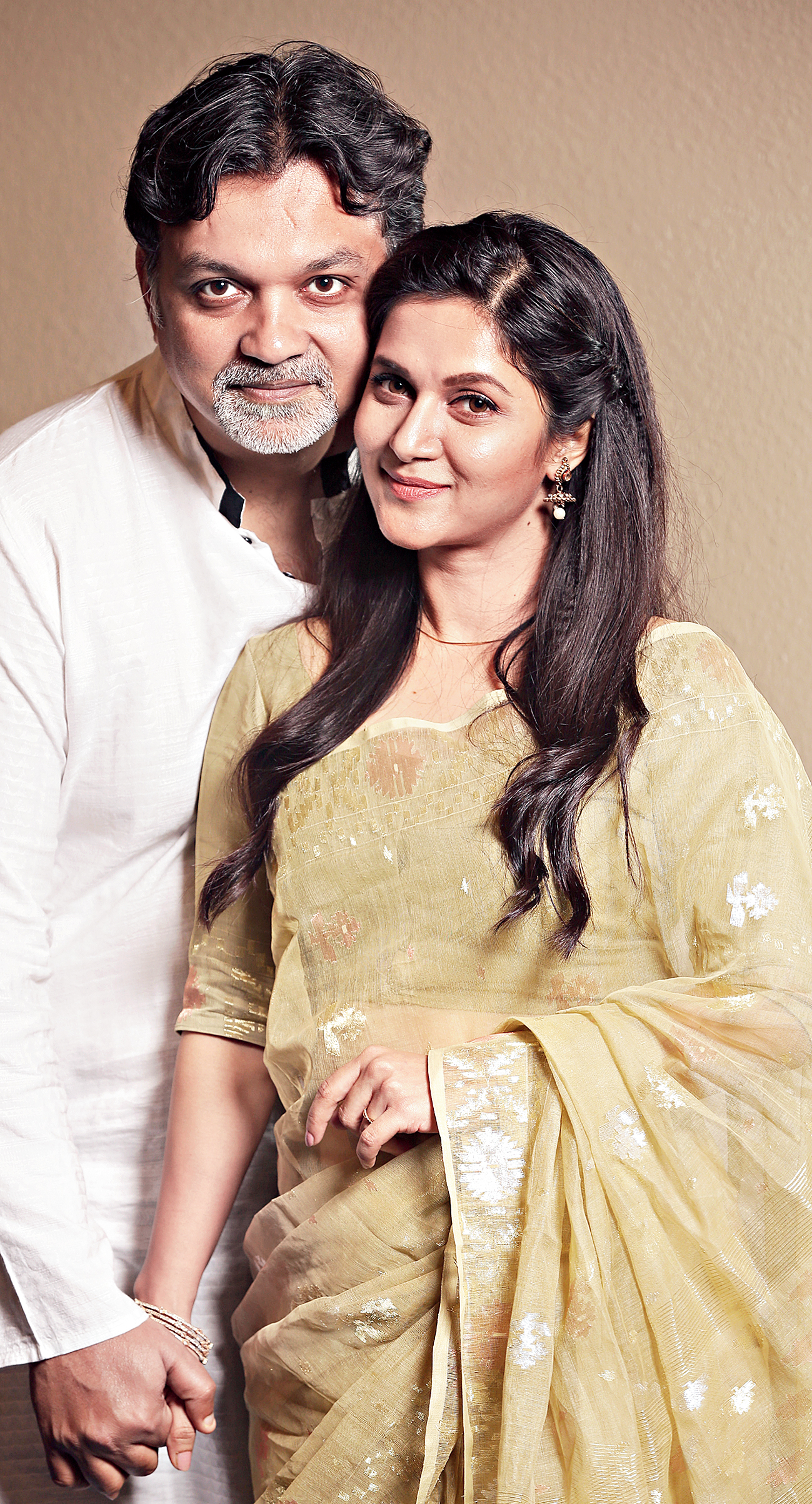 Mithila with husband Srijit Mukherji Sourced by The Telegraph
Why do you feel Ekattor is an important, relevant series?
1971 is and will always be relevant for Bangladeshis. It is part of our identity. It's important to tell more stories about 1971 in a contemporary manner so that the new generation can connect to the history of our independence.
In 2018, you had interviewed Anjan Dutt. And he mentions Srijit Mukherji's name in the interview (Dutt talks about directors who appreciate his acting skills) and about acting in Srijit's films like Uma and Ek Je Chhilo Raja! What do you think of that moment now? Serendipity?!
Serendipity it is! Although I don't explicitly remember Anjanda mentioning Srijit's name in the interview since being a huge fan of Anjanda I was so immersed in what he was saying about his passion for acting.
However, it is true that I came across Srijit's name a few times through friends and I also watched Jaatishwar and Hemlock Society before I met him. But somehow Srijit as a person or a filmmaker could never grab my attention, until the day the universe conspired and he himself tried to do that!
When do you talk to Srijit now?
We talk quite a few times through video calls and WhatsApp. It's all about our chit-chats on how we are spending the day. Every day he gives Ayra a few Bangla words to make sentences. Many of them are funny words like aloo sheddho, shuntki maachh etc.
He is also working on his scripts and I am always eager to read them. He sends them to me as soon as he finishes the first drafts. I also send him pictures of our paintings and videos of my amateur attempts at playing guitar and singing songs from his films.
What's your take on Srijit's film Dwitiyo Purush?
I loved the performance of the younger group... all of them were very good. Anirban (Bhattacharya) and Param (Parambrata Chattopadhyay) were just brilliant. Although I read the script, the ending still hit me hard when I watched it on screen. I would give Dwitiyo Purush 8 out of 10.
How was your experience of shooting with Srijit for the 2019 music video Ki hole ki hoto by Arnob?!
It was an ice-breaking experience for both of us. It was less about 'shooting' and more about having fun, singing together with Arnob, Anindya and Indrasish (Arnob, Mithila, Srijit, Anindya and Indrasish feature in the video), and in between spending a little time with Srijit.
A couple of flashback questions — how did acting happen to you? Did you always want to get into acting?
I started acting when I was in grade III and joined the children's theatre group of Lok Natya Dawl (People's Theatre), a renowned theatre group in Bangladesh. I performed on stage for about five years and then took a break because of my studies. Then I started acting again on television in 2006 when I worked on a telefilm. I never imagined taking up acting as my full-time profession. I do it out of passion. As I have already mentioned that I am professionally a development worker and I have been working full-time for the past 11 years in one of the largest NGOs (BRAC) of the world, which also involves a lot of travelling to Africa, I could never put my full effort in acting. However, I still try my best to work on special projects utilising my weekends and holidays.
You have done many television dramas and telefilms. What's the one thing you really like about being a part of television shows? Also, did you ever plan out your TV/film career?
Television is very popular in Bangladesh. It has always been since the beginning of Bangladesh television. We have had great productions, dramas and telefilms. It is part of Bangladeshis' daily life. I am proud of being a part of our television industry. Apart from dramas and telefilms, I have also hosted a couple of television shows. Currently I am hosting one of the most popular celebrity talk shows Amar Ami on channel Banglavision.
I usually don't plan much in terms of lining up projects or planning for film/TV productions ahead of time but once I get an offer of a project I do take time to think about it. I also have to carefully choose a project considering the time constraint that I have.
What are your thoughts on Calcutta, Bangla cinema and music?
The Bangla film industry is thriving like anything. In fact, I would say the content, storytelling is sometimes better than Bollywood's cheesy stuff, especially for Bengalis. And I have always been a fan of Bengali music... starting from Hemanta Mukherjee, Manna Dey, Mohiner Ghoraguli to Anjan Dutt, Kabir Suman to Anupam Roy... all of them are my favourite.
What's next?
Covid-19 response of BRAC, my daughter's online schooling, my PhD... and seeing Srijit in person... in flesh and blood. The only thing that I hope to come soon is for this world to be in a better time. And I hope that human beings would act responsibly from now on and take care of nature and other species of this planet.
Do you have a question for Mithila? Tell t2@abp.in