Rock-n-roll baby
There has been much rocking, rolling and crossing the floor by the baby we knew as Baby Khushboo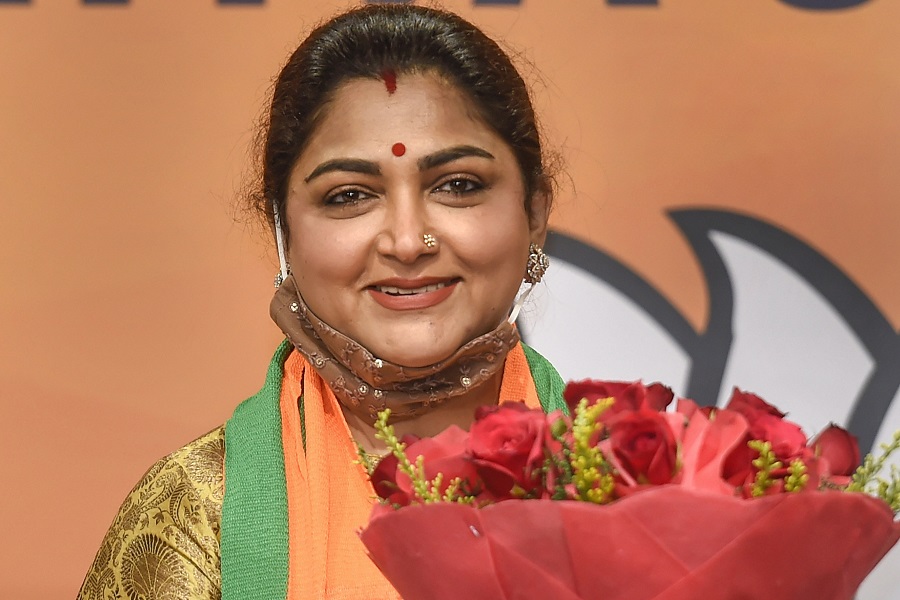 Khushboo, after joining the BJP, at the party HQ in New Delhi
PTI Photo/Kamal Singh
---
Published 18.10.20, 01:54 AM
|
---
Bol baby bol, rock-n-roll..."
There has been much rocking, rolling and crossing the floor by the baby we knew as Baby Khushboo. She was in that awkward "child artiste trying to become heroine" stage when Subhash Ghai cast her in a sister's role in Meri Jung (1985). Meenakshi Seshadri and Anil Kapoor led the main cast while Jaaved Jaaferi rocked and rolled on the sidelines with Khushboo.
Interesting how Khushboo, who was on prime time everywhere last week for dumping the Congress and joining the BJP, has grown from "Baby" to "Heroine" to "Tamil Nadu Politician" a la Jayalalithaa.
We in Mumbai remember her as a chatty and endearingly amiable teenager who loved doing photo shoots, mostly wearing denims. Once, photographer Jayesh Sheth, who had the widest range of Khushboo's pictures and shot with her frequently, told her to forget about denim and go colourful. Khushboo agreed to go shopping like a sport and returned to the shoot with — a denim jacket. "I'll pair it with a colourful T-shirt or top inside," she offered.
Her transformation from denim-crazy teen to an eloquent, sari-draped politician and Congress spokesperson was dramatic. But the really enigmatic change has been in her confidence. During the Hindi film phase, Nakhat Khan (as she was christened) would be most comfortable shooting in and around her Versova house in Mumbai. If the photographer suggested shifting to Bandra Bandstand for a scenic change in the backdrop, she'd try her best to keep the crew close to familiar home territory.
For her to move to a new state, make a home in Chennai and in Tamil cinema, a language she didn't know, has been emblematic of growth not foreseen. Fortunately, Tamil cinema, which turned her into a superstar, was kinder to her than Hindi films.
Along with a new language, Khushboo so completely adapted herself to the culture that at one time, the crazy fan clubs of Chennai forgot she was Nakhat Khan and erected a temple in her name.
For a girl once unwilling to move out of comfort zone to hop from the DMK to the Congress and thence to an unfamiliar BJP has been an axiomatic declaration of change and courage.
The story of Urmila Matondkar, another child artiste who grew into a heroine and also discovered a taste for politics, has been somewhat opposite. Unlike Khushboo, she made a late entry, parachuting herself into the fray only at election time.  
Also, while Khushboo found a brief mate in Sivaji Ganesan's son Prabhu before settling down with filmmaker Sundar, looking every inch the Hindu Tamil Nadu ponnu, Urmila, the Marathi mulgi stayed put in her home state, married Mohsin Akhtar Mir, a Kashmiri Muslim, after crossing into her 40s.
Currently, both well-spoken child artistes-turned-politicians have ditched the Congress. But they have distinctly different personalities. Urmila always played demure, reticent about her personal life. Khushboo has been consistently forthright. She had famously opened up about her liaison with Prabhu and said, "What's wrong with pre-marital sex?"
But despite moving to the prudish ruling party, those "indiscretions" and her history of anti-Modi, anti-BJP statements won't come back to bite Khushboo simply because she doesn't try to hide any of it. She hasn't deleted her old tweets. And, with her latest political step, the Bol baby bol pair will be on opposite sides. Jaaved, who attempted electoral politics on an AAP ticket, breathes fire at Modi and the BJP.
Talking of electoral politics, Shatrughan Sinha — who thundered, "Baap ki jaagir hai kya?" when he spoke on nepotism — is gung-ho about son Luv contesting the Assembly polls on a Congress ticket. With Ram Vilas Paswan's son Chirag, Sharad Yadav's daughter, the Lalu Prasad clan and the Sinha family, looks like it is baap ki jaagir for the yuva netas of Bihar.