With his latest release Shubh Mangal Zyada Saavdhan, Ayushmann Khurrana is not only seeking his eighth hit on the trot, but also looking to shatter taboos surrounding homosexuality. Recently, Ayushmann — along with director Hitesh Kewalya — chatted about how their film normalises homosexuality at a session titled 'Article 15 to Section 377 — Movies R Us' at the Tata Steel Kolkata Literary Meet, held in association with The Telegraph and Victoria Memorial Hall. Sitting in the audience, The Telegraph took notes of the conversation moderated by screenwriter-lyricist Niranjan Iyengar.
Niranjan Iyengar: Ayushmann, congrats on a fantastic run in the last few years. How do you feel when you look back at these successive successes?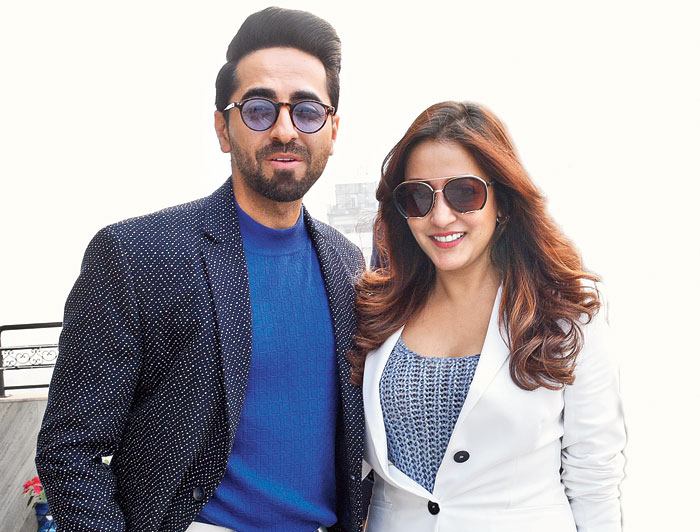 Once at the corporate address in Chowringhee, Ayushmann caught up with actor Raima Sen who looked smart and sassy in a white pantsuit. Rashbehari Das
Ayushmann Khurrana: It's a kind of validation that the choices I am making are being appreciated by the audience. Also, credit goes to the audience for constantly evolving. These are subjects that are progressive and back in the day, they used to be part of art-house cinema but now they are being made as middle-of-the-road cinema. I am glad to be working in this era in Hindi films.
Niranjan: These days, it's pretty common to meet writers who say, 'Mere paas ek Ayushmann Khurrana-type script hain'. It's a sort of genre now…
Ayushmann: I really don't know what that type is, honestly. It started off with Vicky Donor, which is a kind of case- study in Indian cinema, where a taboo-breaking subject scored decent numbers at the box office. It was an extension of that zone that I followed with Dum Laga Ke Haisha and Shubh Mangal Saavdhan and Badhaai Ho. Shubh Mangal Zyada Saavdhan is going to be another case-study because it's the first film to deal with homosexuality in the realm of commercial Hindi cinema. I think India is ready for this.
Niranjan: While all your characters are based in the same geographical belt, you seem to have found a way to demarcate between them. How do you do that?
Ayushmann: The idea is to be one with the milieu, get a grasp of the colloquial jargon, the twang. In this country, the dialect changes every 10 kilometres. I am glad that I have done Hindi theatre, though I was convent educated. That made me into quite a linguist. By default, these characters are set in the middle class and in small towns because that's where the conflict is.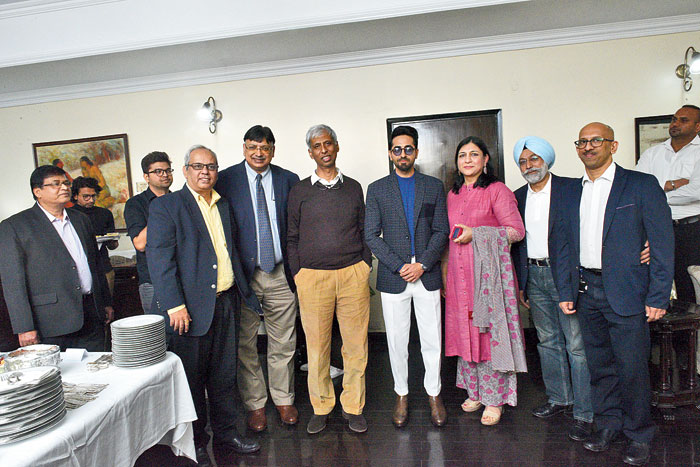 CATCHING UP: Prior to the KALAM session, Ayushmann and his Shubh Mangal Zyada Saavdhan director Hitesh Kewalya dropped in for lunch with the top management of Tata Steel, the principal sponsors of the Kolkata Literary Meet. Rashbehari Das
Niranjan: Hitesh, how much of the milieu was involved in the writing of Shubh Mangal Zyada Saavdhan?
Hitesh Kewalya: The milieu is very important because, in our middle- class society, the milieu is in itself the conflict. Most of us try to rise above this conflict. In this case, it's homophobia, but it can be anything. That's where the cultural references and the dialect come in. Human relationships remain the same, irrespective of the milieu. Ayushmann's look in the film is born from where the character comes from… in the film, he's an outsider, he's more like a catalyst. He inspires others to fight against homophobia. He is confident and comfortable with his sexuality. We didn't want to propagate stereotypes or come up with any new stereotypes. We don't want people to say that, 'This is how a homosexual character is supposed to be'. No, there is no 'supposed to be'. He should look like a flamboyant, confident person… that's it.
Niranjan: Ayushmann, what were your reference points to play this character?
Ayushmann: I have a lot of friends who are part of the LGBTQ community. It's been a journey, I am learning with every film. I was in an all-boys school and in an all-boys college. In college, the gay club invited me over to sing because they found me kind of cute. I didn't go because I was so scared! (Laughs) That was 2005 and I was borderline homophobic, but things have changed, people have become more aware and inclusive. Through this film, even if we can get five homophobic people into theatres and change how they think, it will be our biggest victory.
Niranjan: Did you, in any way, exaggerate your character to make him more interesting on screen?
Ayushmann: I didn't do that. I only added some colour to him, like having a nose ring and a tattoo. His tattoo has both Shiv and Shakti… that's the kind of detailing we have got into. I was reading this book called Lie With Me by Philippe Besson, a love story of two boys, but for me, my preparation lies in imagining. I am a straight guy, so method really doesn't come in here! (Laughs) We do have a kissing scene in this film, but we treated it as a natural way of expression. When we were shooting for Dream Girl, I saw two guys kissing in a parking lot in Bombay, and no one was really bothered. I was like, 'This is amazing! We have to normalise this as much as possible'.
Hitesh: I am not gay but even as a straight man, you struggle in a society like ours where a man is supposed to behave in a certain way. Aggression is a part of it, being macho is a part of it. I may not understand homosexuality like a person from the community would, but I do understand homophobia. Ayushmann's best addition to any role — particularly the one in this film — is the vulnerability that he brings on to the screen. In this film, he's confident and yet also vulnerable.
Niranjan: Ayushmann, all your parts have been relatable, something that possibly comes with observing people and everyday situations. But what happens when someone becomes as big a star like you and walls get built around you… how do you still interact with people to be able to play your characters and yet remain isolated?
Ayushmann: I still try and interact as much as I can. Wherever I am shooting, I meet a rickshaw-wala or a chai-wala and try to find out about their lives, motivations and aspirations. Koi bolta hai ki aaj biwi se maar pad gayi! (Laughs)
Of course, with success, you tend to become slightly unapproachable, but it's my agenda to interact with the common folk as much as I can… otherwise where will I get fodder for my films from? I can't do anything apart from real and rooted cinema… so I have to be with people, no matter what.
I am glad I did radio before I came into films because that helped me interact with all sorts of people. I have struggled my way up, so I know these people… I am one of them. What is relevant now may become irrelevant in five years… so I need to keep up with how people change, how what they think changes. I am still in touch with my theatre friends… some of them are strugglers, some are doing well. Through them, I get varied perspectives on life.
Niranjan: When actors become successful, they become a little greedy and try and have some more control over a project, sometimes as a producer or as a director. Do you have any such aspirations?
Ayushmann: I am always greedy! Even now, Hitesh is editing Shubh Mangal Zyada Saavdhan and I keep telling him, 'Mujhe edit dekhna hai!' (Laughs) As of now, I am enjoying my acting and singing. I would like to act as much as possible… but that also depends on the audience. Till the time they are interested in watching me, I will go for it… otherwise, I will do something else.