Ayushmann Khurrana looks back on a dream year
The actor on why he's taken a much-needed break and the road ahead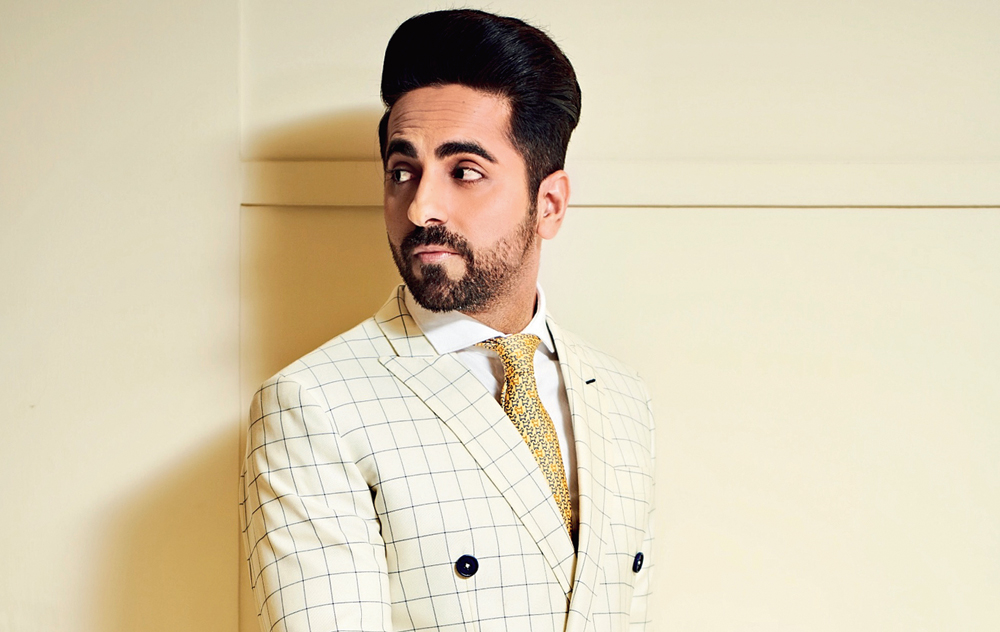 Ayushmann Khurrana
Photo: The artist
---
Published 26.12.19, 01:13 PM
|
---
Versatile. Blessed with amazing script sense. Has his finger on the pulse of the audience. Ayushmann Khurrana has been having a dream run for a few years now and 2019 hasn't been any different for the 35-year-old actor. All his three releases this year — Article 15, Dream Girl and Bala — have garnered both critical acclaim and earned at the box office, with the Rs 100-crore-plus Dream Girl emerging as the biggest hit of his career. The cherry on the cake has been the National Award for Best Actor for last year's Andhadhun that Ayushmann received in Delhi on Monday. The Telegraph chatted with Bolly's wonder boy — who's currently holidaying in the Bahamas with his family — on yet another glorious year at the movies.
What a year, Ayushmann! You've been hearing this for quite a few years now, but I am sure you never get tired of it…
(Laughs out loud) Not at all! Appreciation in any form is always welcome, so all I can keep saying is 'thank you'. And I have worked hard towards it… so it's always, always wonderful to keep hearing good things about my work.
You've been hailed as the gold standard when it comes to picking scripts, how you excel in playing the Everyman and have been labelled the king of quirk. How would you decode the Ayushmann Khurrana success formula?
Immediately after Vicky Donor (his 2012 debut film), I had three unsuccessful films (Nautanki Saala, Bewakoofiyaan and Hawaizaada). I feel that having such huge failures so early in my career actually worked in my favour. They gave me a very stable head on my shoulders… I had made notes of what kept me going through that phase… how I survived it… and it made me revisit everything that was going wrong with my choices.
I am glad that happened so early for me. That's because if you face failure later in life, you aren't so mentally equipped to handle that or even be able to survive that. So what I did was quickly go back to the basics. I decided to strictly go by content and not get overawed by big names or big directors or big producers… it's the script that became the sole focus for me. More than anything else, I decided to start trusting my gut… and that's been working for me ever since (smiles).
While Dream Girl and Bala belong to a familiar genre, you threw a curveball, much like Andhadhun last year, with Article 15...
Article 15 is very special to me because it went beyond the realm of conventional Bollywood cinema and yet made money at the box office, besides being so highly acclaimed. It's a film that's so relevant. I am glad the audience is evolving as far as content is concerned. It's a very important film in my filmography that made me explore a different dimension to myself as an actor. I am proud of that choice I made and also that I had the chance to collaborate with a director like Anubhav Sinha who I believe is a flagbearer of social change. I will definitely aim to do cinema of that grain after every two-three films because as an actor, I believe I have an important social responsibility.
Would it also be the part that challenged you the most this year?
It did… playing this guy (IPS officer Ayan Ranjan) was very, very challenging because I had never done a role like this before. I had to work a lot on the walk and talk of a police officer. The thing is that when you are successful, you will tend to get all kinds of offers and this is a film that I actually extracted out of Anubhav Sir. He initially offered me a rom com, which I didn't do.
I now call him Anubhav Sinha 2.0 because he discovered his voice with an important film like Mulk, took it further with Article 15 and now with his next film, Thappad (starring Taapsee Pannu), he is sure to come out with flying colours.
In a diverse filmography peppered with tough turns, which role has tested you the most so far?
Andhadhun was challenging because I had to play a con artist in a way and still makes it believable. I had to learn how to play the piano and make it look legit. Article 15 was tough because, as I said, people hadn't seen me in a role like that before. And then again, Dream Girl was one of the most difficult roles for me because I was doing slapstick for the first time. It was quite risky, I feel. But I had to take that leap of faith because I needed to reach out to the single-screen audience. It worked for me… Dream Girl is my biggest hit ever.
And then, of course, has been the National Award for Andhadhun….
In the seven years I have been in the business, four films (Vicky Donor, Dum Laga Ke Haisha, Andhadhun and Badhaai Ho) of mine have won National Awards. And I would get asked what's the secret to all these National Awards (laughs). Andhadhun was a very special film and I am glad I got my National Award for it.
An Ayushmann Khurrana film comes with sky-high expectations. Does that put stress on you while picking a film, or is it a happy kind of stress to have?
It's happy stress, it's happy pressure! (Laughs) It also means a guaranteed opening for your film if people have confidence in you and expect something out of your films. I am glad it's happening. But at the same time, I take care not to get overawed by the situation and solely back content like I have always been doing.
What happens when you shoot films back to back like you've been doing? Does prep time get curtailed and do you find it a little tough to switch between characters?
I switch on and switch off quite easily… I never take any of my characters back home. I have shot a lot of films simultaneously. In fact, I shot Andhadhun and Badhaai Ho at the same time and they are such different films. But I really felt I needed to recharge my batteries and so I am on a break now, simply so I can come back with the same kind of excitement and enthusiasm.
This break is very important for me… I am not shooting a film for the next four months. It's been a very conscious decision. Of course, I have been doing events and shooting ads, but I am not playing a character. I want to use this time to live life, discover more inspirations and learn new things, all of which I feel are very important for an artiste. I have two films releasing next year — Shubh Mangal Zyaada Saavdhan and Gulabo Sitabo — and I am really looking forward to both.
What's the break been like?
Oh, I have been doing a lot of things. I went on a long summer vacation with my family this year. I had been shooting for four films back to back, which became a bit too much… imagine, doing that for eight months in a year… and I was glad for the break. I am now spending time with family and friends, jamming with my band… we have a concert in January. I am writing poetry, learning Urdu….
That sounds like a lot of work in what is supposed to be a break!
No, no! (Laughs) I am rediscovering myself. I am evolving….
You just mentioned Gulabo Sitabo. How has it been reuniting with Shoojit Sircar after Vicky Donor and then, of course, sharing screen space with Amitabh Bachchan for the first time?
That unit is my family. They have seen me in my most vulnerable phase. It's quite surreal because Shoojit Sircar, (writer) Juhi Chaturvedi, (producer) Ronnie Lahiri… these guys gave me my first film and Gulabo Sitabo is homecoming for me. It's very, very special. It's a typical Shoojit Sircar film… slice of life and unique.
Sharing screen space with Mr Bachchan has meant one tick off my bucket list. He's continues to be the superstar he is for a reason… he's relevant, he's ever evolving and has changed himself with the changing times. He's still so young at heart.
What are the other performances this year that you really liked?
I really liked Ranveer (Singh) in Gully Boy. I really, really liked Gully Boy. I also loved my brother's (Aparshakti Khurana) performance in Pati Patni Aur Woh.
Will we see the two of you in a film together soon?
We would love to! We are looking for a script that appeals to both of us. He's now doing his first lead role (in Helmet, co-starring Pranutan Bahl). I am so happy for him… he deserves to be the lead in a film.