'Ayushmann is my first feedback machine!' — Tahira Kashyap Khurrana
Tahira is an inspiration for millions today for her battle against breast cancer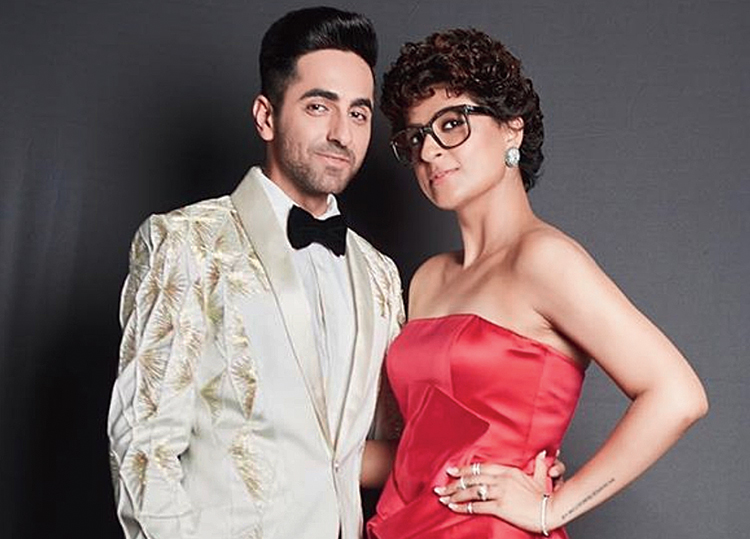 ---
---
After directing her debut short film, Toffee, last year, Tahira Kashyap Khurrana is in the process of locking her first feature film, titled Sharmaji Ki Beti. But it's her resilience in the face of breast cancer and the way in which she has built awareness around the disease that makes Tahira an inspiration for millions today. The 35-year-old mother of two was a speaker at a session on movie messaging at the recently concluded Jio MAMI 21st Mumbai Film Festival with STAR 2019. Post the session, she chatted with The Telegraph on her writing process, on being inspired on a daily basis and exchanging feedback notes with actor-husband Ayushmann Khurrana.
You are in the process of writing your debut film, which you will also direct. What's your writing process like?
I know the rules kind of say that one needs to sit down every day and at least write two-three lines, even if it's gibberish and rubbish (laughs), but that's not the way I function. I don't really need to write on an everyday basis. On the contrary, my writing process is defined by several 'eureka' moments… moments where I feel, 'I have something!' But there are many days and weeks before that are spent in frustration because an idea doesn't come to me. But I don't let that fluster me. If anything, I feel these moments of frustration bring up my antennas and make me more receptive. Having said that, I would definitely like to make my writing process a little more disciplined, par woh ho nahin raha hai (smiles).
Who or what do you turn to for inspiration when you face a writers' block?
Any medium. I consume art in the form of music… I love reading books… I like watching cinema and short films. I just consume art in some form or the other. It's not necessary that I only have to watch films to get inspired while writing my film. It could be some great music… even a long walk has helped me often.
We know that you are a voracious watcher of films. What kind of films do you mostly gravitate towards?
I like entertaining films, but I do appreciate a film more if it has some layering and some subliminal messaging. I gravitate towards cinema that adds value to our thinking and conversations. But at the same time, everyone likes to be entertained when they walk in to watch a film. I know for sure that I like films that qualify as 'happy cinema'… I don't like dark films, I don't like cinema that weighs you down because anyway there is so much of it going around in the world. I think the Munna Bhai films, or for that matter, any film by Rajkumar Hirani, is the kind of cinema I like.
You've said that your fight against cancer has changed you as a person. Has it also changed — or added a new dimension — to you as a writer?
My short film Toffee, that released last year, was about two girls fighting class divisions but it was mostly set in a fun space. After this health scare, my perspective has changed in terms of me constantly telling myself, 'Let me not let go of any opportunity to add value'. This holds true for every aspect of my life. Human life is so precious and yet most of us take it for granted. We all deserve dignity and we all deserve happiness.
After the setback I went through and the aftermath of the illness, I have arrived at a place in life where I don't want to let go of any opportunity that even semi-knocks at my door. I don't know if I will get that chance again, and if I am getting it, I want to maximise it and add utmost value in the most entertaining way. That's how I see life now.
You've mentioned that you read every script that's offered to your husband Ayushmann and pitch in with your thoughts on them. When you are writing, do you turn to him for inputs or is it just you?
He's too busy, ya! (Laughs) We hardly even manage a meal together these days. He's constantly shooting or travelling. But whenever I finish writing something, he's the first person I bounce it off with. He's heard all my features, all my shorts, podcasts… whatever I have written so far or am in the process of writing. He does have a lot of inputs to give, and it's not that he always loves whatever I write (laughs). But that doesn't mean I will stop writing it or making it. I take his opinion and I do tell him, 'Don't tell me what's good, tell me what's not'. And when he does that, I realise that there is a loophole and I should work on it. He's my first feedback…. (pauses) machine! (Laughs)
You are an inspiration for many in the way you have battled your illness fearlessly and also spoken about it. Who inspires you?
Oh, there are so many. Now, I get inspired on a daily basis. It's unbelievable, the kind of stories I get to listen to. In the one year that I have opened up to the world, the world has opened up to me (smiles). It's not fair to point out someone in the public eye and cite them as an inspiration. You will be amazed by the stories of personal strength and grit that I get to see every day through the messages I receive on WhatsApp or Instagram. The women in this country are amazing. They keep telling me that they derive inspiration from me, but when I am at my lowest, it's their stories that I keep going back to.
Just yesterday I was at a party and a woman in her mid-50s came up to me, so full of life, and was like, 'What's up? You really inspire me… good job!' And I was like, 'Thank you, thank you'. And then she was like, 'I am just going through what you went through'. And I was stumped just seeing how jovial and carefree she was. She had taken her second round of chemo (therapy) a few hours earlier and had come to the party! That's so inspiring. If you ask me, the resilience to fight back and never give up comes from my mother. It also comes from the practice that I follow — Nichiren Buddhism, which emphasises that one should never feel defeated.
How much has telling your story to the world empowered you?
A lot, a lot…. But I do have my lows and that's when I need the energies of other people — friends and family, even maybe people I don't know that well — to put me back on my feet again. Telling my story to the world is a decision I took almost immediately after I was diagnosed. And it felt so empowering right at that moment itself that I knew I was making the right decision. I don't hold anything back because I have nothing to hide… I have shared pictures of my surgery scars, my bald head, my everyday battles with cancer, however big or small…. That's not only empowered me but also given me the hope that there will be some who will be empowered in turn. And as I said, I am not the only one inspiring… there are a million others inspiring, encouraging and empowering me. When I was without my hair and 10 people on social media said I looked beautiful, I really felt beautiful (smiles).
What's really refreshing about your marriage is that you and Ayushmann are capable of laughing at everything that comes your way, and even at each other. Recently, you put out a social media post in which you laughed at the fact that he compared your new crop of hair to that of the '90s actor Harish…
(Laughs out loud) Don't go by this hair that you see now. Subah milogi toh main Harish hi hoti hoon! (Laughs)
Ayushmann also recently fasted on Karwa Chauth for you…
Oh, I wasn't expecting that! I was in Dubai for a breast cancer awareness campaign and was speaking there. I am still on medication and I can't fast, though I did fast for the 10 years before that, right from our first year of marriage. He called me out of the blue saying that he had fasted the whole day and also did a video call while breaking the fast. My colleague just happened to capture it all on video… I felt so special, he's the sweetest. In a day and age when women are still bound by so many rituals, I am so glad that some of our men are also taking the initiative to shoulder it with us. It's almost like giving out a shout-out to equality and parity. I am glad it's happening.