Atanu Ghosh on Kaberi Antardhan
This film stands distinctly apart in its defiance of filmy stereotypes, says the film-maker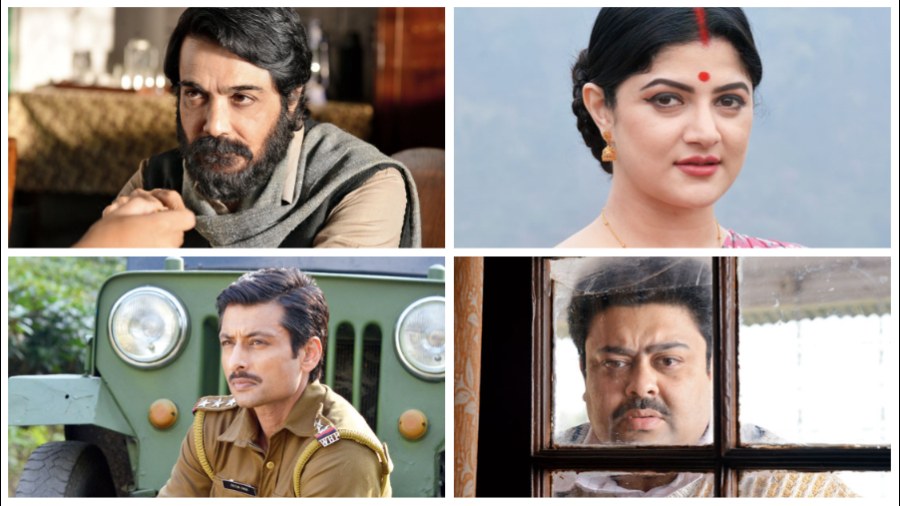 (clockwise) Prosenjit, Srabanti, Ambarish Bhattacharya, Indraneil Sengupt in Kaberi Antardhan, running in theatres now
---
Published 21.01.23, 12:10 AM
|
---
Film posters still fascinate me, if they are arresting, if they force you to pause and take a second glance. It is difficult to resist the pull of the two faces here. The man at the top looks back with deep, reflective eyes, a hard frown raising questions, and a thick mane and beard holding back unsaid chapters. The one below, messy locks peppered all over with an impish smile on the lips and eyes that don't care for your attention, or for the world at large. They are two famous faces and actors I have greatly enjoyed working with. So I stop, en route to my morning walk, right in front of the four-sheeter. Here they are, the two glorious men, posing in stark contrast as Arghyakamal Sen and Gokul Chandra Debnath, aka Prosenjit Chatterjee and Kaushik Ganguly. Tilt down to the film title, Kaberi Antardhan, in bold white against the blaring red and black of the backdrop. This is the brutally disturbing phase of the 1975 Emergency in India. In choosing such an unsettling time frame to explore its repercussions on the human psyche and behaviour, director Kaushik Ganguly gets an A+.
Filmmakers live on by re-inventing themselves, walking on roads not travelled before. Kaushik embarks on yet another dazzling re-route in his illustrious career through this riveting tale of deceit, passion, mystery, and ideology rarely portrayed with such zest and vigour in Bangla cinema. It unfolds as if in nested Chinese boxes with a clue concealed inside a box that in turn contains another smaller box and so on! As the boxes get shorter, the layers and perspectives intensify, keeping me on the edge of my seat until the end.
And then I chose to walk. A meaningful film grows within you after you leave the theatre, and Kaberi Antardhan prompts you to revisit and piece together the fascinating threads. The declaration of Emergency was the final nail in the coffin for a deplorable socio-economic condition of democratic India, an astronomical level of inflation, and a rising unemployment rate that drove youth to rage. These angry and conflicted youngsters form a very significant focus for the film and that is where Gokul Chandra, a self-styled enforcer of law and order, desperately on the prowl against the furious young generation, comes face to face with Arghyakamal, an artist and sculptor of infinite charm and sensibilities.
Such a fitting character profile because censorship of art was at its pinnacle during the Emergency! But the film never aims to document history. No matter what production design does, it chooses meticulously — whether it's the family planning slogan, the Fiat Premier Padmini car, or the jute-made home decor. Exhibits are not overcrowded to attract attention. Instead, the film weaves engaging fiction set in a small town in North Bengal surrounded by hills and tea gardens fusing mystery, drama and intrigue. Utilising body language, or more specifically his expressive eyes, Prosenjit lends Arghyakamal Sen a fair share of ambiguity and depth.
Gokul Chandra by Kaushik Ganguly captures awe, humour, and unpredictability in just the right proportions. The central theme binds them together with the strange and mysterious disappearance of Kaberi. Here too, unlike conventional suspense formulas, Kaberi is all real, burning with desire, vulnerability, and impulsiveness. Thanks to Srabanti Chatterjee for being so credible, especially when she rebels for her freedom.
The acting styles of Churni Ganguly and Ambarish Bhattacharya in particular are remarkably convincing in portraying suppressed emotions, handling stress, and remaining resilient during difficult times in personal relationships, which was still a distinctive quality of the middle-class 'bhadro samaj' of the time period. The script lends them ample support in the choice of words and phrasing of dialogues, which is sadly lacking even in much-hyped Bengali period films of the current generation.
The directorial masterstroke, however, lies in the characterisation of Arghyakamal's father, Amiya Sen. I don't recall such a powerful drama unfolding around a paralysed man and his bed switch. And what a captivating performance and excellent dubbing from Ardhendu Banerjee!
There is no dearth of suspense stories born out of lives shrouded in mystery and secrecy. But Kaberi Antardhan stands distinctly apart in its defiance of filmy stereotypes. It authentically explores the complexities of the human mind and its idiosyncrasies in times of acute external crisis through an unpretentiously hard-hitting format that grips and enthrals without sacrificing delicate layers.