Ashish Vidyarthi on taking up vlogging: 'My tribe was waiting for me to discover myself'
Vidyarthi travels with his GoPro, rode mics and tripods, and uses his phones to tell his travel and food stories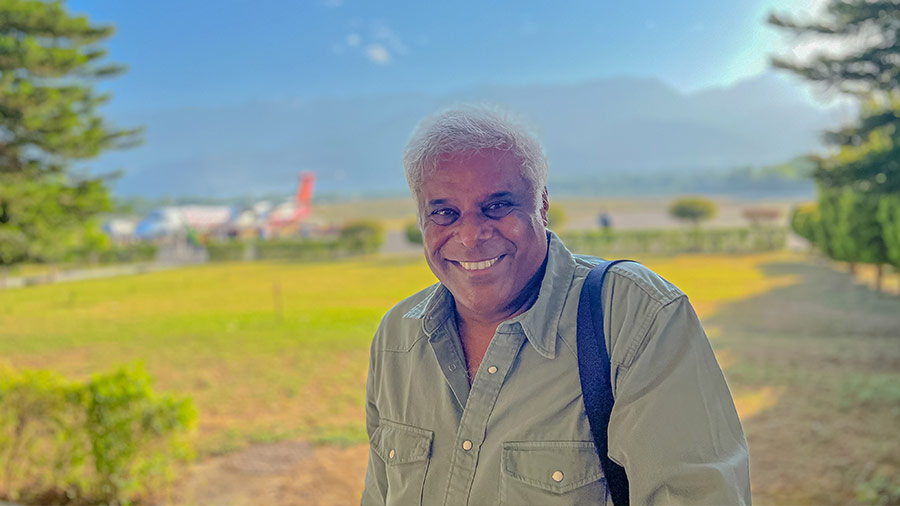 Actor-turned-vlogger Ashish Vidyarthi
Ashish Vidyarthi
---
Calcutta
|
Published 27.08.22, 04:34 PM
|
---
With 240-plus films in 11 languages, we have known Ashish Vidyarthi only as an actor. In the last six months, though, he has kind of surprised the online content creation community in India with his signature vlogs on travel and food. Vidyarthi is on YouTube, Instagram, Facebook and Clubhouse, and given his passion for communication, his vlogs are relatable, fresh and full of life. 
An admirer of chef, author and travel documentarian Anthony Bourdain, Ashish Vidyarthi chats with The Telegraph Online about his newfound success as an internet content creator and his "vlogs of hope and love".  
You know how to make good use of the internet… 
Ashish Vidyarthi: For me, the internet is a means towards an end. You can liken it to education or what you understand to be the opportunity. Generically, whatever you have, whatever you see, can be utilised and applied in life to further the things that you believe in. It makes life so much more accessible because, I feel, personally all of us are reaching out to life. The internet gives me access to create stuff that inspires me to live life. 
You have been an actor all your life. But it doesn't look like vlogging happened overnight. Was it a long-due ambition? 
Ashish Vidyarthi: See, plans take forms. If I remember, I have been taking photographs. Many people asked why I clicked pictures and why I wasn't in the moment. I said I wanted to be in the moment and click it too. I clicked selfies long before it got its name. I took selfies using the back camera of my BlackBerry phone because I wanted to click myself with the background. So, be it on the streets of Chennai, Delhi, Kolkata and other places, I have a whole lot of data about me creating experiences. It was not drastic for me. It was an extension of what I did with still photographs with anecdotes. I do it with videos now. With technology, it happened. There is no new start in life. There is only continuation, and this is something that interests me. What was it that prompted you to begin one day?
Ashish Vidyarthi: I remember, there was a lot of stuff happening in my life that I wanted to vent and express. I wanted to dive into fear. Clubhouse (a social audio app) came up, so I joined it. I started getting excited about sharing ideas and connecting them into stories. I thought, why don't I tell stories that are happening around me? That's how I started. Life, itself, is a trigger.
There is something about your vlogs that people easily connect to. How do you join the dots?
Ashish Vidyarthi: It's a flow. I am enjoying it. Since I turned 56, I started expressing myself. I found that there is a place for me and my kind of thoughts. Earlier, I had a place as an actor and for that, I had to depend on someone but for this one, I can express myself. I understood my tribe was waiting for me to discover myself. People are finding it good, and the result is all organic. None of it was researched or scripted. I am doing it like a rolling stone!
You are an actor, vlogger, traveller, motivational speaker. How do you multitask?
Ashish Vidyarthi: I wake up around 4.45am. I do some flow exercises with a co-actor. Then, from 6am, we do voice-overs, watch videos and discuss things to do. Sometimes, I do a podcast in the morning and record voice notes. Then, I go off to work and when I come back, we discuss technology-related things as I am deeply interested in it. And I have meetings on Zoom in the evenings. I love to repurpose myself in multiple roles. Wherever I go, I eat, so I turn it into Instagram Reels that go into my Facebook and Instagram pages (@ashishvidyarthi1).
I also want to talk about life that goes into my YouTube channel (Ashish Vidyarthi Official). Recently, I have opened a new Instagram account (avidminer1) where I post content on motivation and how to look at life differently. We do motivational sessions for companies where we address the board of directors to the sales force in both Hindi and English. I create content for one hour and 30 minutes. It's a curated show and not a one-size-fits-all. It takes up my time. I am also an actor, a communicator, a discoverer of things, a parent, and a traveller. I live unabashed. I don't show places and things. I don't tell facts and figures. I show emotion, as I am an emotional person. So, I am well-tired by the end of the day. I push the envelope. I go to sleep by 9.30pm.
Online content creators often struggle with a lack of good ideas after a certain point. Do you face it as well?
Ashish Vidyarthi: I face all of it, all the time. The principle that I follow is – when in doubt, move. A new horizon opens up with new possibilities. New ways to move forward to create validation for yourself. I believe that each one of us should find a valid reason for today. We should honour ourselves by doing something honourable. Allow yourself to appreciate someone who has done well. When you have a valid day, you will have a valid time.
Tell us what's there in your travel vlogging kit.
Ashish Vidyarthi: I travel with my GoPro, my rode mics and tripods. I use my phone to tell stories, so I carry an iPhone, which I hate but it has a great camera. I also have an Android phone – Samsung s22 Ultra – which I love, and I also love the camera. I also carry a Sony ZV-1 sometimes. Technology is a great friend if you know how to play with it. It's not just for young people. You must have heard that too. How do you feel?
Ashish Vidyarthi: I ask people if they are too old to be happy. No one wants to be bored. In life, you can give in to the conversation that is around you, or create a conversation that inspires you. The choice is yours. Be a part of the process. Life is on a continuum, so be extremely grateful for what life has thrown at you. I want to be finished when I die.
How are your other actor friends reacting to your new avatar?
Ashish Vidyarthi: I must admit that I don't meet many. After work, I disappear in the evenings to meet another set of people. Sometimes, I get messages that they have loved my content. With social media, many came to know that I am alive. I have a YouTube channel — Ashish Vidyarthi Actor Vlogs — where I post two videos a week. Are you getting acting offers because of your newfound success as an online content creator?
Ashish Vidyarthi: Yes, I believe some have come to know that I am still around. But did I do it for this? No! I wanted to do more with life. Thanks to social media, I don't have to wait for someone to cast me. I can create content, irrespective of age, geography, language. That's the democratisation.
What films are you working on?
Ashish Vidyarthi: After Rudra - The Edge of Darkness, Raktanchal, Criminal Justice Season 2, Mission Over Mars, Kaun Pravin Tambe?, I have five projects that are coming up next year. Vishal Bhardwaj's Khufiya will come next year.