Arjun Kapoor talks movies and marriage
This Friday, Arjun will be back in theatres with director Raj Kumar Gupta's India's Most Wanted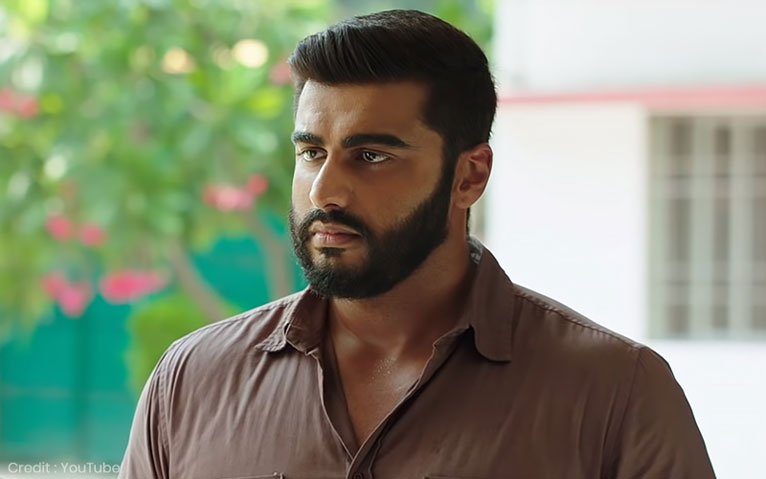 Arjun Kapoor as Prabhat in India's Most Wanted
A still from the film
---
Published 24.05.19, 01:15 PM
|
---
There are two strips of thin, white Band-Aids on Arjun Kapoor's nose. "I've been shooting action scenes (for his December release Panipat). There are always good days and bads, this happened on a bad day," Arjun explains pointing to his nose.
The Ashutosh Gowariker historical that the actor has been shooting required him to shave his head, but when t2 met Arjun recently, his hair had grown. "Yeah, I am wearing a helmet in the scenes we are shooting right now. So, it's all grown back. I'll have to buzz it off soon," he says before picking up his phone to show his regal avatar as the Maratha warrior Sadashiv Rao Bhau.
Panipat, though, only releases at the end of the year. This Friday, Arjun will be back in theatres with director Raj Kumar Gupta's India's Most Wanted. The film is inspired by real-life events that led to the arrest of terrorist Yasin Bhatkal. A team of unlikely heroes, led by Arjun's Prabhat, carries out a dangerous covert operation that spanned multiple countries to arrest the terrorist without firing a single bullet. t2 chatted with Arjun about dealing with career doubts and marriage plans.
What was it about this character from India's Most Wanted that caught your attention?
The fact that this story is where the heroism lies and not in the personality who's pulling off the so-called mission. This manhunt is not about one man taking on the system or one man standing up against terrorism. It's the story that has heroism in it. These are people that go to work every day to protect our country but do it with absolute nonchalance and dignity. They're doing it for the country and not trying to portray themselves as heroes and get credit for it.
It's the antithesis of being a so-called Hindi film hero and playing a character that is not heroic in the way that he conducts himself but is heroic in his deeds. It's a dichotomy but a fascinating one. Your pitch and tone for something like this has to be very calm and composed because I met some of the officers who were available to us, not who partook in the mission, but that was just some of the awareness that I managed to gather.
The film is a departure from what we've seen you do.
Every actor does what he's offered and he likes. I guess the director saw potential in me playing this character with this demeanour... to be young but a little mature at the same time. The character has a certain sombreness along with calculation and control. There's also a certain physicality required that needs to come across where the audience believes that, 'One hit from this guy and I'll die'.
What I liked about this script was that it wasn't the typical Hindi espionage film... it's very real. This film has texture and grit which made me excited to do it rather than do the cool, contemporary espionage film, and I jumped at it. It's a departure but I think it's happened more organically than people imagine. It's not a step I've taken because I've reached a stage in my career. It just happened a year back that I saw a script I liked and today people are seeing it as a big shift from what I've done. So, it all worked out.
The last couple of very commercial films that you did, didn't work. Was that a factor that made you want to step out of your comfort zone?
I shot this before Namaste England released. My last Friday can't have a bearing on the choices I'm making. You just have to back yourself, you make choices, take decisions — some pan out, some don't. Every actor goes through that. I was very happy when I did Mubarakan, I got the love I wanted out of it. Yes, box-office wise, I feel the film deserved to do better but it came at a time when it perhaps didn't get justice. I still get a lot of appreciation for it. I had a good time doing Half Girlfriend... unfortunately, it didn't work. Commercial films are a roll of the dice. It depends on the mood of the audience as well.
Are you someone who looks back to see what went wrong? At what point do you understand that something's not working in a film?
Sometimes, when you're shooting and sometimes, when you're marketing your film. The only film whose fate took me by surprise was Tevar. I was probably too new in the industry and it was an emotional film. The film released and then everything happened. I had seen the film and thought some things were working but you lie to yourself and tell yourself you're being too nitpicky and naive. Then I introspected and made peace with certain facets and also backed my instincts on things I'd seen rather than lying to myself.
With the rest of the films, I've been aware going into release, if there are certain issues with the film. Like Mubarakan surprised me because I thought it was a very entertaining film when I saw it, so I hold on to what I say that the box office might be Rs 10-12 crore short but the film is exactly what the director and producer promised me. It's a reasonably well-made film, a clean family entertainer. Sometimes, these kinds of films exceed your expectations too.
How do you not let doubts creep in?
Oh, doubts will come in. You will have bad days. Just don't sign a film on that day, not when you're feeling vulnerable (laughs). It's like if you've just had a fight with your girlfriend, you don't go and sleep with another woman that day, right? It's literally that. You have to back yourself, nurture your instinct and there will still be bad days. Everyone has bad days, ours are slightly more publicly humiliating but it's fine if you get it wrong, we get a lot of love also.
There's big mystery about the fate of your next film Sandeep Aur Pinky Faraar. What's going on?
There's no big mystery. The film's edit was taking time, so we decided to just release it in March instead of the earlier planned date. And then in March, Luka Chuppi decided to release with us, and we were fine with that but then Sonchiriya also decided to postpone its release to the same date. And it didn't suit a film like Sandeep Aur Pinky Faraar to have two other films coming together. So, we decided to move it ahead, but by then (India's) Most Wanted was ready. And just because you're ready, you can't ask other people to move ahead, it doesn't work like that.
So, Adi (Aditya Chopra, the producer of Sandeep Aur Pinky Faraar) being Adi and being respectful of other people, said to let India's Most Wanted release, and that he'd slot the film after that. The film is ready and it's just a matter of putting a release date on it. It is a very special and unique film. That film, I can say, is not a commercial film — that is Dibakar Banerjee at his best. It's a film that needs a bit more nurturing from the marketing point of view and the way we put it out there, from a place where we feed the audience what the film is all about. 
What's happening for the rest of the year after you are done shooting for Panipat?
I should complete Panipat by June. After that I'd need about two months to grow my hair out. I can shoot something else only after my hair grows out.
I hear your wedding date is also dependent on your hair growing back?
(Laughs) You know I made a silly joke about most men going bald after they get married, but definitely not during marriage. I think it's been taken into account that the day my hair grows back, I'm getting married! (Laughs) But I have no interest in getting married, not anytime soon at least. I'm in a good, happy place, I'm going to focus on my personal and professional life equally by not getting into these conversations. In today's day and age, I can exist in a relationship without having to think about marriage. Let me enjoy what I have and then let's see where life takes us.
Is marriage an institution you believe in?
Of course I believe in marriage. But to each their own, I don't begrudge anybody for not liking the institution and I understand why people believe in it. I come from a broken home but I still respect the fact that you try and sometimes it works and sometimes it doesn't work out. It's the way you conduct yourself when it doesn't, that makes a difference. It's easier said than done. I have enough people in my family who are married and living happily. I can see what it does to them... it makes them better.
Does love make you a better person?
(Smiles) You have to ask my partner. I don't know. I would like to believe that love does fill you with more positivity, more calmness, gives you a straighter sense of purpose... you don't have to go seeking. You wake up with a sense of calmness and a certain sense of what you have at the end of the day when you go back home. If I put it into perspective, I'm just happy I have somebody to share my silences with.