Arjun Chakrabarty on 'Avijatrik'
'It is heartwarming to see people showering blessings and wishing us the best for the film'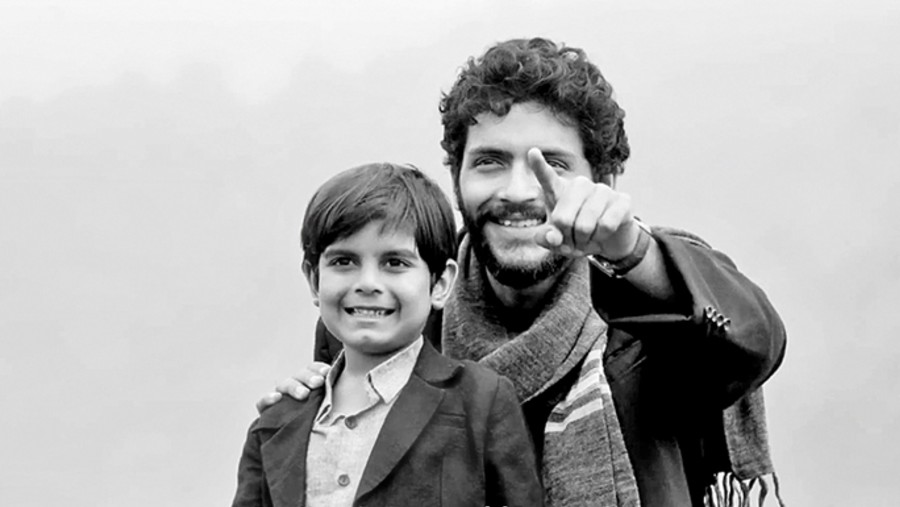 A moment from 'Avijatrik'
Sourced by the correspondent
---
Published 04.05.21, 03:50 AM
|
---
The trailer of Subhrajit Mitra's much-feted film Avijatrik dropped on May 1. Avijatrik takes off from Apur Sansar, and highlights the journey of Apurbo Kumar Ray (played by Arjun Chakrabarty in Avijatrik) and his son Kajol. A chat with Arjun...
The trailer of Avijatrik dropped on May 1. How is the feedback till now?
With everything going on, it is difficult to rejoice at the moment. Our family, like hundreds of other families, is going through a difficult time. Of course work is of supreme importance and work must go on, so we're all pushing on. It is heartwarming to see people showering blessings and wishing us the best for Avijatrik. Most want to catch it on the big screen, so we're all hoping for things to get back to normal soon. Social media users have been kind so far. The trailer is being reshared endlessly and the likes keep coming. Some in my circle who already watched it at KIFF cannot wait to catch it again. All this sounds amazing, but we can get the most out of this only if we are responsible enough to heal the world, the society and ourselves in the process. Only if we get back to having normal lives at the earliest.
What does the trailer sum up for you and what does it highlight and convey?
It highlights the journey of Apurbo Kumar Ray and his son Kajol. It takes off right from where Apur Sansar left off. It's a delicate story and the trailer has touched upon most of the content. Apu's relationship with his family, his friends, his outlook towards life — while staying true to the time it is set in. Bibhutibhushan Bandhopadhyay and Satyajit Ray were both way ahead of their times.
It was challenging to shoot in today's Varanasi and today's Calcutta among other locations. But the production design, the cinematography, the writing, the execution have all combined to deliver this amazing canvas.
The imagery of the speeding train in Pather Panchali had a huge impact. The trailer begins with that imagery. What are your thoughts on the image?
Apu is a wanderer. He wants to see the world and write about life, about our journey not only in this life, but in many rebirths. He's philosophical, he's creative, he's an amazing father and individual. So a train symbolises everything about the essence of Avijatrik. There's a reason why 'wanderlust' is in the tagline of our film. Apu cannot stay in one place even when he's physically in one place. Moreover, the image of Apu and Durga running to see the train when it passes through Nishchindipur, is etched in the memory of almost every adult Bengali today. Something about that image immediately takes us back to that life, to that village, to that family, to all the memories associated with seeing Pather Panchali and reading the novel. I had it in my school syllabus and now I get to play Apu. It's difficult to believe it even when I see it now.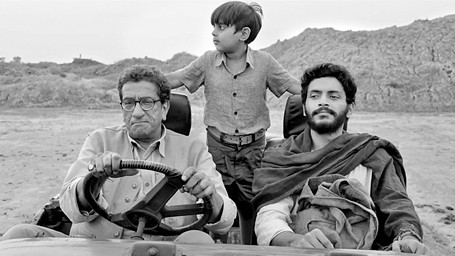 You talk about the temporal cycle of life and death in the voiceover. Was the voiceover done specifically for the trailer? What did you keep in mind while doing the voiceover?
No it wasn't done for the trailer. It's a part of the film where he writes and he speaks to himself. I didn't have to keep a lot in mind. Subhrajitda and Sohagdi guided me very well right from day one. Apu is that sort of an individual. He believes we've been here before. We had a life before we had this life. Kajol, too, probably had a very different life before he was born as Apu and Aparna's son. It could be that we come back to finish what was left unfinished. It's a very interesting concept. Philosophy can be extremely stimulating if you have the right company and mindset to discuss it. To be honest, these monologues were a bit heavy for me, considering I hadn't done any film of this nature before. However, I had fun exploring and rediscovering.
There is a line in the trailer that goes, 'To understand the real India one must travel beyond it'. How do you view this line?
I've had very little experience of travelling abroad, but I agree it is important to see the world to know and understand your place in it. Of course with the Internet at our fingertips we know very well how our country or our lifestyle is different from someone in some other region or country or continent. Yet I'd strongly emphasise the importance of travelling, of mixing with other cultures, with people from a varied geographic background. Travelling within our country is as important as seeing the world. There are many unexplored treasures that we do not know about, in India alone. We underestimate the expanse we have. I doubt any other country has as many languages (to take one example) as India does.
It is a treat watching you and your father sharing screen space. How was the experience for you?
Amazing. To share screen space and play his friend in a project like this is a dream come true for any actor. I was as wonderstruck as I look on screen. There's always so much to learn from him. No one else could have done justice to Shankar's character like Baba has. That baritone, that screen presence, that personality all combine to make it pleasantly intimidating. Watching this film on the big screen is not going to be just another movie-watching experience. It's going to be dreamy, maybe even surreal.
We see Apu in various looks. How would you describe your look in the film?
I had to grow my hair and beard to unprecedented lengths. Haha! I liked how I look in Avijatrik. It was well thought out. The costumes (by Agnimitra Paul) helped immensely. Apu is mostly seen in Bangla shirts and a dhoti but he's also seen wearing western clothes when he's out and about. Even when he's in western wear, there's something very Bangali about him. Moreover, the body language of the 1940s was obviously way different from what we are now. I tried incorporating all these aspects in order to look the part. It was difficult but I was guided well.
You play Apu in the film. After watching the trailer, we could make out that he is responsible, kind, caring, curious. And he has this air of wistfulness about him. What kind of qualities did you want to bring out through the character?
To be honest, I always try to stick to the script and the director's brief. One very important point was Apu's eyes should have that dreamy and kind character to them, no matter what. Whether he's happy or grieving, he's a soft-natured individual. He's a thinker, an intellectual, a writer... terms that I cannot imagine being associated with, personally. I usually don't live the characters I play for longer than necessary. But Apu's case was very different. I was massively attracted to the sort of person I was trying to play. I believe I got into Apu's mindset way before shoot actually began. Or at least I tried to. I did not find it difficult to get into character, and I wasn't in a hurry to get out of it either.