Arjun and Gaurav with Amitabh Bachchan, Dev's holiday, Subhashree's groupfie: Tollywood update
Here's what has kept the Tollywood celebs busy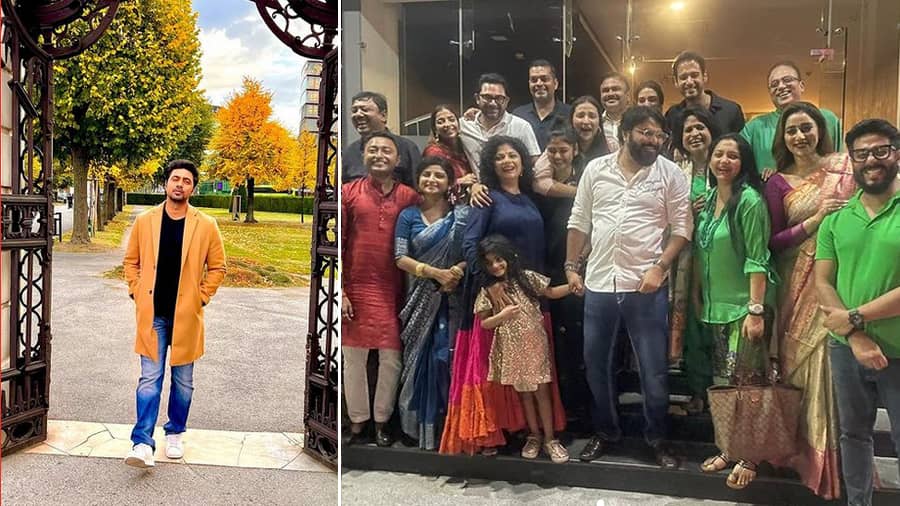 (L to R): Dev, Subhashree Ganguly, Raj Chakrabarty, Babul Supriyo, Yash Dasgupta and others
Instagram
---
Calcutta
|
Published 12.10.22, 04:06 PM
|
---
Gaurav Chakrabarty and Arjun Chakrabarty: Photo of a lifetime
Siblings Gaurav and Arjun Chakrabarty shared a photo with Amitabh Bachchan, wishing the legendary actor on his 80th birthday on October 11.
Prosenjit: 'Let the music play'
If you are looking for a new biye barir gaan, Prosenjit Weds Rituparna's upcoming track is almost here. The film releases on November 25 and is directed by Samrat Sharma.
Dev: Vacation OOTD
Dev shared his vacation lookbook in blue denims, a black t-shirt and a mustard yellow overcoat, sharing pointers on how to ace casual fashion with a dash of style.
Bonny Sengupta: Durga Puja blues
Bonny Sengupta shared moments from Pujo with Koushani Mukherjee making us count days for Durga Puja 2023.
Ankush Hazra: Finding the villain
Do you know who is playing the villain in Ankush Hazra's Mirza, which also marks the actor's debut as a producer? Check out the big reveal and what the producer-turned-actor has to say.
Oindrila Sen: Eiffel memories
Oindrila Sen has shared a bird's-eye view of Paris, looking down from the top of the Eiffel Tower.
Ujaan Ganguly: New feather on the hat
Lokkhi Chele Ujaan Ganguly has passed with distinction from the University of Oxford, adding a new feather to his hat. Here are a few moments from the degree ceremony, shared by the actor on social media.
Subhashree Ganguly: Groupfie to remember
Subhashree Ganguly posted group photos with Raj Chakrabarty, June Maliah, Nusrat Jahan, Yash Dasgupta, Babul Supriyo and Arindam Sil.
Rathijit Bhattacharjee: A slice of Mexico
Singer-composer Rathijit Bhattacharjee experienced chamango, a Mexican drink, during his trip to San Diego, California, and shared some glimpses of his adventure with netizens.
Sreenanda Shankar: Makeover Madness done right
Sreenanda Shankar shared what makes her feel better as she zeroed in on some major style goals.
Arpita Chatterjee: Comfort, style and more
"It's all about finding the calm within yourself amidst all the chaos" wrote Arpita Chatterjee, looking ethereal in a floral comfortable outfit.
Rajnandini Paul: Lakshmi Puja throwback
The actress, who was recently seen with Sohini Sarkar in the Hoichoi web series Sampurna, shared her Lakshmi Puja memories at home with mother Indrani Dutta.
Swastika Dutta: Fit and fab
Swastika Dutta's toned midriff is a major fitness goal, especially between the Durga Puja and Diwali season.
Anupam Roy: Food for thought
Singer-songwriter Anupam Roy is currently reading Coffee Can Investing by Saurabh Mukherjea and has shared a photo of the book.
Sohini Sarkar: Work mode on
It's time to shake off the chuti days and switch the work mode on for actress Sohini Sarkar, something we can totally relate to.