Anusha Dandekar on hosting Supermodel of the Year and bonding with sisters Shibani and Apeksha
'I would get the hand-me-downs from Shibani because she's older and Apeksha would get new clothes because she's younger'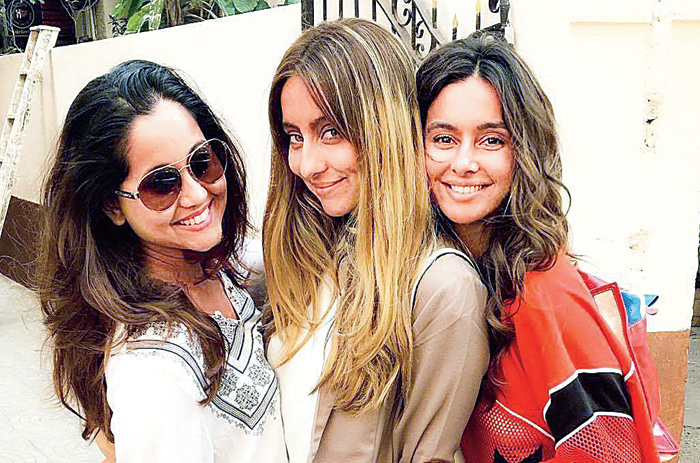 ---
---
MTV's fashion reality show Supermodel of the Year features Anusha Dandekar as its host. Ten models from across the country are taking part and the tasks on the show are curated to train and test the different aspects of modelling.
The Telegraph caught up with Anusha for a chat on the show (airs on Sundays at 7pm).
What can you tell us about Supermodel of the Year?
It's a whole new format. I know we have had a lot of supermodel shows on TV before, but this one is unique because we really are breaking stereotypes. You just have to watch and see how inclusive and different this show is. We've got a boot camp and then we have a battle and it puts real-life situations into a show format. So it's not like the girls are on a show and then they go into the real world and think, 'Oh my God, this is so different!' There are real clients, a real panel of judges and mentors. They get lucky with all that experience but they do have real brands, real clients and they'll know exactly how it is to go for castings and auditions and either make it or not.
How has it been hosting this show so far?
I haven't hosted for a long time I feel because with Karan (Kundra, boyfriend) on Love School, we're the 'love professors' and on other shows, I've been mentoring people. To kind of go back to hosting is fun because I really get so much freedom to say and do whatever I want. I do a lot of behind-the-scenes. I like that there are less rules. So yeah, I get to go back to my basics.
How were these 10 models from across the country selected?
Thousands and thousands of girls auditioned. From them, we had to choose the Top 10, which was so difficult. The team helped break it down and then finally, it went to the judges to pick the 10. It's been a really long process, but it's great to see so many people want to enter and compete.
Every episode has a theme pertaining to advertising, digital and the modelling world…
Every episode has something to do with being a supermodel, so either it's got to do with a photoshoot, a TVC or the ramp or any kind of real-life situation. Either it's got a real brand that you have to focus on, the tagline, how to sell the product, whether it's digital or print TVC, campaign shoots…. We've got a mix of all of it because that's what supermodelling is all about.
Has hosting this show made you nostalgic about your own modelling days?
For me, modelling always came hand-in-hand with hosting. So, I still do it… whether I'm doing campaign shoots or being the brand ambassador of something or walking the ramp. I think modelling is part and parcel of my everyday life. Even if it's for Instagram or any kind of photoshoot I do for friends or campaigns or whatever, I never miss it. Hosting has always been a part of my life. I get bored quickly, so I want to mix it up all the time. I'm really lucky to have that.
How has it been being a mentor to the newbie models?
It's great because you get to mould them, but you don't want them to lose their personalities. You don't want to make them into cookie-cutter models. You want them to stay true to themselves and use their strengths to push them through. You want to break their weaknesses and make them more confident. Just to watch them grow in front of you is so much fun. These 10 girls are just so passionate that I don't think we even need to be really strict with them. They just kind of want it on their own.
But one thing that every person should know, especially speaking from a mentor perspective, is that you can't come in feeling entitled to anything, because there are hundreds of people that will want your job. So, if you don't show the passion and desire for it, somebody else will take it. Not necessarily in this competition, but in life, I feel everyone needs to feel a little less entitled and just work with complete love and passion.
Do we hear wedding bells soon with Karan Kundra?
I definitely hear a lot of wedding bells of a lot of other people because we're invited to many, many weddings! (Laughs). So we're focusing on those at the moment. It's a struggle, right? What are you going to wear? It's a whole production to attend people's weddings, so all the focus is on those wedding bells right now.
Growing up with two sisters (Apeksha and Shibani), did you guys experiment with fashion and make-up?
I would get the hand-me-downs from Shibani because she's older and Apeksha would get new clothes because she's younger. So basically, Shibani and Apeksha got new clothes and I would get hand-me-downs. But I would steal a lot of clothes from Shibani's closet because she would have some really cool stuff. I would tidy her room and because she was so messy, she would not know when something was taken and when it was put back. When I was 16 or 17, I started coming into my own. I was working and I'd buy my own stuff, no more hand-me-downs for me. Although, now it's funny because we all still kind of take stuff from each other's cupboards. But now it's not hand-me-downs, it's like, 'Oh I'm going to keep that'.