Anubhav Sinha on spirituality vs anger
Losing weight and gaining spirituality sums up film-maker's 2020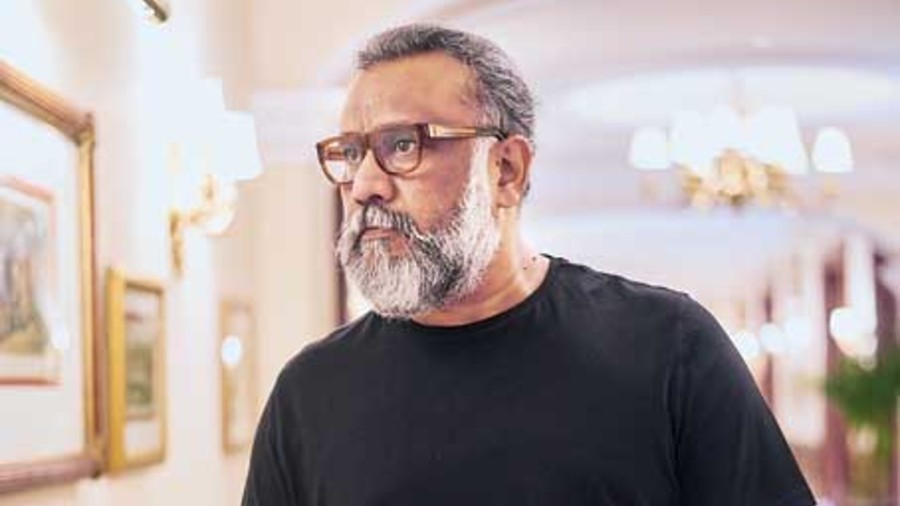 Anubhav Sinha
Sourced by the correspondent
---
Published 15.01.21, 12:31 AM
|
---
Do you think that the decision to organise the Kolkata International Film Festival, albeit on a smaller scale, is a step towards normalisation at a time when the world is anything but normal?
Absolutely! Two good things have happened in the last few weeks... the first thing is that we are getting to hear about multiple vaccines getting approvals and the other is that the mortality rate owing to Covid-19 and the severity of the infection has been gradually going down in the country. We have to start opening up and I am sure that all the precautions and protocols will be maintained at the Kolkata International Film Festival.
You delivered the Satyajit Ray Memorial Lecture at the festival this year. What impact has Ray's cinema had on you?
If he was alive and still working today, I am sure he wouldn't call me up and say, 'Yeh kya banaya tumne?!' (Laughs) One can't even think of something like that. As a film-maker, I can only hope that the people I idolise, Ray being one of them, wouldn't be embarrassed of the films that I make. He's a lighthouse and we are all those lost ships in the ocean waiting for that beacon of light from the masters.
Movie theatres have opened up across the country, but business is bleeding because of low footfalls. How much do you miss the theatrical experience of watching a film?
Bhushan Kumar (of T-Series) has a private screening room in his studio and a few months back, he organised a screening of Ludo for a few of us, about three-four directors. We got into that small theatre and suddenly realised that it's been so long since we had sat in a theatre and how much we missed it. I know theatres are struggling at the moment but I also feel that as soon as the vaccines are on the ground, some of that fear in the minds of people will go away.
You were one of the few film-makers to have a theatrical release in 2020 in the form of Thappad. You also directed the much-talked-about Manoj Bajpayee music video Bambai mein ka ba, which highlighted the plight of the migrant workers. How creatively fulfilling and life-altering have the last few months been?
Personally, I have managed to peek within and confront myself... look at the mirror and question myself. That has been a personal experience which will naturally have a lot of impact on the work that I will do going forward. My whole outlook has become a little more spiritual than what it used to be. I don't know how long-lasting it will be, but I hope it stays on.
I lost 15kg in the last few months, which has been a huge personal achievement. I always felt that I was unnecessarily carrying a 15kg heavy backpack, which is now thankfully gone. I had been meaning to learn how to play the piano, it's a long-cherished dream that I will fulfil eventually. But in this pandemic, for a very long time, there was this strange, barren feeling. I wasn't watching, I wasn't reading, I wasn't writing... for the first five-six months I just couldn't do anything at all. But after that I read a lot, I watched a bit, I wrote a bit... and I worked out a lot (laughs).
Among the little that I watched, The Trial of the Chicago 7 (on Netflix) left a deep impact on me, it left me quiet for a few days. I have read a lot in the last six months, it's been mostly non-fiction. The more I read about Gandhi, the more fascinated I am. I have read a lot of books around the freedom struggle. That's made me care for my country even more than I did earlier. The houses that we inherit from our parents... we don't know how they were built.... We are happy with the number of bedrooms it has and the view from the balcony, but we don't care to know the history of that house. I am reading about my inheritance, in terms of this country, and it's extremely fascinating. And I feel more and more grateful to Gandhi, to Nehru, to Patel for giving us our country.
You are a rare film-maker with a voice. Has becoming more spiritual made you less angry?
My anger has, in fact, gone up. It's not really a physical anger, it's more of a feeling of responsibility. The growing spirituality that I have felt all through 2020 has actually converted that anger into responsibility. I am trying to channel that anger into doing things tangibly as much as I can.
What's happening on the film front? One hears of you directing everything from an anthology to a creature film next...
There's an anthology that I am directing and also co-producing. It will comprise five half-hour films built around the pandemic. We are looking at the pandemic through the eyes of five different film-makers. Ketan Mehta, Sudhir Mishra, Subhash Kapoor, Hansal Mehta and I are directing. And then there are two feature films that I am working on with Hansal and Sudhir. All of them will be shot this year.
Your last three films — Mulk, Article 15 and Thappad — have had huge impact. Is there now always the pressure on you to write material that makes a statement?
Not at all. I don't take myself as seriously as people do (laughs). I am only getting attracted and motivated by issues that I feel very strongly about, and these are things I want to highlight through my films. I have very strong views which may come across as a statement. But my writing, in all honesty, doesn't start with a statement and then go into the subject... it's actually the other way round.
Is it now impossible to separate the film-maker in you from your politics?
I think so. Mulk (2018) woke me up to the feeling that I wanted to share my views with the audience, to talk about Islamophobia. Now every movie, for me, has to be about something that I want to talk about, something that I want my country to talk about.