Anthony Horowitz on the journey of his bestseller from page to screen
I can honestly say that I have never worked on a show that has had better feedback than Magpie Murders, he says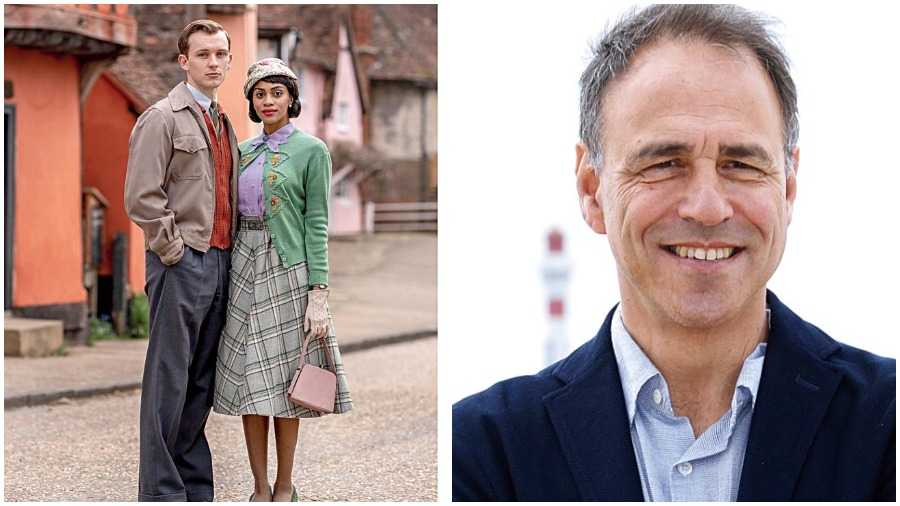 A moment from Magpie Murderes; Anthony Horowitz
File Picture
---
Published 05.04.22, 12:15 AM
|
---
Anthony Horowitz is no stranger to fans of mystery and suspense. A prolific writer for both young adult and adult readers — think The Diamond Brothers series, the Alex Rider series, the play Mindgame, two Sherlock Holmes novels, three novels featuring himself paired with fictional detective Daniel Hawthorne, and the list goes on. The 66-year-old has also written for television, contributing scripts to ITV's Agatha Christie's Poirot and Midsomer Murders. He was the creator and writer of the ITV series Foyle's War, Collision and Injustice and the BBC series New Blood.
Horowitz's 2016 bestseller Magpie Murders — the first in his Susan Ryeland series and that which focuses on the murder of a mystery author and utilises a story within a story format — is now a six-part web series, currently streaming on SonyLIV. Over a video call, the author chatted with t2 on the book and the series, what hooks readers to the murder mystery genre and what he's currently reading.
What's the feedback like been so far to Magpie Murders?
I can honestly say that I have never worked on a show that has had better feedback than Magpie Murders. Right from the reviews, that have particularly loved the performances and the cleverness of it and the entertainment quality of it, to Twitter and other social media, where viewers have written how much they loved it, how they  couldn't guess the ending, how they want another one, how brilliant Lesley Manville (who plays the protagonist Susan Ryeland) is....
It really is something that makes me very happy. We have had such an awful two years with Covid, and the world is in such a dark place now that we really deserve some sort of relief, some sort of thing that just makes us smile and takes our mind off what's happening around us. It seems that Magpie Murders absolutely fits that bill.
When the decision was made to convert your bestseller into a series, what did you think the biggest challenges would be?
Well, it was going to be a difficult adaptation and, in fact, it took me the better part of two years and many, many drafts to get it right. The problem was that in the book, the 1950s world occupies the first 250 pages, and then the modern world takes over. If we did that with the series, then that would mean that our main star Lesley Manville wouldn't even appear till Episode 3 or 4. And, of course, that was unthinkable. So I realised quite early on that I would have to turn everything on its head and somehow find a way in which both worlds would have to inter-marry and things would happen side by side the whole time.
But that led to huge questions of construction and comprehensibility and just about how to find a way through it all... it was quite a maze, actually. Getting that right took me a long time. And in the end, I think we did get it right because part of that feedback was that as much as the show is complicated and challenging, it's never not entertaining (smiles).
What was the genesis of the book? I believe you first thought of it in the 1990s, but published it only in 2016....
The book began because I wanted to write about the process of writing and about a murder mystery, in particular.
I was fascinated by Sherlock Holmes... I have written two Sherlock Holmes novels myself. It always fascinated me that (Arthur) Conan Doyle created Sherlock Holmes, but hated him! So much so that he threw this great detective off a waterfall to kill him, and only brought him back when he needed the money! (Laughs) That was interesting I thought... a writer who hates his detective. That was the core inspiration of the whole thing for me.
Before the book came out, you said that you wanted Magpie Murders to be "a sort of a treatise on the whole genre of murder mystery writing". How does the series stay true to that?
If you write a television drama, which is a murder mystery, in six parts and it becomes too dry and too academic, then people will get bored. This is a murder mystery with two murders, lots of suspects, lots of clues and two very clever solutions. But it's set in the world of publishing and the main character is not a detective, she's an editor. And she's at a very important place in her life where she is thinking of taking over the company and becoming CEO. She also wants to do other things in life outside of books. I strongly believe the atmosphere and the background help the story pull through... the genre is not very in your face.
What do you think interests people so much about the murder mystery genre?
I think it's the quest for truth. In a world with fake news, 24-hour news where you can no longer believe anything, especially if it is told to you by politicians, truth has become even more valuable. We are also now in a world where nothing has remained the same. Detective stories are also about the healing process and when a detective finishes his work, the community where he has solved the mystery, is at peace with itself. The evil, the murderer has been taken away. These are some of the reasons.
Also, I feel that murder mysteries have always been popular because there is no genre in which the main character, in this case the detective and the reader, are so united. They travel together and they both want the same thing at the end of the book and when they part company... it's a great feeling (smiles). 
What's the key to reinventing the genre?
I think I have done it twice. One would be the Hawthorne murders where the author is actually inside the book as the sidekick. I don't think it had even been done before and it turns the whole genre on its head. In Magpie Murders the book, you have the same characters being something in 1950s and something else in 2022. Again, I don't think anyone has done that. They are very, very fresh ideas. The thing about Magpie Murders is that it all looks familiar — old English villages, nice cars, people wearing coats and hats, but actually everything that you are seeing is brand new.
You have spoken about how the world has changed because of the pandemic, How has this phase informed and influenced you as a writer?
I think it's made me more determined to work harder and get into my books. Books for me are an emotion, and if I see despair all around me, a situation where I can't go out to the theatre or the cinema, I have realised that I have to be more intensive and live more of my life inside my books. That's what I have been doing for two years. It's only now that I am coming out.
And I must tell you that I can't wait to be travelling again! It's been three years since I have been to India, and I would love to go back. The Jaipur Literature Festival is one of the best that I have ever done. I love being in Delhi as well. It's a huge country and I have a lot of readers there, whether it's my young readers for Alex Rider or my older readers for the murder mysteries... often, they are the same, actually.
What are you reading now?
A lot of Japanese murder mysteries at the moment. For some reason, I have become very, very influenced by that. I have also been catching up on 19th century fiction. Books, I think, have been a lifeline for many during these two years.
And what are you watching?
I have been watching the same kind of things as you, I am sure. All the big box sets on Netflix and Amazon (Prime Video). I am reading more than I am watching.
And do you still write with pen and paper?
Absolutely! Everything I write is first done so in longhand. I like doing that because it makes me think more while writing, as opposed to when I am typing. I feel a huge connection with Agatha Christie who used a fountain pen, and I do the same.