Anjan on Anjan
Nowadays, I rarely enjoy giving an interview, since most interviewers don't want to know where I'm coming from. t2 gives me the opportunity to write. And this time I ended up asking a few questions to the filmmaker in me.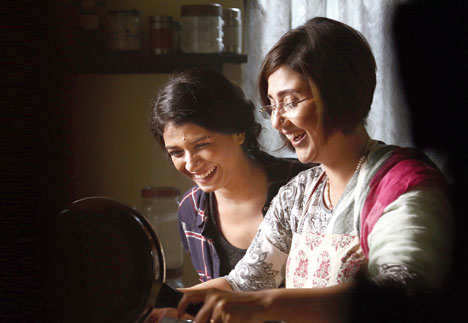 ---
Published 10.03.18, 12:00 AM
|
---
Nowadays, I rarely enjoy giving an interview, since most interviewers don't want to know where I'm coming from. t2 gives me the opportunity to write. And this time I ended up asking a few questions to the filmmaker in me.
The foremost question is why are you claiming Ami Ashbo Phirey as your comeback film?

I always wanted to be an actor. An important actor in my scenario. By the time I was 42, I was more important as a singer-songwriter than an actor. So I decided to shift to writing and directing movies in 1996. I made a desperately bad Bada Din and thought of quitting. I joined advertising with the help of Dhritiman Chaterji. But the bug to make films kept gnawing. I finally had my redemption with Bow Barracks Forever and then cracked it with The Bong Connection.

What followed was a series of adventures, breaking rules with much younger upcoming colleagues like Mainak Bhaumik, Neel Dutt, Srijit Mukherji... and a host of comparatively fresh and very talented actors. What followed was low budget, young cinema. Serious stuff that did not pretend to be serious. Chalo Let's Go, Madly Bangali, Ranjana Ami Aar Ashbona... I found an audience. The same audience that cared for my songs.

By the time I was in my mid-50s, I perhaps wanted to look into my legacy of Bangla cinema, my literature, and tap the mainstream. I bought the rights of quite a few Byomkesh stories to set up a franchise and a production company called Anjan Dutt Production. Apart from desperate financial hitches, Byomkesh worked at the box office. It fetched me far more attention in the media. Fetched me a whole new audience perhaps. But this success had its own ball and chain.

Since 2009, most producers I met were ready to fund my scripts provided I gave them a Byomkesh next. I stopped writing new songs and stuck to my old repertoire every concert. I did not truly challenge myself to reinvent the madness of Madly Bangali or Dutta Vs Dutta. But then deep within I wanted to be the guy who tried to be different... the guy who made The Bong Connection. Ami Ashbo Phirey is an attempt to look for that Anjan.
Ganesh Talkies or Shesh Boley Kichu Nei or The Bongs Again were also your own stories, right?

Mistakes, if not admitted, are mistakes you can't overcome. You can't justify everything in the long run. When I look back now, they are not as exciting as those that I set off with. It's not just about commercial success. Dutta Vs Dutta, for whatever reason, was a disaster at the counter. But I still feel proud of having made it. As sheer cinema, I feel attached to narrative structure. I know that if it is slipped into the digital network, there will be an audience for it now.

Rituparno Ghosh's Chitrangada or Srijit Mukherji's Nirbaak were not immediate hits. But I am very proud of my acting as Shubho (in Chitrangada) and Samson (in Nirbaak). I know there will be folks who will perhaps like what I did. It's all about re-evaluating one's own work. Nabyendu Chatterjee's Shilpi was a discarded art film. But I'm still very proud of having put in two weeks of effort on my own at a village about a 40-minute drive from Bolpur, without electricity, learning to weave, learning the dialect, getting darker and thinner to become Madan Tati. That did not fetch me a National Award. I got it years later for making Ranjana... which for me was as easy as playing Ludo. Writing the song Darjeeling was tougher than writing Bela Bose. Both have worked. I feel more proud of Darjeeling.
But then what is so great about telling your own stories than, say, Byomkesh?

Nothing. It's just that I was missing out on my own time. The stories of today's ordinary people who are struggling against all odds to find happiness. And there are others who are making detective thrillers pretty well. There are many who can tackle literature better than me. It's about what I can offer perhaps better than others.

I saw Wong Kar-wai's Chungking Express for the fifth time last year and I felt I needed to write songs again. While writing those songs, Neel and I came up with the idea of the film Ami Ashbo Phirey. I felt I needed to do a musical about listeners, and not musicians. About people I meet every day. About simple songs that make a difference to ordinary lives. Nothing sensational or controversial. Yet, stories of complicated lives of my permissive, complex and brutal middle-class society where a simple, nice song matters a lot. The very thought of making this movie made me want to ignore Byomkesh.
What is that very thought?

To be bold enough to accept that our lives can change. To be able to face change. To accept the brutal realities of our adult world and not become a cynic. Sometimes it's important to focus on a truth that has gathered layers of dust. Why does Bob Dylan make an album of Frank Sinatra songs and not his own in his mid-70s? I was at one of his concerts at Royal Albert Hall in London.
So what's new about Ami Ashbo Phirey?

To move away from assured box office success of Byomkesh is new. To be able to revisit the past is new. The same schoolboy who sung the song Ranjana ami aar ashbona trying to say that I'll come back no matter what is definitely new. Only the boy has gotten older and times have changed. It's 2018. I'm certain there are folks out there who want to listen to the songs of that boy.
So are you getting younger or older?

Older in age. Younger in thought. Hits or flops are part of job hazards. So, Neel Dutt the music composer became the executive producer. Gairik Sarkar the cinematographer quite literally became the production designer. Chanda Dutt, the stylist, and Arghyakamal Mitra, editor, got involved in the casting. Swastika Mukherjee and Koushik Sen came on board and were followed by the talented Suprobhat, Sauraseni Maitra, Anindya Chatterjee and Darshana Banik. The old and new fell into place. So that's what is old and new. It's about folks who can cross the border. It's about being dynamic.
At this age and time, do you feel a certain dynamism around you?

Well, Bangla cinema is going through a lean patch in the halls, because cinema viewing is going through a change. The digital platform, the restricted exhibition, the change in the mindset of the audience who prefer phones to the theatre. Web will change the future. I'm not a financier, not an exhibitor, neither a marketing man. Being on the creative side, all I know is, at this juncture we all need to churn out fresh content. For that we directors, writers and actors need to join hands and work with each other and create content for the future. That itself is dynamic.

Ami Ashbo Phirey has been made with the same desperate passion as Chalo Let's Go or Madly. Only the wine is more mature with time. There is a certain sadness I see in the battered faces of everyday folks today. I see a lot of loneliness in the busy streets of my city. I actually still see a lot of pent-up love in my Calcutta. I'm proud of having made a choice to stick on in this crazy city. Those of you out there who believe that cinema is also about celebrating your pain and your struggle, Ami Ashbo Phirey will not let you down. Lots of love and see you in the theatres April 13, 14 and 15 onwards.
Is there a song that has become your anthem for life?
Tell t2@abp.in