The film Abar Bibaho Obhijaan is a comedy caper that follows the escapades of three couples who are eager to get away from their loving partners for a brief period. The men craft a story and embark on a journey out of the city, which leads to hilarious adventures in Thailand. The film stars Anirban Bhattacharya, Ankush, Rudranil Ghosh, Sohini Sarkar, Priyanka Sarkar, Nusraat Faria and Saurav Das, who is the newest addition to the franchise. A candid chat with Anirban.
What are your thoughts on Abar Bibaho Obhijaan, which is a mainstream comedy film?
I am very hopeful about the film. I have enjoyed shooting for this film. The first film of this franchise was widely appreciated by urban and rural audiences. Apart from the box-office success, Bibaho Obhijaan was also the most viewed film on Hoichoi. So, Abar Bibaho Obhijaan happened because of the huge demand from the audience. Vintage Jeet Gannguli is back again with the songs of this film. It is a colourful, entertaining film.
Over the years people have come to think of you as an artiste who does socially relevant serious cinema. Was this a conscious attempt on your part to break the image?
I have never tried to build or develop an image. I have tried not to do the same kind of roles over and over again. I have played the role of only one detective, which is Byomkesh. Perception does not have detailing. When I directed Mandaar, I played a slimy police officer there. I don't think I'll be able to break this 'image' of mine which has developed over time for various reasons by just dancing to a song or playing a certain character in this film. Maybe this image of mine will break if I go through a different phase altogether. But I am an actor, so it is not my job to develop or break an image. Society makes the image, and society will be able to develop, grow or break an image if they want to... it is up to them.
Do you have friends who share contrarian views?
Yes, I have urban friends who were like, 'Why are you doing this?' But I did not pay any heed to their words. I don't see myself as an image. I see myself as a performer/ actor. When I travel to the interiors of villages, I have seen a large section of people there who identified with me through Bibaho Obhijaan. That's the only film... that's a huge takeaway for me. I could reach out to a large section of the audience across Bengal through this film. That is a huge thing.
The opposite side of this is the perception of your urban audience. Don't you think about that?
No, I don't think about this. Each kind of content has its own audience. Sometimes the paths cross and sometimes it is fragmented. I am no one to judge the content... to think that something is better than the other. I do not think like that. Our job is to supply the content, and it will reach the audience. If someone cannot identify with the content, then they'll watch something else.
Do you worry about how people on social media might react?
If you talk about a backlash on social media, then I'll say yes, I think about it. And it can be about any work that I do. This negativity has become a part of our lives... so there's no point in thinking when will this end. We have to live our lives with this. We don't think about how netizens will react on social media when we select a piece of content. Otherwise, the fundamentals of entertainment will get diluted. These days the time it takes for the audience to mull over or enjoy a piece of content is getting shortened. One only has a few days to make an impact on the minds of the audience. An actor might feel that he or she has given everything into that piece of work. Within a few days, something else will come and replace it. What has happened now is that, in acting people you get to 'see' on a regular basis are considered as the good actor. The parameter is not about acting now; it is about visibility.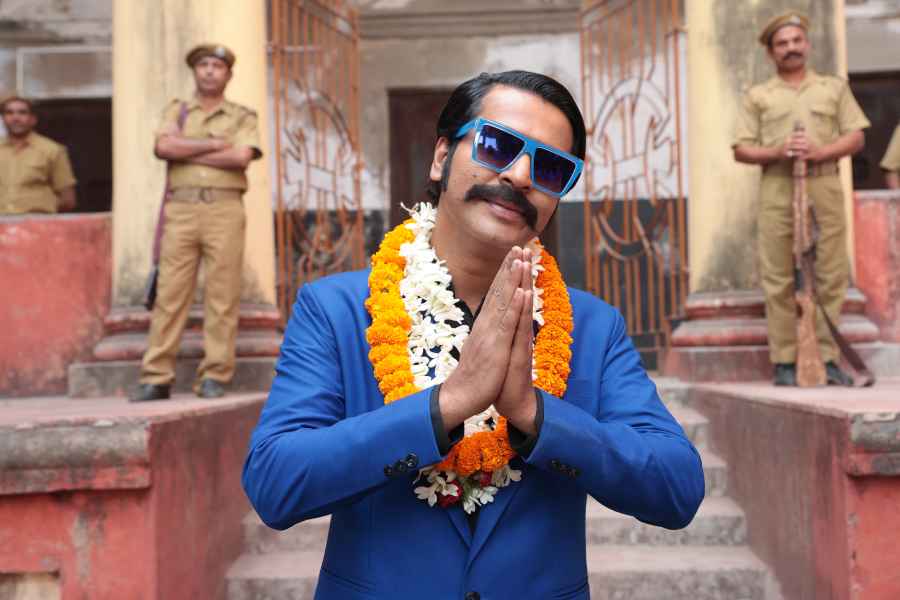 Anirban in Abar Bibaho Obhijaan
Do people not worry about being overexposed?
Maybe it was there, three-four years ago... now it is not there. If someone takes a break or goes away from the scene now, no one will look for them or miss them... because you don't have the time to really look for someone. As a viewer, you are just consuming content incessantly.
The film was shot in Thailand.
It was the first time I went abroad to shoot for a Bengali film.
Did you get time to soak in the sights and sounds of the place?
I didn't get the time... and frankly, it is not my kind of thing. We went there in December but it was so hot in Thailand. It is the place of seafood, and I don't have seafood since I am allergic to it. Also, it was really tough to communicate with the local people there. One day we went out for some lunch but we just could not make them understand what we wanted for lunch. We wanted something basic, like rice and chicken or fish. But it took us a long time to communicate this. We even tried out sign language. Of course, it is not like that everywhere but we faced it. But they have a great sense of hospitality.
The team also shot on the Walking Street. Was it challenging?
No, they are very familiar there with shoots. You won't find anyone there in the morning. But from 5pm to dawn, it is completely packed... it is bustling. It is a night area... Interestingly, we got to meet many Bengalis in Pattaya. They were like, 'You guys are shooting for Bibaho Obhijaan 2, right?' They approached us for selfies.
Tell us about your character....
It is a 2.0 version! And there is a story behind it which you will get to see once you watch the film. I liked it from the script level only. The premise of each character is different now. The characters are the same but it is an entirely new film. It is a solid popcorn movie; a laugh riot. Performance-wise it is a give-and-take film.
While growing up, did you watch mainstream films?
Yes, I watched them on television. I have seen all the Anjan Chowdhury films on television; a few Prabhat Ray and Anup Sengupta films. The stories of Anjan Chowdhury's films were somehow connected to the soil. There was a sense of identification among households. It was fundamentally rooted.