Andhadhun: Thrilling and intelligent whodunit
Andhadhun is as much a commentary on human flaws as it is a fast-paced action thriller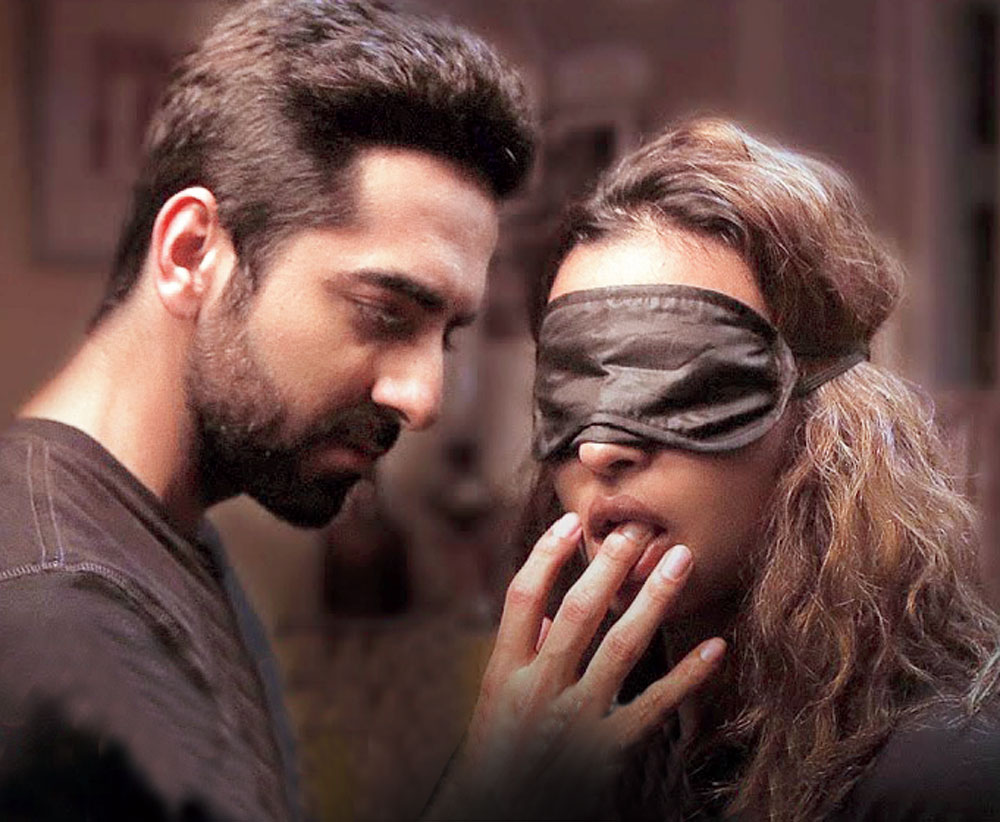 Ayushmann Khurrana in Andhadhun
A still from the trailer
---
Published 05.10.18, 01:57 PM
|
---
Despite the recurring motif of the piano — its zebra-striped keys orchestrating some of the most rousing moments in the film — nothing is black or white in the world of Andhadhun. Intentions are dark, motivations are dubious and everyone's a suspect. What results is a film that's as much a commentary on human flaws as it is a fast-paced action thriller that keeps you on the edge of your seat through its 140-minute rollercoaster ride.
Sriram Raghavan — who has earned his thriller stripes with Ek Hasina Thi, Johnny Gaddaar and Badlapur — crafts what is undoubtedly the most intelligent whodunit from Bollywood in recent times. Except that Andhadhun is not really a whodunit. As in Badlapur, and even more so in Johnny Gaddaar, Raghavan makes the viewer privy to the happenings in his film. The thrill, therefore, germinates from knowing that you know things that the characters in the film don't, and gleefully watch them stumble upon them one by one.
And yet Andhadhun's biggest win lies in the fact that even if the audience almost becomes a participant in its proceedings, the film manages to throw in a twist that you never saw coming.
So a murder takes place. You don't see the murder, yet you know who the killer is. But does Akash (Ayushmann Khurrana), a blind pianist who happens to be at the scene of the crime, know more than what meets the eye (pun intended)?
He's been invited to a plush Pune apartment by yesteryear filmstar Pramod Sinha (Anil Dhawan) as an anniversary surprise for his much younger wife Simi (Tabu). But Pramod has already been shot point-blank in the chest, and in what unfolds as one of the most gripping scenes in a Bolly film in recent times, Akash, seemingly unaware of the gruesome crime, continues to play the piano at Simi's nervous request, even as she and her lover — a beefy cop who cowers at the slightest rebuke — mop the blood off the floor and pack the body in a suitcase. It's a scene that packs in thrill and dark humour in equal measure and Akash's piano piece provides the perfect background score for this moment of crime and misdemeanour.
Andhadhun works because Raghavan successfully manages to temper the thrill with moments of wry wit. You chuckle as much as you hold your breath, with Amit Trivedi's music — ranging from operatic piano pieces to '70s-style Bolly kitsch — elevating the drama. The film starts off with a dedication to popular Doordarshan programmes, Chhayageet and Chitrahaar.
Nothing is what it seems like in Andhadhun, and that's where Raghavan consistently excels. The first half, where everything seems to have more than one meaning, is a breathless watch, with bodies piling up, and the film questioning the morals and machinations of each of its players.
The film credits its inspiration to the 2010 French short film The Piano Tuner, but Raghavan only takes the germ of the idea and makes it his own, his trademark flourishes — moments of silence succeeded by bursts of violence, imbuing the innocuous with the sinister — evident in more than one scene. He's aided by K.U. Mohanan's compelling camerawork that uses the play of light and shade to portray the moral ambivalence of the characters.
Like in Raghavan's other thrillers, seemingly random moments and motifs — cat to rabbit, kidney to liver — are tied up neatly by the time the end credits roll. What also heightens the tension is the contrast that Raghavan brings into the setting (a sanitised Pune neighbourhood lined with leafy trees and echoing with the chirping of birds) and the bloody action that takes place within its four walls.
Andhadhun slips a little in Half Two, with its plot twists coming across as a tad contrived. And yet just when you think you have it kind of figured out, the film throws a curveball — blackmail to backstabbing — to keep you hooked.
What also make this noir thriller tick are the performances, with Ayushmann making Akash both affable and menacing. His best comes in the last hour. Radhika Apte, with limited screen time, plays the least complex character but imbues it with a sunshine-y appeal that's a welcome change from the otherwise dark film.
Anil Dhawan's is a case of inspired casting, with Andhadhun cleverly using his own films from the '70s — Honeymoon to Hawas — to build intrigue around the character. Each of the other actors —Manav Vij as the cop, Ashwini Kalsekar as his domineering wife and Zakir Hussain as an unscrupulous doctor — is perfectly cast.
But it is Tabu who makes Andhadhun what it is. A Machiavellian character who's referred to as Lady Macbeth in one scene — a nod perhaps to Tabu's own Nimmi in Vishal Bhardwaj's Maqbool — she delivers a no-holds-barred act. Just watch her face mirroring a myriad emotions in the scene where Simi waltzes into Akash's house and lets mayhem loose (slipping on and then slipping off a Scream mask).
And does Akash manage to pull off his blindman's bluff? Raghavan sure does with Andhadhun.
I liked/ didn't like Andhadhun because... Tell t2@abp.in