Amitabh Bachchan's new film attempts to be a slow-burn thriller
Too much talk and too little action define Chehre, with emraan hashmi as its face-saver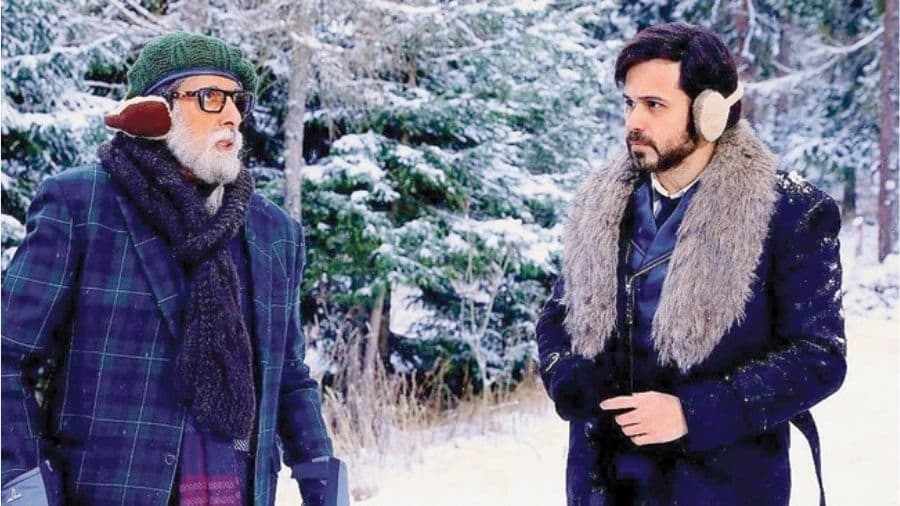 Amitabh Bachchan and Emraan Hashmi in Chehre.
Telegraph Picture
---
Published 27.08.21, 07:07 PM
|
---
Has it now become imperative that every Amitabh Bachchan starrer will need at least one speech to be written into the plot, which the actor will deliver in his trademark baritone? We have heard it all, whether it's the significance of 'Parampara, pratishtha and anushasan' in Mohabbatein or the importance of 'No means no' in Pink. In Chehre, 'the AB speech' — in what is now almost a sub-genre in Bollywood — appears in the film's penultimate moments, and touches upon everything that we have heard in every AB diatribe before (and more, from acid attacks to surgical strikes). There is one even in the opening credits of the film, lest you walk out midway. In fact, you half expect the baritone to go, 'A dangerous game is about to begin,' channeling his own film Aankhen, somewhere in the middle of Chehre. In fact, I think he does say it at some point, paraphrasing it a little.
A Dangerous Game aka Die Panne is, in fact, the 1956 Friedrich Durrenmatt novel from which Chehre unabashedly borrows its plot. A near-accident on a snowy highway a few hundred kilometres from Delhi finds cocksure advertising honcho Sameer Mehra (Emraan Hashmi) stranded alone, till he meets the affable Paramjeet Singh Bhullar (Annu Kapoor). The latter herds Sameer into his friend Jagdish Acharya's (Dhritiman Chaterji) palatial mansion, where Sameer also encounters the perpetually flute-playing Haria (Raghubir Yadav) sitting in a corner and the housekeeper Anna (Rhea Chakraborty), who oscillates between being mysterious and breaking into peals of deranged laughter. The sign clearly says 'Get Out' — and no, we aren't talking only about that film — from the get-go of Chehre.
It's all fun and games, with Sameer occupying centrestage, till Lateef Zaidi (Bachchan), curiously looking like a version of Dumbledore, makes an appearance. The retired friends, all attached to the judiciary in their younger days, coax Sameer to participate in a mock trial where they play judge, jury and executioner.
What unfolds over the next two hours is partly gripping, but mostly gibberish, with Chehre lumbering along with a half-baked plot till it reaches an unsatisfactory conclusion.
Chehre attempts to be a slow-burn thriller, and frankly, it has all the ingredients for one in place. A story with potential, rich atmospherics and a strong ensemble cast. But what could have been a captivating watch on crime and punishment, the vagaries of greed and the gradual loss of humanity all over the world, meanders unnecessarily. Chehre's conversation-heavy narrative — Bachchan is not the only one doing all the talking here —  often veers into preachy territory. The case that Sameer is being tried for is, in itself so dispensable, that the whole idea of mounting a two-hour-plus film around it seems extremely pointless. What we get is talk, talk and even more talk, with Chehre's predilection to take a higher moral ground at almost every step (the oft-repeated justice vs judgment debate also works its way in) sacrificing the thriller element, which should have been predominant in a film like this.
Even the performances, to be honest, are uneven. Billed as 'a friendly appearance' (possibly because he didn't charge a fee for this film), Bachchan is undoubtedly the centrepiece of Chehre, and the actor, as expected, does his best to lift a sketchily written part. The others operate within the narrow limits of their roles, with Annu Kapoor being unnecessarily over-dramatic and Raghubir Yadav, saddled with an atrocious wig, laughably walking around with a hangman's rope. The women in the Chehre universe — besides Rhea, there is TV actor Krystle D'Souza making her big-screen debut — are relegated to the stereotypes of hapless victim or crafty shrew.
The only one, after Bachchan, who manages to make Chehre remotely watchable is Emraan Hashmi. This is the kind of part that the actor — overconfident, manipulative rake — has played before, and he does keep the interest alive for some part. Emraan, for sure, is the face-saver for Chehre. Well, just about.

I liked/ didn't like Chehre because...Tell t2@abp.in
CHEHRE (U/A)
Director: Rumi Jafry
Cast: Amitabh Bachchan, Emraan Hashmi, Dhritiman Chaterji, Annu Kapoor, Raghubir Yadav, Rhea Chakraborty, Krystle D'Souza
Running time: 138 minutes