Amit Tandon mines family and friends to bring on the laughs
Netflix special 'Amit Tandon Family Tandoncies' talks about about marriage, parenthood and kids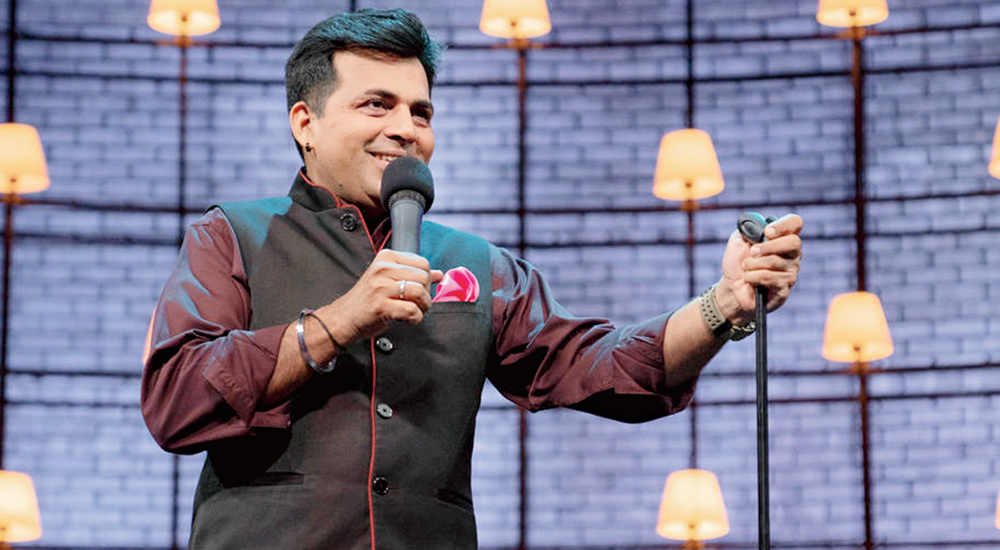 ---
---
Stand-up comedian Amit Tandon has just come up with Amit Tandon Family Tandoncies, an hour-long comedy special on Netflix in which he brings on the laughs talking about marriage, parenthood and kids. A chat.
What works for your Netflix special is that it's huge on the relatability factor, given that it's about family. Was that the idea that spurred the special?
I had been putting out sets on YouTube, most of which were built on observation. But when you have been doing your stuff as a comedian for a while, then you naturally evolve to a stage when you get braver and want to make your material more personal. This is a show where I am talking about stuff which is not based on mere observations… it encapsulates frustrations as a father, the kind of issues that I talk to my wife about…. I said, 'Okay, let me push my comedy a little bit and not just keep it in the observational space'. I wanted to bring my material closer to the audience and make them feel that I am talking about them, their families and their lives.
How tough was it to figure out what to retain and what to leave out, given that the material could be endless when it comes to talking about family?
Before this special, I was primarily putting out five-10-minute independent clips. For this, my writing process had to change. Here I wanted to create a show that looked like a single episode instead of 10 different topics stitched together. So I had to leave everything that didn't fit into the flow that I was trying to create.
Your wife and kids appear on stage at the end of the show. But how much of your material did you run by your family beforehand, given that some of it is potentially embarrassing?
I didn't seek their approval, per se. I just told them I am doing this based on them (laughs). I have used some of the material in my previous sets, so they knew what to expect. Now toh they are used to it since I have spoken so much about them already. This time they had an added incentive because I told them that they will be the first kids in their school to appear on a Netflix show. So they couldn't complain (laughs).
How did the special happen?
About two years ago, I was approached to do Comedians of the World on Netflix (in which a group of stand-up comedians presented individual comic sets). I wasn't really interested in doing a 30-minute sketch… I wanted to do a one-hour show. We started talking, with Netflix insisting I do the half-hour slot before moving on to an hour-long special. I am glad I listened to them because I learnt a lot doing it.
What do you want the audience to take away from the special?
As a couple, we lose our identity and get too involved with kids. I want to see that change in India. That's what I have said on the show… one needs to have a life beyond one's kids.
How has your comedy evolved over the years?
Till a few years ago, my jokes were far simpler. Then I realised that I could push the audience a little more after gauging that they were ready for all kinds of jokes. I moved on to doing jokes where I would give the audience half a joke and let them complete the rest in their minds. I then moved on to getting into their houses and starting to talk about very specific stuff and not just about husband-and-wife dynamics. What I am now getting into is articulating what goes on in the mind of a couple or a family living together, and that's brought about a big connect with the audience.
How has the Indian audience evolved?
I think they have evolved a lot. Slapstick comedy doesn't work as well as it did 15 year ago. Earlier, stand-up (comedy) in India would mean slapstick and mimicry, but that's not the case anymore. People don't want plain jokes anymore. They want stuff that makes them think a little or gives them some sort of a takeaway.
The competition has also increased for us, in the sense that if you want to listen to jokes, you get 15 of them on your WhatsApp every day (laughs). So what does my set bring to the table? The pressure on me is to write something that people will take back and talk about. You may get 50 jokes a day on WhatsApp, you may laugh at them, but at the end of the day, you won't remember even one of those jokes. I have to deliver something that you will remember even after a week.
Stand-up comedians all over the world, including in India, are going political. Is that something that you would want to explore at some point of time?
Not really. In comedy, one generally talks about stuff that one thinks about or experiences. Those who are doing political comedy think about politics or have been involved with politics, in some way or the other. Not in terms of taking sides or being part of a political party, but just in terms of having an opinion. In my case, 90 per cent of my life revolves around my family. My challenges are to ensure my kids get into the right school, to pay the school fee on time, to go to the parent-teacher meetings on time, get them to do their homework, take them for their swimming lessons…. I hardly get time to think about anything else, leave alone politics. So I don't even have enough credible material to talk about politics. Even if I do political jokes, they will be very simple in nature because I don't have enough knowledge in that department. I won't make too much sense (laughs).
Our picks from Amit Tandon Family Tandoncies

Amit says that he has performed in 23 countries in the last two-and-a-half years. "Comedy ke chakkar mein meri geography improve ho gayi hai". He adds that he's just back from performing at Delhi Public School… in Ghana!
He recalls the time when he went to New Zealand and was asked to try out off-roading (aka sitting in an SUV and driving over potholes) as an adventure sport. "I told them, 'Main India se hoon. Isey hamare wahaan office jaana kehte hain".
On the high levels of pollution in Delhi. "People in Delhi have evolved, they don't care about pollution anymore. They take in carbon dioxide, use the oxygen bit of it and store the carbon. When they have constipation, they excrete diamonds under pressure!"
"Wine is for brown people what yoga is for white people. Samajh paanch-saat per cent ko aati hai, lekin saare acting karte hai."
"When you are newly married, the three magic words are 'I love you'. Now the three magic words are 'I told you'.
"My kids never look at me because they have their faces buried in their phones all day. I have joined Instagram just to ensure that they remember their fathers' face!"
"Once your child grows up, he will leave home and meet you only on special occasions… like Holi, Diwali, bankruptcy…."
"My son and I have a very interesting relationship. Whenever we look at each other, we have the same question: 'When will you stop embarrassing me in front of my friends?' Even our threats to each other are similar, 'Mummy ko bata doon?'
And then finally one day, the son got his girlfriend home. And I had the same question written on my face that my son has had for so many years — "Yaar, yeh bandi toh achhi hai. Isse kahaan se mil gayi?"