Sayani Gupta gets candid
'There are two things you can't take out of me. Bengal and FTII. It's a big part of my identity, what I like, how I am... my politics, my aesthetics, the culture... I am as Bengali as it gets'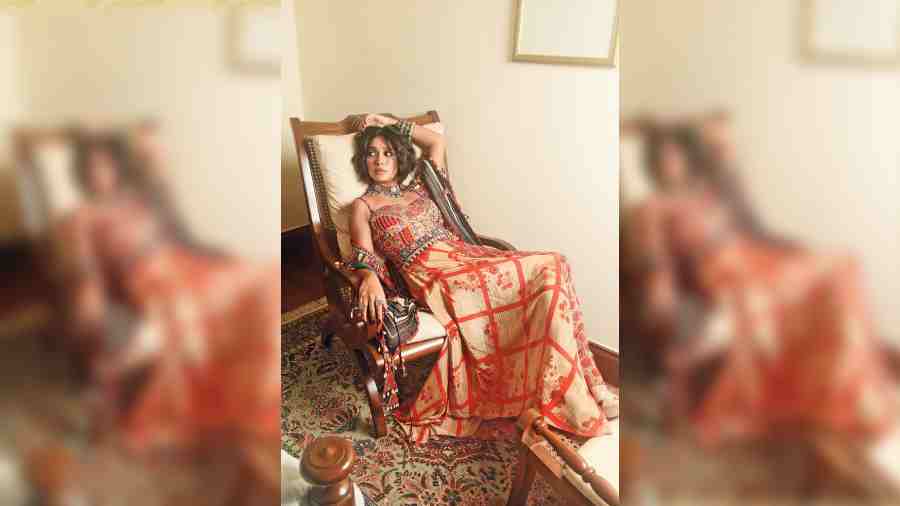 Boho-chic was the mood of this frame. The easy-breezy Aseem Kapoor number was accessorised festive smart with statement accessories from NIMAI. The small black bindi upped the romance.
---
Published 27.09.22, 04:53 AM
|
---
Straightforward and striking. That's actress Sayani Gupta, who was recently in her hometown. And, we made the most of the opportunity by getting the versatile actress to agree for a festive photoshoot, facilitated and styled by style curator Chikky Goenka. The Oberoi Grand's heritage backdrop complemented the mood of the shoot. "I have never really done this in Kolkata. It's lovely. We are having a lot of fun. There's so much colour all around. It's festive," smiled Sayani. The actress who often comes to Kolkata, sat down with The Telegraph in between shots, and chatted about what coming back to the city does to her now, Durga Puja and what makes her feel guilty.
You left Kolkata many years ago. What does Durga Puja mean to you?
Pujo, growing up, meant very different. It was all about the new clothes and figuring which day which outfit to wear and obviously, food and which pandals to visit. I remember my uncle who is still in Kolkata, taking us for these all-nighters. Generally, you finish all the big Pujas by Chaturthi because then it would get crowded. Then of course there was the para'r pujo and performing every year. Even leading up to Pujo, everyone would look forward to the rehearsals in the evening, which I felt was great and which I don't think happens so often now... onek kome gechhe... aami ja shunchhi. Everyone's on their phones.... Aamader shomoy, the older uncles, my father... they would make a lot of effort to get the children together and the adults together. 
Now Pujo is very different. In the last 10 years, maybe I have spent two years here. It's too crowded and I generally don't go out, so there's no point. I enjoy staying in Bombay because it's more chilled out. Last year my mother was there. You have to have bhog. But I miss those days... we'd go to Maddox (Square). Just that vibe. Going for the immersion was great fun too. Last few years of school, my mother let me go. We'd go on the truck, dancing.
I was in Santiniketan two days ago and the kaash phool reminds me of Pujo. My birthday is around the same time and in Bengal you have autumn as a season. The October weather in Bombay is hot, but I have grown up with autumn being really nice. It's post-monsoon and everything is green. It's a happy time. Any Puja shopping memories?
Definitely New Market. Last night I was telling a friend that coming to New Market was a special treat. Now, obviously I haven't been to New Market for a long time. I was always a fashion snob and I never wore stuff that I didn't like (laughs). I would prefer when people gave money and I could go shop for my own thing.
Are you a Bengali to the core?
You can't take the Bengali out of me. Aami puro bheto Bangali. There are two things you can't take out of me. Bengal and FTII. It's a big part of my identity, what I like, how I am, how I think, my politics, my aesthetics, the culture... I am as Bengali as it gets.
How have you changed as a personality after you left Kolkata?
That's a very difficult question. I would like to go back to the person I was when I was in Kolkata, when I was younger, quieter, kept my thoughts to myself, spoke less and thought more, was perceptive, but didn't really run my mouth (laughs). I want to go back to that calmer version of myself.
What age does is, your patience goes down and your threshold for people go down. Also, the world has changed you know, so much. I was never naive, but I was collected in my thoughts. I understood everything, but I wasn't always vocal with it. I did what I had to do, quietly. Now, I do what I have to do, not so quietly. But I think the world we live in now has also made us a little harder and more polarised. Also, sometimes, you need to be vocal because you feel you need to stand up vocally for things in order to ensure that it is the world you want to live in and leave for your next generation.
You are always evolving. I was a different person in college and FTII. As I became more confident with who I was and my being and what I stood for, obviously your personality also changes, but I was always a confident person. The confidence came out in a different way when I was 18 and it comes out in a different way now.
Does Bombay do that you?
I think also, ya. Delhi and Bombay, both. Delhi really hardened all of us who came from cities with completely different vibes. Kolkata is way more chilled out, relaxed, laid-back and people are nicer and sweeter and there is a tameez. Delhi is hard. It's very aggro (aggressive). I loved living in Delhi and had a great time and made great friends in college and worked there also after college, but it's a different kind of a living as opposed to Kolkata. Pune was different, but it was mostly campus life, Bombay is different. I think bigger cities like Delhi and Bombay make you harder because survival is so strong, you have to come out with your tooth and nail.... I think it's a big city thing which now I am feeling a little exhausted with again and feel like I want to move to a calmer place, around nature. What does Kolkata do to you now when you come back?
I don't know what it does to my mindspace, but I think there is a little bit of a relaxation or calmness that it brings to me... the people I hang out with are the older generation and I absolutely love. I make it a point to meet everyone and I also feel guilty that we are all gone, left them alone for them to deal with old age. These are the people who brought us up and made our childhood... with more and more time going, I feel we are losing out on so many stories, history and our generation is unequipped to pass it on to the next generation. We know nothing and I feel a deep sense of regret and sort of helplessness. I don't know how exactly to make up for it. I think sometimes that should I come stay here and spend that time around them and keep taking in stuff. Once they are gone, history would be gone. So much of our culture is shruti and smriti.
Now, when I come to Kolkata bhaloi laage. In the last few years, my relationship has gone through a recalibration. I have gotten to like it more in the last few years more than when I lived here. I only lived here for the first 18 years of my life.... Do you feel the same love when you go back to Delhi or Bombay?
It's a different love. I don't like Delhi any more. I avoid going to Delhi because of just the pollution. I actually fall ill and it's happened only in the last three years. Bombay feels home and it has felt so for many years. It's been 10 years that I have been there. Bombay feels more home than Kolkata.
Which is your retirement place?
Hopefully Europe or Goa or hills.
Pictures: Pabitra Das
Location: The Oberoi Grand
Styled by: Chikky Goenka
Sari draping by: Dolly Jain
Make-up: Arti Nayar
Hair: Palomi Amar Shell