Actress Payel Mukherjee on 'Woh 3 Din' and her upcoming Hindi projects
'We worked hard and had our Bengali adda together'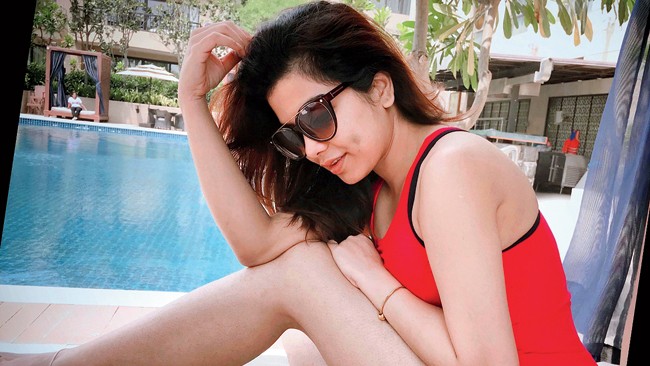 ---
Published 28.06.21, 12:28 AM
|
---
Payel Mukherjee grew up in a culture-minded family and is trained as a classical (kathak) dancer. After finishing her M. Pharm degree (postgraduate, with a specialisation in pharmacology), she began her assistant professorship in pharmacology. Her love for acting was strong, and soon she debuted in movies with Phaans in 2017. Now, the film Woh 3 Din, starring Sanjay Mishra, Chandan Roy Sanyal and Payel, has won the award for Best Feature Film at the Falcon International Film Festival, London. A candid chat with the Calcutta-based actress Payel...
Congratulations! When did you get the news and what does this honour mean for you?
Thank you so much. It definitely means a lot to the whole team of Woh 3 Din and such a prestigious award definitely keeps us motivated and inspired but I always believe the most important honour for any movie is public acceptance, so I'm looking forward to the release.
What was it about Woh 3 Din that made you say yes to it?
The originality and uniqueness of the story. This is the story of a three-day journey of a poor rickshaw puller who survives in abject poverty... and these three days change his life and his immense honesty wins.
Tell us about your character in the film.
My character's name was Roopa who was a resident of 'Badnam Basti', a red-light area. Her behaviour was somewhat suspicious and she joined Rajesh Sharma (Dayanand) and Sanjay Mishra (Ram Bharose) in their journey. Eventually, it will be revealed that she was the love interest of Chandan Roy Sanyal (the traveller).
How was your shooting experience in Varanasi?
Varanasi is one of the best places in India. Its scenic beauty and spiritual ambience always make me feel very positive. It gives a very positive energy flow. It was a lifetime experience to be there, shoot and explore the city. We had started our shoot in February, 2020, just before Covid-19 hit worldwide but due to the pandemic lockdown we had to wrap up within a week. Then again we completed our shoot just after lockdown got over. So, both the before and after experiences of shooting are quite different and challenging too... but we really had a lot of fun in the last two/three days of shoot... like visiting temples, fishing in the Ganges, cooking fish together by maintaining all Covid protocols. I was one of those lucky people who have had dishes made by Sanjayji. We worked like a happy family more than a crew.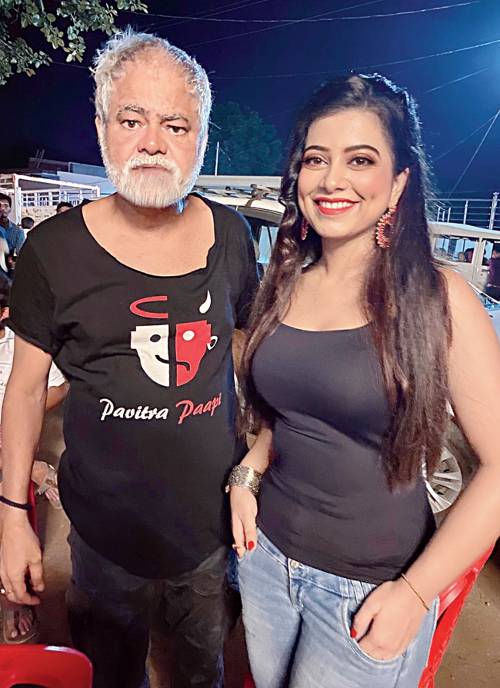 How was it like working with Sanjay Mishra and Chandan Roy Sanyal?
Sanjayji, Chandanda, Rajeshda... it was a team of powerful actors. So, I'm really lucky that I got the opportunity to work with them. It was completely a learning experience for me. Sanjayji didn't leave the floor until my close shot was done and he suggested a few tips throughout the entire shoot. Our director Raaj Aashoo sir also helped me a lot to adapt to the specific character. We know Chandanda is Bengali and Rajeshda is also a Bengali by heart and our DoP Jigar Khan also belongs to Bengal. So we had a mini Bengali team on our set and of course people know how Bengalis are in nature. We worked hard and had our Bengali 'adda' together.
Will you be doing more Hindi films now?
Yes. I have already acted as a protagonist in a Hindi OTT original movie Lal Mirch in Jaipur, which was made by a renowned production house from Calcutta — Opera Movies. My co-stars were Raju Kher and Aditya Pratap Singh. I am working on a few more Hindi projects but we are not able to start shooing because of the second wave. Hopefully it will hit the floor soon.
Working on a national platform is always special as being an actor, I always feel like getting more exposure, where more people can see my work. So working in the Hindi language always provides a larger number of audience. So, I had a goal of working in Bollywood from the very beginning and for that I had to take classes for Hindi diction and Hindi grammar.
Tell us about your forthcoming projects.
In Bengali my next releases are Indraadip Das Gupta's movie Agantuk, the web series Kalimpong Krimes on KLIKK; the Malayalam short movie Eva etc. A few more projects are also in the pipeline.