Mukul Chadda on his crime comedy Sunflower
The actors latest web series – a murder mystery defies genre-specific classification and even makes you laugh at times
Mukul Chadda in the Zee5 series Sunflower
Sourced by the correspondent
---
Published 09.06.21, 12:29 AM
|
---
As a murder mystery that makes you laugh at times, Mukul Chadda's latest outing Sunflower defies genre-specific classification. The man best known for playing the lead in The Office speaks to The Telegraph ahead of the web series launching on Zee 5 on June 11 and the release of his film Sherni, starring Vidya Balan.
When did you shoot for Sunflower?
My portion was shot in November-December, post-first wave and pre-second wave. We faced all the challenges one faces while working amid a pandemic. Regular tests were happening on the sets. That minimised risks.
Was this the first time you were on the sets after the lockdown?
I shot three projects in this period. The first project was an Alt Balaji show called Bicchoo ka Khel. The second was the film, Sherni; Sunflower was the third.
The trailer of Sunflower released recently. It is edgy and seems to be laced with dark humour at the same time.
Sunflower is definitely a dark humour show. The trailer has evoked a lot of intrigue. I am being asked: 'Is it a murder mystery? Is it a thriller?' Then they see some other clip and ask: 'Is it comedy?' I'd say it is all of these. It is not easy to fit it into a genre. It is quite different from shows we have seen in India. Someone called it a crime comedy and I think that's an apt description. There's a murder, there's investigation. But there is humour right through. I remember I was laughing while I was reading the script.
Tell us about your role of Mr Ahuja.
Technically I am Dr Ahuja. I say this because my character would say that also. He is someone with a short temper, flies into a rage quickly. It is not a character I have played in recent times or comes to me naturally. This is the joy of being an actor, to figure out what drives this person and how do you get into the skin of this character. We shot Sunflower predominantly in Mumbai.
Sunil Grover in the lead is a revelation. We were used to seeing him doing goofy things in comedy shows on TV.
Sunil is a wonderful actor. People are getting to realise that now. He is predominantly known for his work in comedy shows. People are now seeing him as a serious actor who can do all kinds of roles. He has done a fabulous job. Sonu was a difficult character to play. Just a glance at him shows Sunil has really caught his essence.
Ranvir Shorey has a deadpan expression as an inspector in the trailer.
The writing of the show (by writer and co-director Vikas Bahl) was fabulous. He created really interesting and different characters. If you see the two cops doing the investigation, there is Ranvir's character Inspector Digendra — very serious, hard as nails, trying to get to the bottom of the case. His look is also interesting. Sub-inspector Tambe, played by Girish Kulkarni, is a far more colourful character. The soul of the show is comedy. Yet all these characters are playing their roles seriously. I am getting angry at the drop of a hat. Ranvir's character is trying to solve the case. Even Sunil's character Sonu is not trying to be funny but he sees the world that way, as a child might. But the combination of the situation around them makes it funny. The script is such that we are playing our parts seriously but the audience is chuckling.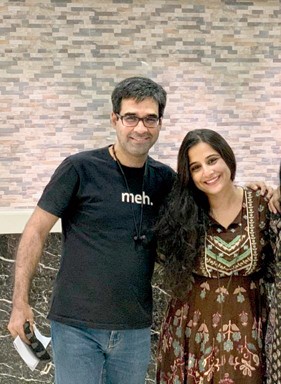 Sherni is due to release in June.
Yes. I am looking forward to that. The film is centred around Vidya (Balan, who plays a forest officer). It was a joy to work with her. She is a very giving co-actor. Working with her, you forget how big a star she is. Amit Masurkar, the director (of Newton fame), has boyish energy. He was part of the reason I said yes to the film. He was very disarming in the way he narrated the film. My bit was shot in Balaghat, a forest area on the Maharashtra-Madhya Pradesh border.
Will there be Season 3 of The Office?
It was an absolute pleasure playing Jagdeep Chadda (the lead character in The Office) and I'd love to do it again. There was talk of Season 3 but nothing was finalised. We shot the second season of The Office with the first in 2018. It was a smart move and it helped us be in the flow. The chemistry developed between characters. Shortly after Season 2 released, the pandemic broke out.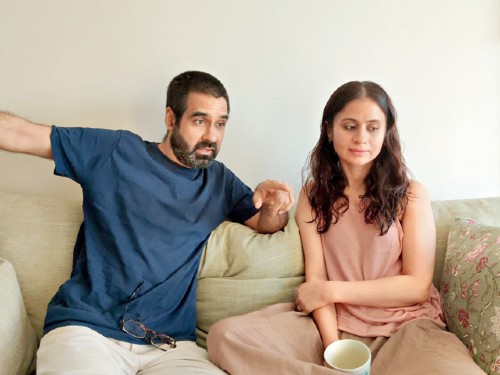 Compliments on your home-made short film Banana Bread, featuring you and your wife Rasika (Dugal) last year. It is still on YouTube.
Thank you. My wife and I co-wrote and shot it together in the first lockdown. A lot of labour went into it as we had to do all the manual work ourselves but it was a labour of love. We got a director (Srinivas Sunderrajan) to direct it remotely and Terribly Tiny Tales agreed to produce it. People have tried out different things in the lockdown, find innovative ways to create something and reach out to people. It deals with the signs of the times — love and loneliness. We started thinking how a love affair in Covid times would be and you can't talk of love without talking of loneliness, which is a major part of the times we live in.
Are you looking at scripts?
Absolutely. We are waiting to get back to work but it is impossible to schedule dates. Everything has been postponed indefinitely for now. We will revisit those conversations once the pandemic subsides. Of course, work is disrupted but people have learnt how to work from home. The success of Banana Bread has encouraged me to try my hand at writing. Last year, we were taken by surprise. The (national) lockdown was announced suddenly, no one was prepared. There was a war-like scarcity. The local governments didn't know how to deal with it. Last year, around this time I was washing my hands every 10-15 minutes. You didn't know if you'd get groceries the next day, so when you got anything you bought much more than you needed. The devastation has been much more in terms of the toll this year but day-to-day life has been smooth.
An IIM Ahmedabad pass-out, you used to work in a bank in New York. Looking back, do you think it was the right move?
I don't regret for a moment my decision to quit my banking job and move back from the US. My career as an actor has not always been smooth and there were wonderful sides to my life in the US. But I don't look back with regret.
Chadda's latest OTT watches
Mare of East Town (on Disney+Hotstar): It's a very recent HBO crime drama starring Kate Winslet. 
Veep (on Disney+Hotstar): It's an award-winning dark comedy series.
The Trial of the Chicago 7 (on Netflix): The film is based on a historical incident in the '60s when a group was wrongly accused.
Schitt's Creek (on Netflix):  A light comedy that has been winning a lot of awards.
The Wire (on Disney+Hotstar): On a police procedure in Baltimore. A very well-made show from the early 2000s.