Aahana Kumra on her diverse roles, recent release, and more
'Do you know how repetitive parts written for women are on our screen? It can get so boring!'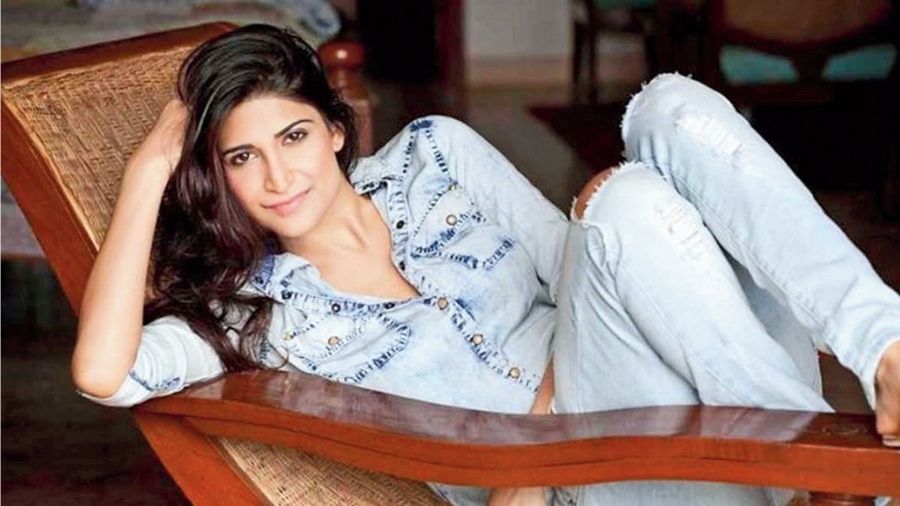 ---
---
Aahana Kumra has been having a good run on the web. Last year alone, the 36-year-old stunner had releases as diverse as Betaal, Marzi, Sandwiched Forever and Khuda Haafiz. Currently, her film Bawri Chhori — a dark comedy in which she plays a woman who travels to London to wreak revenge on her NRI husband who abandoned her immediately after marriage — is streaming on Eros Now. A chat with The Telegraph.
What can you tell us about Bawri Chhori?
It's a sweet, small film and I didn't expect so much love for it on social media. I am very excited about watching it because I haven't watched it myself. We shot it over a year ago in London and it will be interesting to revisit all the memories of the shoot.
I feel that it's a very relatable film because a lot of women in our country go through this. A lot of women get married to these NRI men who go absconding... at least in the Punjab side of the country, I know that it happens all the time. This film offered me a performance-oriented role. I grabbed it with both hands because seldom do women actors get the opportunity to shoulder an entire film. I also feel that it's a very today's film because it isn't about a girl who wants to coax her husband to come back... she goes out there to take revenge. It's more like, 'I will kill him! How dare he do this!' It was interesting in a way that the director (Akhilesh Jaiswal) thought of me to play this character.
The film treats a serious subject with a lightness of touch. How do you think that benefits the story and makes it accessible to a larger audience?
I think we all take our lives more seriously than we should. I look at everything in my life with humour. I make fun of all the bad decisions that I make. In a nutshell, I feel like my life is like Life is Beautiful, especially in that last scene where he (Roberto Benigni) is going to get killed and yet he doesn't allow his son to feel it. I don't take things too seriously. I am like, 'Haan, theek hain. Hain toh hain'. I don't look at anything as the end... you have to take life as it is.
I feel this film has elements of humour that's been missing on OTT. I want to be part of stories that are humorous and yet have something to say... dark comedies, so to speak. Bawri Chhori has an important subject, but we've taken a humorous side... look at the people she meets, look at the situations she finds herself in... she meets good people and she also meets weird ones, and that's the beauty of travelling alone and eventually finding yourself, and realising that your own company isn't as bad as you thought it would be. My character (Radhika) eventually realises that she doesn't need this guy. She meets so many people and hears so many stories that she ultimately feels that her problems are nothing compared to what other people are facing.
How do you look back at the year that's gone by? You have had a lot of releases...
It's been creatively fulfilling, for sure. I have done a variety of roles, but people most often don't speak of that. They always talk of a man picking diverse parts, but they never talk about a female actor who doesn't repeat roles. Do you know how repetitive parts written for women are on our screen? It can get so boring! Ek lawyer ka role de denge, ya ek biwi ka role, doctor ka role or at most that of a police woman. I think it's important to acknowledge the fact that there are actresses who are trying to play different parts. Only then will there be more roles written for us.
I am really grateful to the makers who have written different parts and thought of me for those roles. Such distinct looks... Betaal had me sporting prosthetics, in Khuda Haafiz, I played a hijab-clad woman who does so much action, in Marzi I was a schoolteacher in Shimla who suffered from anxiety, in Sandwiched Forever, which is a sitcom, I play a badminton player... it's such a variety. As women actors, even we need to seek out these diverse roles, analyse ourselves and say, 'Wow, I can do much more than this. I can perhaps push the envelope more'.
Honestly, the parts for women may still be limited, but it's undoubtedly an exciting time for any collaborator and creator. In India, it's a little difficult to sell anything that's a little different because we are still doing formats. A lot of repeats happen... 'Achha yeh chal gaya toh aisa aur kar lete hain'. If a crime thriller works, then 10 more crime thrillers are made. It's a great time for content creators, but we are still playing it very safe. The one-off stories are missing, the novelty factor needs to be looked at more. But I also understand that it's a very new space for a lot of platforms, and they are also testing the waters.
Personally, how have the last few months been?
I really developed my physical skills. That's something that I never really worked upon, or even bothered to look at. I am not talking in terms of getting washboard abs or anything. My change has been that I can run longer now... I can run about 15km- 20km very easily. That's a skill I developed during the lockdown. I used to do it in school, but I lost all of that stamina when I started working.
For me, 2020 was a year of change that gave me the chance to work on myself. Like iOS updates happen, sometimes even we need that kind of updating (laughs).
I also consumed a lot of content and saw what stellar work actresses around the world were doing. I was like, 'Oh my God! Look at the kind of content that's being churned out in the world. What are we doing?!' I got that clarity, and I got inspired by so much performances by women across the globe... whether it's Korean drama or American shows....
Which performances impacted you the most?
A lot! The Undoing... Nicole Kidman is phenomenal. I loved The Crown, with a narrative led by three women... Helena Bonham Carter, Olivia Colman and the girl (Emma Corrin) who plays Diana. The Morning Show with Jennifer Aniston and Reese Witherspoon was another one. Also, the performance by Zendaya in Euphoria. They are really pushing the narrative when it comes to writing and performances. We need to start writing such roles for women. Having said that, Shefali Shah's performance in Delhi Crime is one of the most phenomenal I have seen in recent times.
But we need to do so much more. Why aren't we writing roles for women in sport? There are enough competent actresses. I am ready to do a part like that because right now I feel that I am the fittest that I have ever been. But write those parts, yaar!
Your performance in Marzi earned you a Best Actress in a Leading Role nomination at the Asian Academy Creative Awards. How much does that tell you that you are doing things right when it comes to picking your parts?
For me, it was a very big deal. Of course, it wasn't made a very big deal here (laughs). For that matter, I wasn't even nominated for any of the Hindi OTT awards here. Honestly, these things don't matter to me because I have never been nominated for anything. Even for Lipstick (Under My Burkha), I was nominated in the supporting (actor) category, though all four of us (Aahana, Konkona Sensharma, Ratna Pathak Shah and Plabita Borthakur) were leads. Konkona was nominated in the critics category, instead of the popular category. Just because someone doesn't do mainstream cinema doesn't mean that they are less of an actor. I don't understand how Indian popular awards work.