Aahana Kumra is writing a script apart from hosting The Inventor Challenge
The actress shot to fame with the film Lipstick Under My Burkha and is a vital part of the Netflix show Call My Agent: Bollywood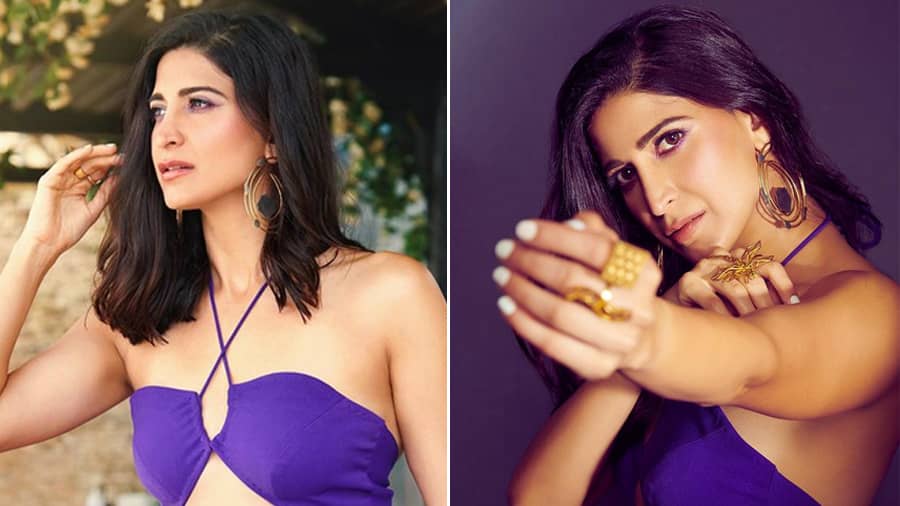 Aahana Kumra
@aahanakumra/ Instagram
---
Calcutta
|
Published 15.09.22, 10:18 AM
|
---
Aahana Kumra, who shot to fame with Alankrita Shrivastava's Lipstick Under My Burkha, believes in being prepared for the right opportunity to knock at her door. So, when Colors Infinity Original conceived The Inventor Challenge, Aahana's readiness came in handy. 
Being a fan of Shark Tank America, Aahana didn't think twice when she was offered to host The Inventor Challenge, a one-of-a-kind competitive reality show which allows Indian inventors to see their ideas come to life. You can watch the show on The Inventor Challenge YouTube page as well. The Telegraph Online speaks to Aahana on what's going on in her life.  
You have hosted the Pro Kabaddi League earlier but with The Inventor Challenge, you step into the shoes of a reality TV show host. What made you pick this new assignment?  
Aahana: The show's concept is new and different. It's kind of breaking the clutter. It's not a dance-and-song reality show. It's a show that talks about new ideas. We have seen in the past (Shark Tank India) that there is an audience for shows that talk about entrepreneurship skills and business ideas. It's a step ahead, as it talks about how you can work around an idea to make it into a real product. I was very excited as I wanted to be a part of something like this.  
Did you have a reference point from any reality TV show in the similar space that inspires you?  
Aahana: Well, I am a fan of most of these reality shows. I watch MasterChef and Is It Cake?. I like watching food-based and entrepreneur-based reality TV shows. I like Shark Tank America a lot. I always felt that I should be hosting one reality show, and then this one came along. You always have to keep yourself prepared for the right time. It's exactly what happened with me, with this show. The time was right as I was looking to do something different. 
Moving to your Instagram bio (Actor. Sports and outdoor enthusiast) and your feed, you seem to be passionate about fitness. Can we see you in a sports film?   
Aahana: It's just a personal thing! I love running in the sun and the rain. I love to run 10 to 15 km, three to four times a week, on the beach. I love trekking. I have a profound love for the outdoors. I love climbing hills, which is something I have always enjoyed. I developed all these during the pandemic. If I get to play a sportsperson in a film, I will be very happy. (Smiles)
Given an opportunity, which sportsperson would you love to play? 
Aahana: Well, I always wanted to play (athlete) PT Usha. I have met her and told her this as well. She is happy to hear it, but she has told me she doesn't know whether she wants to make a biopic on herself. I also want to tell the story of a particular person who isn't known to the world.  
When do we see you next after Call My Agent: Bollywood (Netflix) and  Avrodh (SonyLIV)? 
Aahana: Well, I have a film (Salaam Venky), that is directed by Revathy, which will release this year. I have another film, India Lockdown by Madhur Bhandarkar, that is also ready, so I am waiting for the directors to tell us when the films will release. Now, we don't know whether Call My Agent: Bollywood will have a second season and I don't know whether I am in Avrodh Season 3. 
What else is keeping your hands full? 
Aahana: I am writing a script and working on two concepts. I hope by next year, if everything goes well, it will be ready.  
Not all shows on the OTT platforms have good content. As you are writing a script, tell us what works on OTT in India and what you watch as an audience.  
Aahana: What we lack in India is the writing. We make something cringe as everybody loves watching it. Or we watch gritty drama. There is a lack of humour in OTT. I don't think there are too many humorous shows. We don't have slice-of-life shows. Shows like Sarabhai V/S Sarabhai or Khichdi are missing. As an audience member, I have a lot of favourites among international shows. The shows that I am enjoying now are - House of the Dragon, Only Murders in the Building Season 3, The Offer which shows how The Godfather was made, and Delhi Crime Season 2.
Guess you have been told that you have a striking resemblance with Anushka Sharma…. 
Aahana: Yes, I have been told that. We were both born on May 1, which I found out later. That's bizarre! (Laughs)