A t2 chat with author Dipika Mukherjee as she gears up to launch her first novel, Thunder Demons, in Calcutta next week
Read more below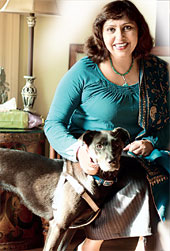 ---
Published 02.09.11, 12:00 AM
|
---
Dipika Mukherjee is a writer of many hats, with academic books, poetry and short stories in print. Now, the mother-of-two who lives across four countries — Malaysia, India, China and the US — has her first novel out, published by Gyaana Books. Thunder Demons will be launched in Calcutta on September 8 at Oxford Bookstore, Park Street. The author tells t2 more over email.
Tell us about Thunder Demons...
Thunder Demons is about a Malaysian-Bengali family. A young woman, Agni, is struggling to come to terms with her mother Shanti's suicide, while her grandmother, Shapna, has been keeping a dark secret about the family's past. Along comes Jay Ghosh, a scientist from America, and although he is an old family friend, he makes the plot even murkier as Jay had been with Shanti the evening she died.
Jay returns to Malaysia after 30 years — summoned by Colonel S, his mentor and father figure — and although he comes with vengeance in mind, Jay realises that nothing is as it seems.
Though set in Malaysia, many of your characters have Bengali roots...
Malaysia has had a long history of trade with India, and Malaysian Indians comprise roughly 8 per cent of the population, most of them transported to the country from south India to work as cheap labour under British rule. Even after Malaysia achieved independence from the British, many Malaysian-Indians stayed on and became Malaysian citizens. There is also a sizeable Bengali population.
However, Malaysians have always been classified into the bumiputra (sons of the soil, mostly the Malay race) and the non-bumiputra (Chinese and Indian Malaysians, who have made Malaysia their homes for many generations). This essential division of all Malaysians based on ethnic origin has created a schism in Malaysian society. Although questioning the special advantages of the Malays can be deemed as sedition, civil movements have been gaining ground to address the racism inherent in this system of government.
As a Malaysian permanent resident with a son and a husband who hold Malaysian citizenship, the inequities of Malaysia are something I wanted to address. My academic research is also in the field of Malaysian language planning and policy. I know Malaysia well and dearly love the country, but it is easier for someone like me, living outside, to write about the country than for someone from the inside. The Internal Security Act is still being used in Malaysia to detain dissenters indefinitely without trial.
How was Thunder Demons longlisted for the Man Asian Literary Prize 2009 even before it was published?
The Man Asian Literary Prize has now changed the rules, but in 2009, only unpublished manuscripts could be submitted for the contest. I submitted mine and suddenly I was in a list with Su Tong, whose novel Rice I first read as a teenager! Then I met Su Tong at the Shanghai Literary Festival last year, where he spoke to a packed audience. I introduced myself, congratulated him on his win, and told him that it was an absolute honour to lose to a writer like him. He looked a bit confused, looked at his interpreter and started to shake his head. "No, no," he said, "I am so sorry! You should have won." The interpreter started to laugh, as did I. Clearly, he couldn't have been serious, but the humility of this amazing writer, his genuine remorse at having caused another writer any loss — that was amazing!
You call yourself a nomad with homes in four countries. How does that affect your writing?
I think I can write of many places as an insider, and I hope that also helps me be less judgemental. I had a pretty traumatic childhood with my father in the diplomatic service and being moved every three years, but now that experience has given me an easy adaptability so I can make many places in the world home.
Thunder Demons is set in Malaysia; my second novel Finding Piya is set in India with an NRI princess from Ohio as the protagonist. Maybe my third novel will be about China — I would love to write about China!
Madhumita Bhattacharyya
Which young Indian author do you want to know more about? Tell t2@abp.in