A lot scientific Kunaal
Getting answers to our science questions in a fun way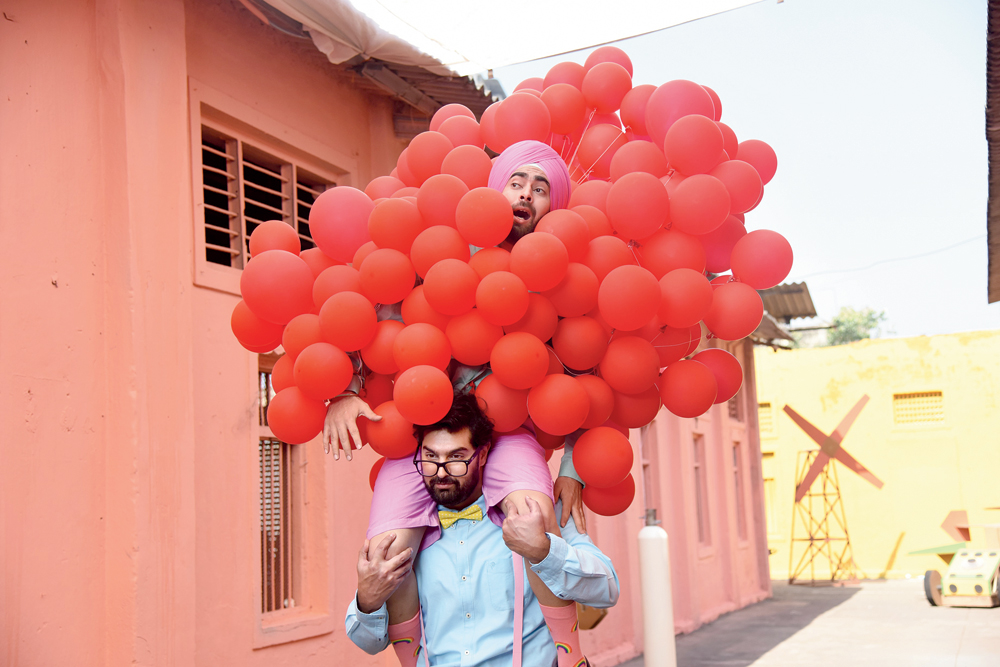 Kunaal Roy Kapur and Manjot Singh on the sets of the promotional
(Image sourced by the correspondent)
---
Published 08.11.19, 04:39 PM
|
---
Sony BBC Earth is set to bring an anthology Not Rocket Science consisting of three science-based shows — Secrets of Everything, Factomania and Bang Goes the Theory — that will provide answers to all of our science questions in a fun way. The show will take off Monday 8pm.
Actors Kunaal Roy Kapur and Manjot Singh shot a goofy special promotional video for the series. The Telegraph caught up with Kunaal for a chat.
What is your idea of rocket science?
Rocket science is something that's very difficult, calculations go into it, the amount of science and the knowledge of different fields is so much! You have to know about physics, chemistry, electronics, the universe, the space... rocket science actually really deals with many different sciences. Rocket science to me means, something that is very difficult to get a grasp on.
What are some of your science class memories from childhood?
I guess there was a lot of pressure on us to remember a lot of these things. The manner in which it was taught to us was not always to get our curiosity flowing. It was more with the intention of performing in exams or just being about to deliver and cramming a certain amount of knowledge. While all those facts and information are fascinating, it's all about the manner you present it to a child. Very rarely did we have professors who would make it really fun and exciting. I think today a lot more children because of all the media out there right from the Internet and TV shows, they have it a lot more access. They have access to a lot of interesting things out there and the manner in which it's put to them is also very different than how it was 20 years ago. My childhood memories are not always very pleasant when it comes to science.
So science wasn't one of your favourite subjects in school?
No, it was not (laughs). I don't think I had any favourite subject. The lunch break was my favourite.
How did your association with Sony BBC Earth's Not Rocket Science happen?
Someone from Sony got in touch with me and asked if I wanted to be associated with the channel and this series. I am a fan of these shows and I watch them very often... the many shows on this channel like Planet Earth or Blue Planet. And so do my kids. It's not something that I am afraid of them watching. Generally, you don't know what content they consume when they're on YouTube or any other entertainment channel, but when they are on this channel you know that the kids are in safe hands because they are learning something. They are also inspired to do more. When they approached me, I was more than happy to do it because it was something that I really enjoy myself. I also watch the shows on the SonyLIV app because sometimes for me timing is an issue. I can watch it according to my convenience. The amount of dedication those guys have and the kind of footage they get after shooting for years is really pushing the boundaries, even technologically because a lot of this filters down to filmmaking. The equipment they use, the sound... they are way ahead of the film people who ultimately use the tools they are creating. So it's really amazing watching these shows not only from a scientific point of view but also filmmaking point of view where you're wondering for most of the show that how did one even get that shot and those sounds! It's a learning for me on different levels not just the content of the show but also the making of the show.
While shooting the promo, did you get to learn anything new?
I got to learn that you need to read the scripts fully before you sign up for anything because I was carrying Manjot on my shoulders for half the day and I was getting drenched for the other half! That was one of the chief learnings for me, nothing much to do with science (laughs).
Are there any scientific theories that you've utilised in real life?
There are some things you know will work out, like using water pressure or water finding its own level. I do a little bit of drawing and some geometry helps me from time to time. The basic knowledge that you have at the back of your head, they do help you. Most of them are so part of your understanding of the world that you take them for granted.
Do you have any funny memory of experimentations done at your school's science lab?
We did use to have lab class and I remember not getting the experiments right. We did not have an explosion fortunately but I do remember our chemical had turned a certain colour but mine would only end up turning black, all the time! Luckily, it didn't explode in my face but I really remember messing up chemistry experiments.
How was it working with Manjot for this promo?
I think this is the first time I'm working with him properly. I did a very small video with him last year but we didn't really get to interact much because I was just there for a few hours. I have known him before that casually but this is the first time we shot something properly. We spent the whole day and he is a lovely young guy. He is doing really good work and I hope that he keeps getting wonderful roles. We had a great time shooting.