A crazy ride that pits Anil Kapoor and Anurag Kashyap against each other
Team AK vs AK — Anil Kapoor, Anurag Kashyap and director Vikramaditya Motwane — chat about their quirky, genre-defying film that drops on Netflix on December 24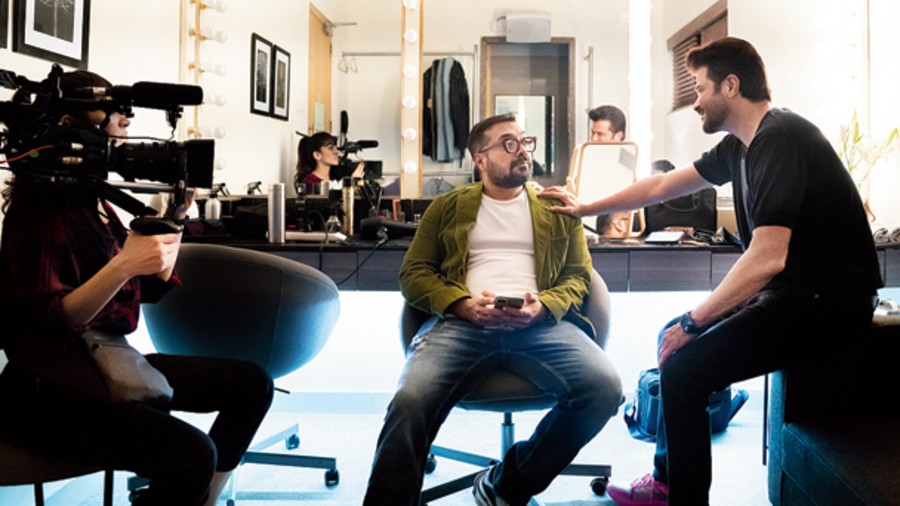 ---
---
Did you go, 'Now that's a film I want to see!' as soon as the trailer of AK vs AK dropped? The crazy ride that pits actor Anil Kapoor (AK) against film-maker Anurag Kashyap (AK), is filmed documentary-style and has the two playing themselves, in what is a hostage thriller in a race-against-time format.
Directed by Vikramaditya Motwane — the man behind work as diverse as Udaan, Lootera, Sacred Games and Trapped — AK vs AK also stars Anil's actor-kids Sonam and Harshvardhan.
Over a Zoom call, we chatted with Anil, Anurag and Vikram on their Netflix adventure that drops on December 24, which also happens to be Anil Kapoor's 64th birthday.
When I first heard about AK vs AK, I thought it would be like Jim Carrey's The Truman Show, and now that I have watched it, I know it isn't. While watching it though, I did recall the opening line from The Truman Show that goes, 'We've become bored with watching actors give us phoney emotions'. Vikram, how did you come up with an idea like this and did this line resonate as some sort of a starting point?
Vikramaditya Motwane: What you just mentioned is such a fantastic line... phoney emotions is definitely at the core of this and that's what AK vs AK is about. You get to see that in the trailer as well when Anurag (Kashyap) says that everything that's captured on camera in the film will be real. In all our discussions about the film, Avinash Sampath, the film's writer, would keep harping on the fact that if everything in this film is going to be real, will it be even called acting? (Smiles)
Honestly, it's very difficult for me to put AK vs AK into a genre. It's a bit of mockumentary, but not quite. It's a bit of mumblecore, but not quite. It's a thriller, it's a kidnap drama... it's layers within layers. I am still trying to figure out the film myself! (Laughs) I actually haven't analysed the film... now that I am talking to people about it, I am like, 'Aisa bhi hain, waisa bhi hain'.... I am also discovering it now (laughs).
Is there beauty in constantly rediscovering something you have worked on?
Vikram: For sure... it's lovely, it's a lot of fun. This film has been a lot of fun. I have had people telling me, 'Oh, we didn't know you could do fun!' (Both Vikram and Anurag Kashyap laugh)
It also feels like your film Trapped, in a way...
Vikram: I have been told that all my films are Trapped, in some way....
Anurag Kashyap: This is not Trapped... this is no-holds-barred! This is the polar opposite... ismein jidhar jaana hain jao! (Laughs).
Anil, AK vs AK plays out on your birthday in 2019 and it's releasing on your birthday this year. That's a unique birthday present. How did you react to this script when you first heard it?
Anil Kapoor: I went in full throttle, you know....
Anurag: He even contributed to the script, saying, 'Yeh bhi bol sakte ho, woh bhi bol sakte ho' (laughs).
Anil: After I read the script, Vikram told me he wanted to know about all the milestones, anecdotes and all that I have gone through in my career. So we sat down and talked. He sat down and wrote down everything neatly (laughs). He's one of those good students you find in class, sitting on the first bench. Mujhe laga ki meri toh iski saath banegi kyunki main isi type ka hoon. When I get my scenes, I like to sit down and write them down because that helps me know my character better. Even Harsh (Anil's son Harshvardhan Kapoor, who also makes an appearance in AK vs AK) would always tell me, 'You and Vikram will get along very well. That's because he wants to push you and you also want to push people. Both of you pushing each other will be fantastic!' (Laughs)
So I just went in full throttle. He spoke to me in November, and in December, we started shooting. We made the film very quickly... this is the fastest film I have done in my career, roughly about 21 days. From the time the script came to me to the time now that I am speaking to you, everything has just gone right for the film. There are times when you feel that some things and some people just go right. This film is one of those good things that's happened to me. I just went all out, and I gave everything that Vikram wanted from me. I worked hard till I saw a smile on his face....
Anurag: And it takes a lot to get a smile on Vikram's face! (Laughs) In 10 years, for the first time, he's laughed while shooting a film! (Laughs)
Anil: Harsh bolta hain mujhe, 'Yeh toh hasta hi nahin hain!'
Anurag: That's a complaint from every actor. Like Saif (Ali Khan), during Sacred Games, used to say, 'Yaar, maine achha kiya ya bura kiya, pata hi nahin chalta. No pat on the back....'
Anurag is Anurag... he's irreverent, his life is an open book and in this film, he talks about everything from his run-in with Bhakts to facing a midlife crisis. But 40 years in the business later and having an image as a public figure and an actor to safeguard, what made Anil Kapoor the star do a film like this where you put so much of yourself and your family out there for the world to see?
Anil: To be honest, yes it was there on my mind. But life is about taking these kind of gambles. You should be ready to fail, and I have always done that. I thought, 'Kya hoga zyada se zyada? I will fall flat on my face, log mazaak udayenge....' That's because this is the kind of subject that can go completely wrong.
Anurag (Looks at Anil): But it does take a lot of courage to do what you did. For him, there's so much at stake, there's so much to lose.... I think it takes an incredible amount of courage and conviction to do what he's done....
Anil: That's true. There are a few examples I can give. When I did Eeshwar (1989), Shekhar (Kapur) and a few other film-maker friends drove down to Esel Studio (in Mumbai) to ask me why I was doing this film at this stage of my career. They were like, 'You have given such big successes aur tu yeh character kar raha hain?!' Then I did Mr. India, which was my own production, and I was invisible in it! (Laughs) People were like, 'Paisa laga raha hain, aur khud invisible hain?!' (All laugh) But I told them that people will remember me in this film, and that's what happened.
Then many years later, during Slumdog (Millionaire, 2008), I just had eight-nine days of work, but I said, 'Kya fark padta hain?' Sometimes, I do a film because I feel it will be educative, and I will get a chance to work with a certain film-maker. There are times when I do a film to build relationships. Kabhi kabhi ghar mein paise nahin thhe toh film karna padaa. I had to do two-three films to make enough money to make Gandhi My Father (2007). During Dil Dhadakne Do (2015), Zoya (Akhtar, director) first came and told me that Ranbir (Kapoor) and Kareena (Kapoor Khan) are there in the film. Then, she said that Ranveer Singh and Priyanka Chopra are finally doing the film and I was like, 'Main Priyanka ke baap ka role kar raha hoon?! Uske opposite toh maine kaam kiya hain!' (Laughs)
So when AK vs AK came to me, I was like, 'Okay, my kids (Sonam and Harsh) are also going to be in the film'. So I told Vikram, 'Main baat nahin karunga... tu jaake baat kar'. Now I will ask them if they have done the film for Vikram or for me (laughs).
Vikram: Both Anil Sir and Anurag are so secure in who they are and what they have done, that it is just wonderful to work with two actors who are not at all worried about their image. In fact, they are willing to break it.... Both of them have come so far in their careers and have been so successful that now there is no insecurity on their part. And that's so nice for a director, to not have to pander to that. So, thank you sir! (Looks at Anil)
Anurag: This is the first time in my life that someone has acknowledged me being successful! (All three laugh)
Anurag, when someone refuses to do a film with you, are you as vindictive as you are shown to be in AK vs AK? Does half the industry have to worry?
Anurag: I don't think I have a bone of vindictiveness in my body! I happily move on. I don't get affected that much....
Anil: Honestly, jo insaan itne saalon tak tiktey hain na, woh aise nahin hote hain. If Anurag had to waste his time being vindictive, he wouldn't be able to do even half of the remarkable work he's done. 
Anurag: You can't go ahead in life with a grudge....
Anil: Haan haan, aagey badho....
Anurag: I always feel... yeh film nahin bann rahi toh doosri banao.
Vikram: At the beginning of your career, you have these emotions like, 'Oh, I couldn't make this film, my life is over'. After that, it doesn't matter that much.
Anurag: AK vs AK nahin bani, Vikram tried to make Bhavesh Joshi (Superhero). When that didn't get made, he tried making Trapped (everyone laughs). Then Bhavesh Joshi got made, and he's now come back to AK vs AK.
Anil: My children are going through the same thing now. I tell them, 'Don't worry, yeh nahin chali toh doosri chal jayegi. Par kaam karte raho. That's important'.
Anurag: Failure is a great teacher... keeps you grounded, keeps you rooted....
Vikram, what was it like shooting AK vs AK guerilla-style and unleashing Anil Kapoor on the streets of Mumbai at night?
Vikram: For me, it was very liberating! Which is why these guys are saying I was laughing on set (laughs). We knew exactly what we were going into, we would rehearse some of the scenes during one half of the day and the rest of the day was spent in shooting. I think just the fact that I didn't have to clock in 20 shots to see it later in edit — I was literally seeing the edit as I was shooting the scenes —  and it was so liberating for me to see it all coming together there and then... it was very different. I had so much objectivity while watching it... I could separate the bad from the good.
I also loved the whole meta-ness of it... the fact that I didn't have to worry about people looking into the camera, there was barely any lighting to do. It was so much about the Dogme 95 type of craft. I just had to put the actor in the middle of the situation, go in and shoot it and have a lot of fun in the process. Of course, we did a lot of work in the background, but on the day, it was a blast.
The door, at the end, remains open for a sequel. If not, Anurag, at least just go ahead and make 'Allwyn Kalicharan' with Anil, the film that started it all...
Anurag: 'Allwyn Kalicharan' will happen! I have figured out a way to update it and rewrite it and it's happening as we speak. Koi bhi idea main nahin chhodunga, main sab banaake rahunga! (Laughs) As far as AK vs AK is concerned, main baap ka, maa ka, sabka badla toh lega! (All three laugh)