'A Beautiful Day in the Neighborhood' celebrates patient listening, gentleness and honest expression
Tom Hanks performs with faultless technique, but you never lose sight of the performance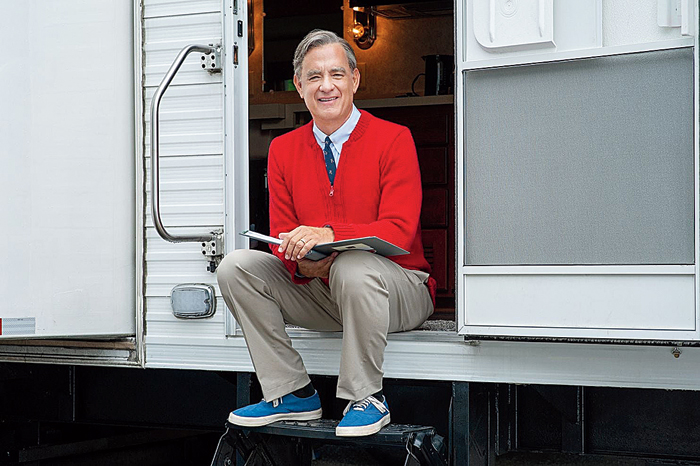 ---
---
A Beautiful Day in the Neighborhood celebrates the virtues of patient listening, gentleness and the honest expression of feelings. It's about how a man who has devoted his life to being kind helps a man with a professional investment in skepticism to become a little nicer. The appeal of such a movie at the present moment is obvious enough, and so perhaps are the risks. This modest, quiet story — based on a magazine article published more than 20 years ago — could easily have turned into something preachy, sentimental and overstated.
Mister Rogers — the real, off-camera Fred Rogers as well as the version of himself he played on television — was none of those things. His decency, and what we now might call his emotional intelligence, presented themselves with a serene consistency that could be a little unnerving. That's how Rogers sometimes struck Tom Junod in "Can You Say … Hero?," the Esquire profile that inspired Marielle Heller's film. And that's how the movie's Mister Rogers, played by Tom Hanks, often strikes Lloyd Vogel, a fictional character who, like Junod, writes for Esquire and had a favourite childhood toy called Old Rabbit.
Those are the main similarities, other than Mister Rogers himself, between the movie and its source material. A Beautiful Day in the Neighborhood, which was written by Micah Fitzerman-Blue and Noah Harpster, is not a biopic of Rogers, or for that matter of Junod (who revisited his friendship with Rogers in a recent Atlantic article). Lloyd, played by Matthew Rhys, is a familiar type of fictional character: a soul in torment, a guy who has lost touch with his better self. He has a kindhearted wife, Andrea (Susan Kelechi Watson), a new baby, and a recent National Magazine Award, but his resting dude face hovers perpetually between sorrow and disgust.
The main source of this anguish is his father, Jerry (Chris Cooper), an old-school drinker and philanderer from whom Lloyd has been estranged for most of his adult life. The two get into a fistfight at a family wedding, and Lloyd rebuffs Jerry's later attempts at reconciliation. The assignment to write a short profile of Mister Rogers, pushed on Lloyd by his editor (Christine Lahti), turns out to be something of a miracle, a just-in-time divine intervention.
The religious language feels apt — Rogers, an ordained Protestant minister, begins every morning with Scripture and prayer — but also possibly misleading. When Lloyd, speaking to Joanne Rogers (Maryann Plunkett), describes her husband, a bit sardonically, as "a saint," she corrects him. He's an ordinary sinner like anyone else. And though it would be a mistake to call Rogers non-judgmental, his moral authority arises from empathy rather than superiority.
His young viewers trust him because he speaks to them without condescension or pandering, and also without pretending he is anything other than a grown-up. (To them he's not "Fred," but always Mister Rogers, and he always wears a necktie under his zippered cardigan.) His basic advice to fellow adults — "you were once a child, too" — suggests a tactful challenge to something St. Paul said in I Corinthians 13. You don't put away childish things, like favourite toys and hurt feelings. You hold onto them, because they become touchstones of empathy, reminders of the vulnerability and sincerity that are the building blocks of the mature self.
But unlike Won't You Be My Neighbor, Morgan Neville's heartfelt 2018 documentary, Beautiful Day is not primarily about Rogers's work in children's television. It's about how his friendship helps Lloyd become a more forgiving son, a more responsive husband and a more involved
There is an off-the-shelf quality to this story, which brushes up against more than a few self-help screenwriting cliches. But Heller, as in her previous films (The Diary of a Teenage Girl and Can You Ever Forgive Me?), trusts in the power of small moments and the appeal of human idiosyncrasy. She also makes charming use of the miniature architecture of the Neighborhood of Make-Believe, weaving a bright thread of fantasy into Lloyd's troubled reality. It's not only Mister Rogers's kindness that hovers over Beautiful Day, but also his creative spirit. Paying tribute to his skills as a composer, performer and puppeteer, the movie affirms his status as a hero of the imagination.
Which is not an easy role for an actor to play. Without descending to overt mimicry, Hanks captures Rogers's body language and vocal intonations, and his own firmly established reputation for niceness adds an important element of credibility. But while it's hard to imagine any other American actor playing Mr Rogers, I can't help but think that Hanks is miscast.
He is a natural extrovert, expressive and energetic, as friendly as a Labrador retriever with a bit of bulldog stubbornness mixed in. Rogers was kind of the opposite: an essentially feline temperament — one of his main puppet alter egos was the exquisitely timid Daniel Striped Tiger — and one of the few introverts to become a mass-media celebrity. He had a stillness, a shyness, a slightly melancholy reserve that anchored the trust of his young viewers. Unlike so many of the other adults we encountered, he wasn't talking at us. He seemed to be listening.
Hanks performs this with faultless technique, but you never lose sight of the performance. Rogers demurs when Lloyd describes him as a "celebrity," but this film, in spite of its skill and sincerity, can't find anything else for him to be. He seems larger than life, an idol if not a saint. All he wanted was to be your neighbour.