9 child actors who have made a mark in recent Bengali films
These actors are part of six films directed by Manas Mukul Pal, Soukarya Ghosal, Srijit Mukherji, Nandita Roy-Shiboprosad Mukherjee, Raj Chakrabarty and Birsa Dasgupta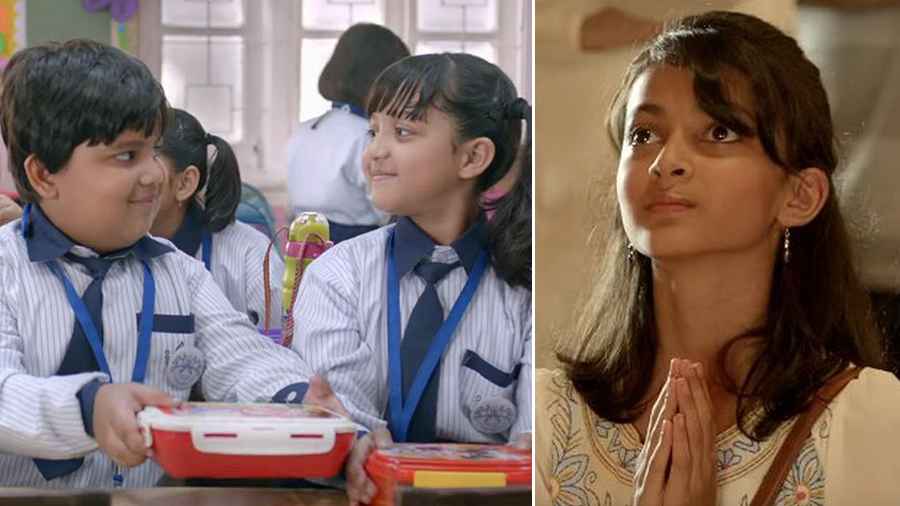 (L-R) Brata Banerjee and Tiyasha Pal in Haami; Sara Sengupta in Uma
SVF, Windows Production
---
Calcutta
|
Published 14.11.22, 01:35 PM
|
---
Three child actors who have left an indelible mark in Bengali cinema are Subir Banerjee, Uma Dasgupta and Kushal Chakraborty. With Subir Banerjee's Apu and Uma Dasgupta's Durga in Pather Panchali, along with Kushal Chakraborty's Mukul in Sonar Kella, Satyajit Ray had set the benchmark for how children's characters can be portrayed in films. On Children's Day, we take a look at nine memorable performances by child actors in recent Bengali films.
Nur Islam and Samiul Alam in Sahaj Paather Gappo (2018)
Based on Bibhutibhushan Bandopadhyay's short story Taal Nabami, Sahaj Paather Gappo, directed by Manas Mukul Pal, explores the carefree lives of brothers Gopal (Samiul Alam) and Chhotu (Nur Islam). They are thrown into a quandary after their father gets involved in a road accident. Chhotu, the younger brother, is a bundle of energy and is ready to take on any adversity. His older brother, Gopal, drops out of school and is sent to work at a local shop. It is the hope of better days that keeps the family going. 
Watch it on: Disney+ Hotstar
Mahabharat Basu in Rainbow Jelly (2018)
Director Soukarya Ghosal's labour of love Rainbow Jelly revolves around Ghoton (Mahabharat Basu), an orphan brought up by his greedy uncle (Koushik Sen). A disabled child, Ghoton is taken off school by his uncle and given the role of a servant at home. But Ghoton loves to draw and runs to the terrace every time he hears an aeroplane flying across. Their lives undergo an upheaval upon the arrival of Poripishi (a fairy aunt, played by Sreelekha Mitra), who teaches Ghoton the secret 'recipe' of winning his uncle's heart. Mahabrata Basu, who has been suffering from septicemia since birth, gave a heartwarming performance as Ghoton. 
Watch it on: Netflix
Sara Sengupta in Uma (2018)
Sara Sengupta played the titular character in this Srijit Mukherji directorial about father-daughter bonding. When Himadri Sen (Jisshu Sengupta), who lives in Switzerland, learns that his daughter, Uma, has only a few months to live, he undertakes the herculean mission of recreating Durga Puja in the month of April, just to fulfil Uma's final wish of witnessing Bengal's grand autumn festival. Despite the presence of veteran actors like Anjan Dutt and Rudranil Ghosh in the ensemble cast, Sara held her own as an ailing child. 
Watch it on: Hoichoi
Brata Banerjee and Tiyasha Pal in Haami (2018)
Brata Banerjee and Tiyasha Pal, who play Bhutu and Chini, are the beating heart of the comedy drama directed by Nandita Roy and Shiboprosad Mukherjee. A peck on the cheek between Bhutu and Chini in the school compound sparks off a whirlwind of controversies among the parents and teachers, leading to an examination of how the worlds of adults and children collide. 
The drama between Gargi Rowchoudhury and Shiboprosad Mukherjee as Bhutu's parents gets the Bengali middle-class way of life spot on. Bhutu and Chini will be back on the big screen this December in the sequel Haami 2.
Watch it on: Disney+ Hotstar, Amazon Prime Video, Hoichoi
Jashaojeet Banerjee and Samiul Alam in Adventures of Jojo (2018)
Adventures of Jojo, helmed by Raj Chakrabarty, is a children's film based on Leela Majumdar's novel Tong Ling. It tells the story of Jojo, a young boy from Kolkata who yearns to explore the wilderness. During a vacation in Baropahari in Arunachal Pradesh, Jojo befriends Shibu, the son of a local mahaut, who shows him around the jungle. When a gang of poachers set their eyes on Chengis, a tiger that lives in that forest, the duo set out on a mission to protect the big cat. While Jashojeet played the titular character, Samiul played Shibu in this Mowgli avatar. 
Watch it on: Hoichoi
Ida Dasgupta in Shob Bhooturey (2017)
Birsa Dasgupta's horror film Shob Bhooturey marked his daughter Ida Dasgupta's screen debut. The film follows Aniket (Abir Chatterjee) and Nandini (Sohini Sarkar) as they investigate supernatural incidents in a village school. Ida plays a spirit seeking revenge. And while she doesn't have any dialogue, Ida manages to spook the audience with her expressive eyes.
Watch it on: Hoichoi