8 Martin Scorsese films to watch on the Hollywood auteur's 80th year
The Oscar-winning filmmaker has directed actors like Robert De Niro, Al Pacino, Leonardo DiCaprio, Matt Damon and Joe Pesci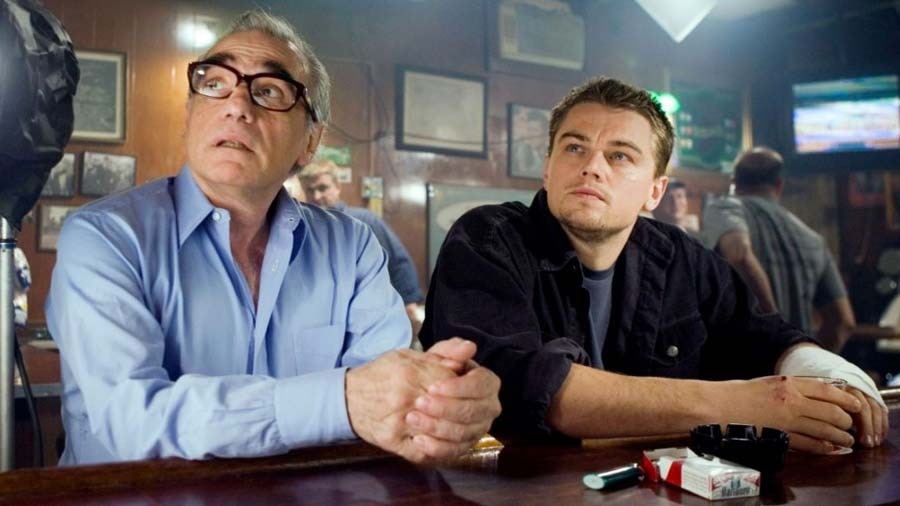 (L-R) Martin Scorsese and Leonardo DiCaprio on the set of The Departed (2006).
Twitter
---
Calcutta
|
Published 30.11.22, 05:42 PM
|
---
Veteran Hollywood director Martin Scorsese's Netflix mob procedural movie The Irishman (2019), starring Robert De Niro, Joe Pesci and Al Pacino, received plaudits for breaking new technology grounds as well as for its portrayal of violence, betrayal and emotional bankruptcy. As Scorsese turned 80 this November, we explore the auteur's world of violence, guilt and redemption by picking eight of our favourite movies directed by him.
Taxi Driver (1976)
The movie follows a late-night taxi driver named Travis Bickle (played by Robert De Niro). Bickle, who is a Vietnam vet, treads uneasy amid the concrete jungle of New York City. His slowly deteriorating mental state forces him to become a gunslinging vigilante. He is obsessed with the thought of saving a child prostitute named Iris (played by Jodie Foster) and finally kills her pimp and client while getting seriously injured. 
The character of Travis Bickle, according to Scorsese, is directly inspired by Narasingh (played by Soumitra Chatterjee), the protagonist of Satyajit Ray's 1962 Bengali film Abhijan. Taxi Driver is considered one of the master filmmaker's finest works. 
Watch it on: Amazon Prime Video Rent
Raging Bull (1980)
Arguably Scorsese's best portrayal of Italian-American family life, this biographical sports drama is adapted to screen from professional middleweight boxer Jake LaMotta's 1970 memoir Raging Bull: My Story. It chronicles how the boxer came to lose his wife and family due to frequent outbursts of rage and jealousy.
Robert De Niro's portrayal of LaMotta's self-destructive and obsessive rage earned him an Oscar in 1981. Raging Bull also features Joe Pesci, Cathy Moriarty, Nicholas Colasanto, Theresa Saldana and Frank Vincent in pivotal roles. 
Watch it on: YouTube Rental 
GoodFellas (1990)
An adaptation of the 1985 nonfiction book Wiseguy: Life in a Mafia Family by Nicholas Pileggi, this 1990 biographical crime film is widely regarded as one of the best films in the gangster genre. GoodFellas chronicles the rise and fall of a mob associate named Henry Hill (played by Ray Liotta), who used to work for the Italian-American crime gang in Brooklyn from 1955 to 1980. 
Young Henry along with his friends Jimmy (Robert De Niro) and Tommy (Joe Pesci) soon graduate from petty criminals to gangsters. They get embroiled in a series of murders and a drug racket. Eventually, Henry is forced to become an FBI informant to save his life. Hard-hitting, stylish and dynamic, GoodFellas is one of the best portrayals of organised crime in films. 
Watch it on: Amazon Prime Video Rent
Kundun (1997)
This 1997 epic biographical film, written by Melissa Mathison, is based on the life and writings of Tenzin Gyatso — the 14th Dalai Lama, the exiled political and spiritual leader of Tibet. Kundun means 'presence' in the Tibetan language and is a title by which the Dalai Lama is addressed by his devotees. 
Kundun chronicles the 14th Dalai Lama's exile to India after the annexation of Tibet by China during the 1959 Tibetan uprising. Kundun is a triumph of cinematography as Roger Deakins created a sense of surreal atmosphere in the film, authentically portraying the customs of Tibetan Buddhism.  
Watch it on: Vimeo Rental
The Departed (2006)
This epic crime thriller finally won Scorsese his long-awaited first best director Oscar. It is both a remake of the 2002 Hong Kong film Infernal Affairs and also loosely based on the real-life notorious Boston Winter Hill Gang. 
Set in Boston, Irish mob leader Frank Costello (played by Jack Nicholson) infiltrates the Massachusetts State Police and instals Colin Sullivan (played by Matt Damon) as a spy. At the same time, the police designate undercover state trooper Billy Costigan (played by Leonardo DiCaprio) to infiltrate Costello's gang. When both parties become aware of the circumstance, Sullivan and Costigan each make an effort to ascertain the other's identity before being exposed.
Watch it on: Netflix
Hugo (2011)
This 3D extravaganza proved that Scorsese doesn't always need guns and violence to captivate audiences. Hugo is based on Brian Selznick's 2007 book The Invention of Hugo Cabret. Set in Paris in the 1930s, it chronicles the story of an orphaned mechanical genius (played by Asa Butterfield), who lives alone in the Gare Montparnasse train station. He soon befriends the goddaughter (played by Chloë Grace Moretz) of a toymaker and gets involved in solving a mystery involving his late father's automaton. The adventure leads him to the pioneering filmmaker Georges Méliès (played by Ben Kingsley). Hugo is a beautiful, innocent fantasy that exudes an unbridled love for the magic of cinema.
Watch it on: YouTube Rental 
The Wolf of Wall Street (2013)
This 2013 biographical black comedy crime film is based on the 2007 memoir of the same name by Jordan Belfort. Leonardo DiCaprio plays Belfort, a former stockbroker, who with his firm got engaged in rampant corruption and fraud on Wall Street. The movie also features Jonah Hill, Margot Robbie, Naomi Lapaglia, Kyle Chandler, Rob Reiner and Matthew McConaughey in important roles.
The Wolf of Wall Street chronicles how Belfort teams up with Donnie Azoff (Jonah Hill) and cheats his way to the top through the fast lane of stockbroking on Wall Street. Fraught with sex, drug and foul language, the movie also depicts Belfort's turbulent family life. 
Watch it on: Amazon Prime Video
Silence (2016)
Based on the 1966 novel of the same name by Shūsaku Endō, two Jesuit missionaries of 17th century, Rodrigues and Garupe (played by Andrew Garfield and Adam Driver, respectively), travel to then-feudal Japan in search of their missing mentor, Ferreira (played by Liam Neeson), who is believed to have been punished for promoting Catholicism by going against the law. This epic historical drama is the culmination of Scorsese's decades-long creative quest to represent his religious faith in cinema. It is an emotionally resonant look at spirituality and human nature. 
Watch it on: Netflix