Fly High
As international travel resumes, students stuck during the lockdown are finally being able to join classes or labs abroad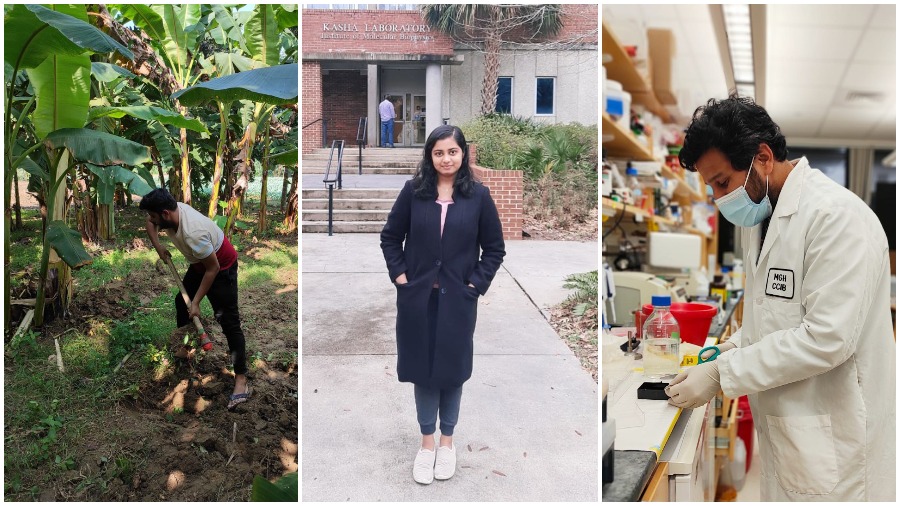 OBSTACLES ACED: (Left to right) Koushik Ghosh in his village; Krittika Roy outside her university in Florida; Ghosh in his lab at the Harvard Medical School, Boston
The Telegraph
---
Published 16.03.21, 04:57 AM
|
---
The Covid-19 pandemic has been the reason numerous students saw their dream of studying or doing research abroad slip through their fingers. Many of them had already got their offer letters when they were stranded — as we entered complete lockdown and international travel stopped. And the secure next step many had spent years working to take suddenly transformed into a perilous time of great uncertainty.
After completing his doctoral research from the Indian Institute of Chemical Biology in Calcutta, Koushik Ghosh was supposed to join his postdoctoral lab in the US in May 2020. That, of course, did not happen. "I finally came to the US after seven months, in November. I started my work in the first week of December after the 15 days of mandatory quarantine got over," says Ghosh. In those months of insecurity, anxiety and frustration had been hanging heavy on many students like him. So what did Ghosh do during that time? He travelled home to a village named Dalimoula, near Krishnagar in Nadia district. "I got to spend such a long time at home after nearly a decade. I helped my father with farming during that time and also tried my hand in the kitchen," says the postdoctoral research fellow at the Massachusetts General Hospital, Harvard Medical School, Boston, US.
All those students with acceptances from universities abroad heaved a sigh of relief when international travel resumed, despite the umpteen precautions required. The use of masks, face shields, hair nets, gloves, sanitisers, the PPE and taking the Covid-19 real-time PCR test 48 hours before travel along with antigen testing at the different airports became an integral part of travel during the new normal.
"I was supposed to join my university in Fall 2020 but I faced multiple cancellations by the airlines. Getting an appointment for a visa in my home city was a herculean task," says Krittika Roy, graduate research assistant in the molecular biophysics graduate programme at Florida State University, US. Roy had been working as a project intern in a biophysics lab at the Bose Institute in Calcutta before the lockdown. She found it mentally exhausting to be stuck at home in the first months of the lockdown, battling the turn of events and her wobbly future. Gradually, many foreign universities started their courses in the online mode, enabling outstation students to join the virtual classes. The coursework for Roy's doctoral programme commenced as well, which kept her busy.
"The frustration level lowered to an extent when I became preoccupied with the online coursework. I really hope that other students aiming to study abroad don't have to go through such unpredictable scenarios in the future," says Roy, who flew to the US in the middle of December last year.
Like Roy, Manjari Rudra couldn't join the Fall 2020 session, but has enrolled for the Spring 2021 session at her university. Amidst the incessant fear whether the offer letters would still stand, the universities have been supportive of and considerate to each of its international students — was the unanimous response from all those affected. Rudra had been working at Tata Consultancy Services in Calcutta for the past two years and worked for an additional six months from home during the time she was stranded.
She says that her university is proactively taking all the necessary measures to ensure the safety of students. "There is free testing for Covid-19 every week along with no-touch sanitiser dispensers on every wall. Classes are being held either online or in the hybrid mode with students joining the in-person class on a rotational basis. They also distribute food and other necessities to those students who aren't being able to make a living or have lost their livelihood due to the pandemic," says Rudra, who is pursuing a master's degree in computer science from Binghamton University, one of the four centres of the State University of New York, US. Apart from the weekly Covid-19 tests, many universities have also taken measures to get their students vaccinated.
"I hope students are inspired to pursue higher education and take up research. Not only does discovering or inventing something give enormous pleasure, it also helps humanity at critical times like this and helps our species survive for a bit longer," says Shayan Mookherjea, a professor of electrical and computer engineering at the University of California in San Diego, US.
The pandemic has taught us to quickly adapt to changes and make utmost use of technology. Online classes, meetings, webinars, workshops and conferences have enabled students and the scientific community to stay connected virtually. However, for many researchers, lab work entails physically working and conducting the experiments. As we are striving to get a grasp over this virus that had cast a sombre shadow, universities worldwide are opening for research work and classes. "I would encourage students to reach out without hesitation to their friends, peers, host faculty and student advisors, and try to get and collectively share as much up-to-date factual information as possible. Guidelines for travel, accommodations, healthcare, daily life and operations of the university are evolving," says Professor Mookherjea, who had a student from the Indian Institute of Sciences at Bangalore recently join his lab as a postdoctoral researcher.
You do not have to give up your dream of travelling abroad for studies or research just because of the novel coronavirus. Just take the cue from these students who took long flights armed with masks and face shields for a safe journey to distant shores. However, it never harmed anyone to have a Plan B.