A design award and a finance lab
SRM Institute of Science and Technology won the Chairman's Award for Technical Innovation on "Inkless Printing Technology"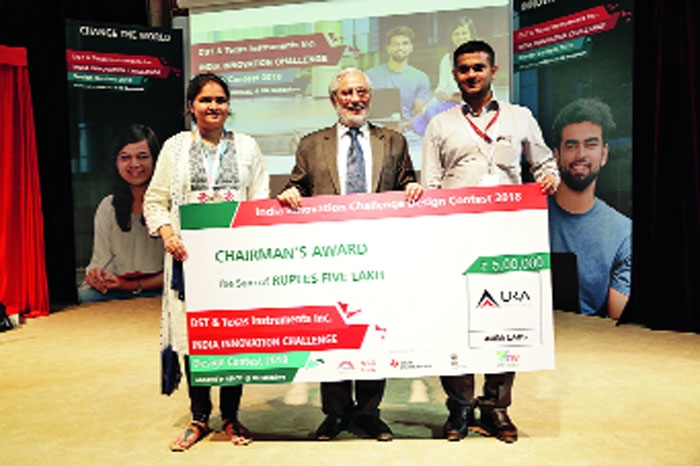 ---
---
SRM Institute of Science and Technology of Tamil Nadu won the Chairman's Award for Technical Innovation on "Inkless Printing Technology" at the India Innovation Challenge Design Contest (IICDC) 2018. IICDC is a national design contest for engineering students. In second position was A.P. Shah Institute of Technology from Maharashtra for their innovation "Solar Energy Harvesting for Wireless Sensor Node" and Sri Manakula Vinayagar Engineering College from Puducherry secured the third spot for their innovation "Mustard Seed Processor Machine". Apart from cash prizes, these three teams, along with the others that made it to the top 10, will get an opportunity to take their start-up ideas from the laboratory to the market, supported by a fund of Rs 4.94 crore from the Department of Science and Technology, incubation at NSRCEL — the innovation and entrepreneurship hub at IIM Bangalore — and technical mentorship from Texas Instruments (TI) India engineers as well as access to TI tools and technology. In the last three years since it started, IICDC has incubated 20 start-ups.
The next edition of the TI India Innovation Challenge Design Contest was also announced. The 2019 contest will be open for registrations from July 23 to August 30, 2019. Students can register their innovative ideas at https://innovate.mygov.in/iicdc2019/.
Market skills
International Management Institute (IMI) in Calcutta has set up a finance lab to equip its students with skill sets that are required to be industry-ready. Currently, the finance lab is equipped with the Bloomberg Professional Service, using which the students will get access to real-time information on varied asset classes — from fixed income to equities, derivatives to mortgages, foreign exchange to commodities. The students will also get the benefit of news, analytics, communications, charts and execution platforms, which will help them learn to implement effective business decisions and make them employable.
"The financial sector is globalised now. The analyses of the firms' behaviours and their historical trends are a powerful ingredient to take firm-specific decisions. I am confident this will groom our students to take on leadership roles in a highly competitive and challenging world", says Professor Arindam Banik, director, IMI, Calcutta.
Hands-on learning will help the students bridge the gap between the academic and practical aspects and enable the management graduates to take independent decisions that are critical to the survival of modern-day organisations.