Call of Kiwi
t2oS camps in four cities of New Zealand to chill and thrill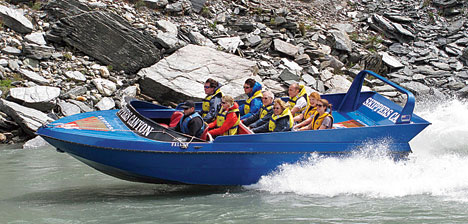 ---
---
10 days. Four cities. Every day 'just another day in paradise'.
That's how one can best sum up New Zealand, a country where you can set your camera just about anywhere and get a gorgeous frame and where you most often want to let go of that camera, just to soak in the beauty.
Landing in Auckland on a cold night after an 11-hour flight from Singapore, I could nap for just three hours before catching another flight. Over the next 10 days,
I crisscrossed the country's North and South Islands — Queenstown to Wellington, Rotorua to Hamilton — and my second visit to Kiwiland less than a year later was no less enchanting.
QUEENSTOWN
SKIPPER'S CANYON JET BOAT RIDE
On a cold, rainy morning — about 4 degrees Celsius and freezing — I found myself in a group preparing for a jet boat ride at Skipper's Canyon. "Fasten your seatbelts" takes an altogether new meaning here because a drive along Skipper's Canyon Road is definitely not for the faint-hearted — it's several kilometres of rough ride through a narrow, dusty road with the canyon opening up on either side, dropping a few hundred metres at least.
"Don't look right if you have vertigo," is the warning we got very early on, and one you do have to take seriously. Skipper's Canyon Road is counted as one of the 10 most dangerous motorable roads in the world and I had my heart in my mouth through the hour-long trip in a sturdy SUV that was careening on the edge on more than one occasion. At one point, I gingerly peeked out of the window to catch a picture-perfect sight — the pristine white Shotover river flowing between the mountains, rendered golden by the rays of the sun.
But nothing can really beat the 30-minute adrenaline-pumping high-speed jet boat ride through the middle of the narrowest canyons you can imagine, combining the thrill of a bungee jump and the chill of a helicopter landing on a glacier. It will freeze you to the bones but a raging bonfire, a mug of hot chocolate and lots of selfie spots at the end of the ride will make it worth it. Just fasten those seatbelts!
TOP OF THE WORLD & DIGGING FOR GOLD
If you are a Middle-earth fan, taking a helicopter ride to the top of Mount Earnslaw is a must to spot The Lord of the Rings locations like Misty Mountains and Dimrill Dale. Even if you aren't a fan, the sight from the top is a once-in-a-lifetime experience.
Guided fishing trips on the Arrow river are also a must-do in Queenstown, provided you have a lot of time in hand. Even if you don't get a catch, you could end up with some gold. Yes, gold panning, or the practice of extracting specks of gold from the bed of the river is still a favourite pastime here. And many do get lucky!
WHAT A VIEW!
Walk anywhere in Queenstown, and chances are this majestic view will follow you at every step — the snow-capped Remarkables against the scenic Lake Wakatipu. This snap was taken from my bed at Hotel St. Moritz, which stands right on the edge of the lake.
SIP, BITE, SHOP
Central Queenstown is a shopper's paradise, with global brands jostling for space with hole-in-the-wall boutiques. We had to walk into this store — not just because of the pretty teapots but also because the store is named T2!
Stop by Fergburger on Shotover Street. It has some of the juiciest and most inventive burgers, with names like Sweet Bambi and Bun Laden. Try Ferg Deluxe — beef, streaky bacon, cheese, the works.
If you're looking for a great dining experience that's value for money, head to Rata. Packed even on weeknights, the brainchild of Josh Emmet — who's worked with Gordon Ramsay — scores on both ambience and flavour. We recommend their Crispy Harmony Pork Belly.
Walking through central Queenstown? Drop by Cookie Bar and try one of their giant shakes — it's a meal in itself!
No free lunches in this world? Well, change that to no free air! We walked into a souvenir store selling a can of Kiwi "mountain air!"
It's called The Remarkable Sweet Shop and it looks straight out of an Enid Blyton story! Gummy bears to nougats, toffees to brownies, this shop on Beach Street is a dessert lover's den. And yes, you can't stop at one.
---
WELLINGTON
THE WATERFRONT
The NZ capital has a waterfront so picturesque you can spend hours walking, jogging or cycling by it, as its
fitness-conscious residents do most of the time. The white yachts anchored in the turquoise blue water and the many installations on the bank make for a beautiful sight. You can get on a kayak or a paddle boat, or hire skates and bikes. And the sun sets at about 8pm here!
IN THE LAP OF NATURE
New Zealand prides itself on its natural resources and pays special attention to preserving them. Zealandia — an oasis of nature right in the middle of bustling Wellington — is a great place to visit on a Sunday morning. In this "protected natural sanctuary", more than 200 hectares of forest have been restored and various species of birds and reptiles thrive in their natural habitat. I was lucky enough to spot the rare Tui bird, twice!
BACK IN TIME
A visit to the Museum of New Zealand Te Papa Tongarewa, the country's national museum and art gallery, will be of special interest to the history buff. There are guided tours on the origins and lifestyle of the indigenous Maori inhabitants, displays of cultural objects and interactive exhibitions. A one-of-a-kind exhibition is Gallipoli by the famed Weta Workshop that brings alive NZ's Gallipoli campaign in World War I.
GOING CLICK-CLICK
Ever stayed at a museum? QT Museum Hotel in Wellington, opposite Te Papa Museum, has all the amenities of a modern five-star hotel but each corner has a story to tell. The hotel houses New Zealand's "largest privately owned art collection", with exhibits and installations dotting every floor. We loved the one called 'Colourful Man'.
MOVIE MAGIC
Watching a film in a theatre will not feel the same once you step into Roxy Cinema in Wellington's Miramar area. Delivering a multiplex experience in a quaint old-world setting, the cinema has a film-themed menu that changes every week and fun movie exhibits — old film posters to a life-sized statue of Gollum from The Lord of the Rings. And yes, there's also an Oscar statuette that occupies pride of place — won by Jamie Selkirk for his editing work on Return of the King.
SIP 'n' BITE
Wellington's restaurants serve some really pretty dishes, like this Chicken Roulade at the upscale Hippopotamus Restaurant and Bar.
What will add more 'fizz' to a day out in Wellington? A swig or two of its famous Karma Cola. Try the Roxy Cherry and Gingerella flavours.
FOR THE FILM BUFF
Save an afternoon for Weta Cave, the special effects studio where some of the world's biggest films — Avatar to Mad Max: Fury Road to Thor: Ragnarok — have been built from scratch. Get in and get sucked into the fantasy world, but leave your cameras outside!
---
ROTORUA
BUBBLING UNDER
Te Puia in Rotorua is a geothermal wonder and home to the Pohutu geyser and the New Zealand Maori Arts & Crafts Institute. With its bubbling mud pools, exploding geysers and silica formations, Te Puia didn't seem any less stunning than the first time I visited it in 2016. This place has kept alive the Maori way of life, with schools on traditional practices like wood carving, weaving, stone and bone carving. The highlight is a daily performance of the Maori war dance, called Haka. The best part would be sampling the Hangi — a traditional meal cooked by lowering the container in a pit oven close to the geysers. The fish, that came out well-cooked in seconds, was delish!
And what's a visit to Kiwiland like without spotting the Kiwi? Thankfully, I did spot one at Te Puia, though kiwis are nocturnal birds and hence not visible easily.
WALKING THROUGH LIGHTS
So simple yet so stunning. The Redwoods TreeWalk — a trek through rows and rows of gigantic trees on a hanging bridge — is an experience to be cherished. Ours was scheduled post-dinner and the Redwood Groves looked beautiful even in the dead of the night, lit up by iridescent lights that give the trees a kind of halo. The best bit? Sign up for the walk at night and enjoy the walk alone. You will feel the pin-drop silence.
ZIPPING AWAY!
Even if you are not fond of adventure sports, ziplining is a must-do activity in Rotorua. I opted out — blame it on vertigo — but it did seem like a lot of fun, especially when I watched my fellow travellers letting out squeals of delight once they managed to zip through — some confidently, most others very nervous — the almost sky-high trees.
---
HAMILTON
PICTURE POSTCARD PRETTY
Most famous for Hobbiton — the set of The Lord of the Rings and Hobbit films — Hamilton is a town that also boasts many other attractions. You can spend a few hours at Hamilton Gardens — make sure you take a peek at the Indian Char Bagh Garden and the Italian Renaissance Garden. Have time to spare? Drive out to the oh-so-pretty hamlet of Piopio, an hour-and-a-half out of Hamilton, and watch the picture books you loved as a kid come alive. Yes, the colours!
BEER IT UP!
One of the most interesting bits of my two-day stay at Hamilton was the morning spent at Good George Brewing, a beer brewery in downtown Hamilton, where customers can not only order from a large variety of beer but also enjoy a guided tour of the brewing process. Located in a building that used to function as a church in the 1960s, this is one
#lit hangout with an easy vibe — from the crazy cool graffiti on the beer tanks (above) to the storage area that doubles as a dance floor! Also make sure to order some of their to-die-for desserts (below) — the Smores Brownie and Layered Mousse are divine. And yes, we spotted something that reminded us of Calcutta winter — these colourful hot-water bottles being sold at the brewery!
Priyanka Roy
Pictures: Priyanka Roy & Tourism New Zealand