A look at the 3-day Kashmir Autumn Festival
Reveals a Kashmir that's trying to woo the tourist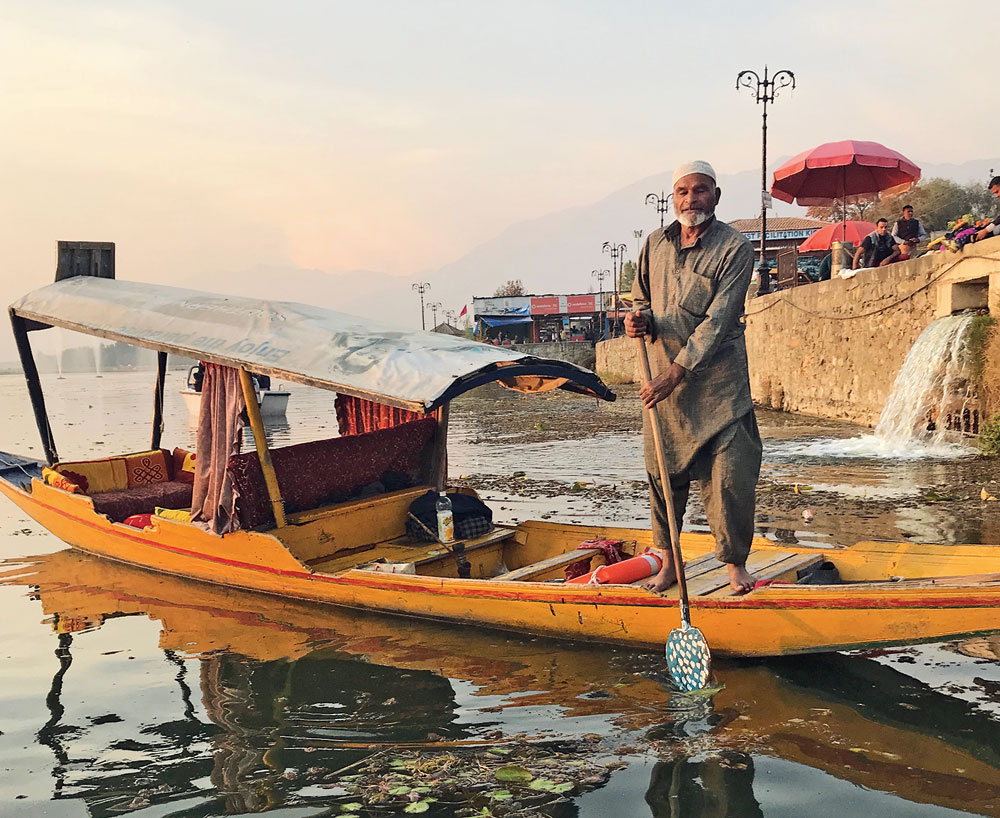 A shikara on the Dal Lake
(Chandreyee Ghose)
---
Published 18.11.18, 12:36 PM
|
---
Day 2: Pahalgam
We had to leave for Pahalgam early. It involved crossing some "sensitive" areas in Anantnag district. Pahalgam, the most popular tourist destination in the valley and accounting for 70 per cent of Kashmir's tourist flow, is still better off as far as footfall is concerned.
"This year we have recorded seven lakh tourists," said Mustaq Simnani, the chief executive officer of Pahalgam that has around 5,500 households. The footfall used to be around 11 lakh till 2011. It dipped to a little over one lakh in 2012 but Pahalgam has managed to recover, thanks to the Amarnath yatris. The local homes are also opening up for tourists. "One can soak in the local flavour at homestays. Their prices range from Rs 1,500 to
Rs 2,200," he said. Srinagar too is offering homestays.
Pahalgam is also employing environment-friendly measures to dispose off its waste. "Our wildlife has also increased," added Simnani.
Guests spent a chilly morning at the Pahalgam Club and then at its golf course, chatting over cups of tea, local bakery and a sumptuous lunch of gushtaba, rogan josh, lotus stem curry, chicken and fish.
Post-lunch, we headed for Aru Valley, a destination for trekkers. Time comes to a standstill in this remote corner of Kashmir. As a few small traders and vendors try to woo tourists amid the quiet and serenity here, it takes a minute to gauge their real frustration — depleting income and lack of opportunities. 
Day 3: Gulmarg

One of the most beautiful destinations in Kashmir was saved for the last. Gulmarg with its colder climes, golf course, opportunities for skiing, long walks and treks has been welcoming tourists since the colonial times.
At Gulmarg Golf Club, nestling at an altitude of 2,650m and now under the tourist department, guests were served kebabs, Kashmiri breads, harissa (a type of haleem) and different types of fries and sauces under the skies. Lunch was a traditional affair with free-flowing sips of Kahwah.
According to Abdul Malik, a local manager of JKTDC, Gulmarg is largely peaceful. Tourists can directly come to Gulmarg from the airport skirting Srinagar. The hilly town offers a range of hotels that now barely get filled. "Only 10 per cent of our rooms are occupied lately," said Malik.
The three-day trip ended with music, dinner and bonhomie at a star hotel in Gulmarg.
Farooq Batt has been a skiing guide in Gulmarg for over two decades. He comes from the nearby Tangmarg town to supply shoes, jackets and skiing gears on hire to tourists during the winter months. He also helps them ski near the gondola (state-run cable car service) in Gulmarg. Previously he would earn around Rs 1,000 a day for his seasonal profession. Now he earns around Rs 400 a day, most of which goes towards buying an official permit. His mates who have already stationed themselves in Gulmarg for the winter tourists are also facing a dwindling income.
It is to boost the business of people like them and others connected with the tourism and hospitality industry that the department of tourism of Jammu and Kashmir organised a familiarisation tour from October 25 to 27 for tour operators, writers, bloggers, Instagrammers, artistes, entrepreneurs and government officials from across the country. The aim was to change perceptions about the valley and bring back tourists that have dipped to almost one-fourth of its original number in the last five years.
During the three-day Kashmir Autumn Festival, the 100-odd guests got a taste of Srinagar, Pahalgam and Gulmarg in myriad shades and moods along with an array of Kashmiri fare — a mix of folk and popular music and the best of hospitality.
Select tour operators, hotel owners, institutions and artistes joined hands with the J&K authorities to offer delegates a cultural treat. Morning sightseeing was followed by traditional meals and cultural programme every evening.
Local residents, tour guides, hoteliers and craftsmen are forthcoming with tourist-friendly advice and some even invite you home for namkeen chai and kulcha (a traditional bakery) or, if one is lucky, a full-fledged Kashmiri platter.
The valley has recently seen a growing number of foreign travellers, though travel insurance is not covered in case of some nationals. "Rajasthan and Varanasi are scoring over Kashmir chiefly because of the insurance factor," said Bashir Karnai, a tour operator and a hotel and houseboat owner.
October is the preferred month for Bengali tourists as it allows them to enjoy the chill without it getting unbearable. Nature is also at its colourful best around this time. Tourists from western India prefer March to June.
Day 1: Srinagar
The inauguration ceremony was held at the J&K Tourism's sprawling Sher-i-Kashmir International Conference Centre (SKICC) overlooking the Dal Lake. The lake was surprisingly empty even though the weather was good. There were sporadic bandhs on all the three days of the familiarisation tour, though that did not interfere with the schedule.
"Kashmir is not unsafe for tourists. We need to change perceptions," said Rigzin Samphel, the secretary of tourism in J&K. "There has been a 40 per cent rise in international tourists, mostly from Southeast Asia," added Samphel. Previously Bengal accounted for more than 20 per cent of the tourist traffic. The number has dropped to half this festival season.
A postal cover on the high points of autumn was inaugurated, following which the guests were taken on a tour of heritage sites like Pari Mahal, Chashme Shahi and Nishat Bagh, ending with a cruise on the Dal Lake.