98ft statue of Buddhist deity in Sikkim
The Chenrezig Singkham Riwo Potala is spread over 8.5 acres, with the Chenrezig statue perched on a hillock at an altitude of 9,200 feet, 1.5km from Pelling town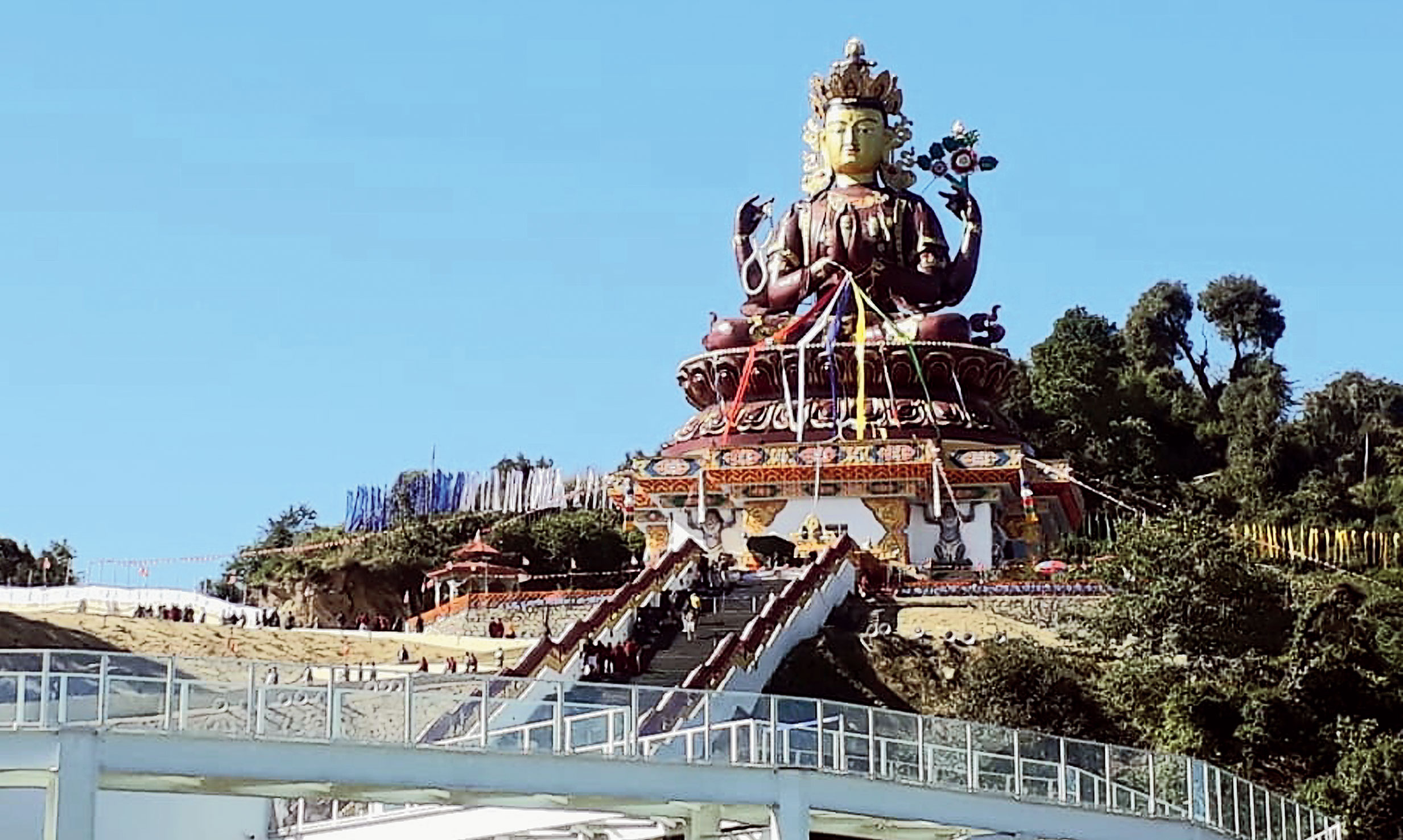 The statue of Chenrezig at Pelling in West Sikkim on Thursday
Telegraph picture
---
Pelling(WestSikkim)
|
Published 01.11.18, 07:36 PM
|
---
The picturesque little town of Pelling in West Sikkim has another tourist attraction now — a 98ft statue of Chenrezig, one of the three Buddhist deities.
The compound, named Chenrezig Singkham Riwo Potala, was inaugurated on Thursday. The snow-capped Kanchenjungha can be seen from the complex.
The total height of the statue from the base of the pedestal on which it is mounted is 135ft. There is a fleet of 100 stairs leading to the foot of the statue.
The complex has been beautified with flower trees, a waterbody and landscaping.
Chenrezig is one of the three Buddhist deities, the other two being Lord Buddha and Guru Padmasambhava. Sikkim already has statues of Lord Buddha, at Rabongla, and Guru Padmasambhava, at Namchi. Both places are in South Sikkim.
The Chenrezig Singkham Riwo Potala is spread over 8.5 acres, with the Chenrezig statue perched on a hillock at an altitude of 9,200 feet, 1.5km from Pelling town.
Gary Chopel, the lead architect of the building and housing department and chief executive officer of the project, said it took nine years to complete build complex.
"The cost of the project is about Rs 70 crore. In the first phase we have completed 80 per cent of the work. The remaining 20 per cent will be taken up in the second phase," he said.
Chopel has conceptualised and executed the project, which is the brainchild of Sikkim chief minister Pawan Chamling. "We hired expert artisans from Nepal, Bhutan and Arunachal Pradesh to do the intricate art works on the statue and the complex," Chopel said.
In the second phase, a multi-purpose prayer and community service hall, an open-air theatre, a VIP pavilion and a car park will be constructed.
"In principle I today approve the second phase of the project. We will allocate funds in the next budget session of the Assembly," Chamling said after the inauguration.
Chamling said it had been the dream of the Sikkim Democratic Party to turn the state into "dev bhoomi" (holy land) since the outfit's inception in 1993. "Today marks the realisation of that vision. It took us time, but we finally have been able to realise our dream. Sikkim today has become a part of the Buddhist pilgrimage circuit," the chief minister said.
Chamling also laid the foundation of a ropeway service between Pelling and the Sangacholing monastery near the Chenrezig statue. The 1.75km ropeway will be constructed at an estimated cost of Rs 1.08 crore and it will be completed in two years.
"The design and concept, including the supply of electro-mechanical equipment, cabins, cables and towers, will be done by the French company Poma, which is the foreign partner in the project," said Lakpa Sherpa, additional chief engineer of the state tourism and civil aviation department.
There are also plans to construct a ropeway between Pelling and Bhanu Sthal in Geyzing.