Priyanka Sarkar rocks monsoon make-up mood board
With the rainy season in full swing, The Telegraph takes blue, green 'water' shades to create an exclusive make-up photo shoot with the actress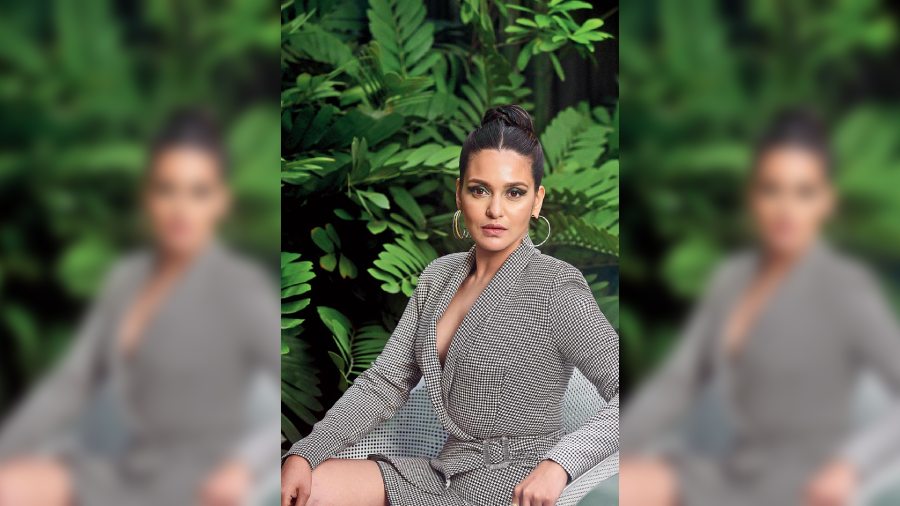 To complement the semi-formal outfit from Zara, a shimmery green shade on the eyes with black highlight creates a subtle-smoky winged look. Nude lips with a hint of lip gloss and wet-textured top bun complete the confident and smart look. "For the formal look, we don't want the green to be very visible. So, we used a hint of black to tone down the effect of the green and create a sexy smoky look with minimal make-up," added Prasenjit Biswas, our make-up pro for the day.
---
Published 16.07.22, 01:40 AM
|
---
After Pantone revealed its colour of the year 2022 as Very Peri — a bluish-violet shade — various shades of blue have been trending since the beginning of the year. Green has been ruling the runways and topping the colour trend ladder since 2021. With monsoon on in full swing, The Telegraph took these two 'water' shades to create an exclusive make-up mood board with actress Priyanka Sarkar as our muse:
What things do you associate with the colours blue and green?
Blue makes me feel very soothing and calm. Green, I always associate with nature. I love greenery anyway.
What is that one thing you usually do to keep your blues at bay?
I spend time with my family. Try to keep myself positively engaged with activities. Sometimes I take a break too. It always helps to come up with positive solutions to a problem. Green is the colour of hope. What is the most hopeful thing to have happened to you in this year so far?
I was completely bedridden for the first three months of the year after my accident. The way my friends supported me, there can be nothing more hopeful than that. The fear associated with trying to walk again was huge. I couldn't do it on the first day, but my physiotherapist and friends were there to push me.
We know you have a green thumb. What do you like best about gardening? Is there a favourite plant you love to grow?
As a hobby it helps me a lot. It is an activity that helps me to stay positive. In the urban lifestyle, we almost can't see any greenery. It makes me feel good to see the plants grow after I nourish them and give my time and effort to them. It is very fulfilling to see that.
I have many plants. I like growing fruit plants that will live for one-two years. I have a mango tree, lemon tree and a curry leaf tree. I like plants that I can use for cooking at home. I plan to do a house collection. One thing monsoon reminds you of?
I am not a huge fan of the season. I like watching the rain, sitting by my window with a cup of coffee and a book. I don't like it if I have to step out and go somewhere in a hurry.
Which food do you associate with monsoon?
Fried fritters, snacks, tea and khichri. Khichri on rainy days is something we have been having since childhood.
A monsoon must in your bag:
Wet tissue for the mud stains on the clothes from the puddles! Your favourite monsoon make-up trick:
Keeping it minimal. Using smudge-proof and waterproof products
What are you looking forward to most this monsoon?
Work-wise it is lazy. Our shoot schedule gets postponed. But this is the season when my plants grow. I am looking forward to that.
Pro Speak "Blue and green are colours that people usually do not feel confident about. But they can easily try the looks. Knowing which colour to pair with what is the trick. For the daytime, a simple look can always be created with blue and green eyeliner without covering up the entire upper lid of the eyes. For the night look, the colours can be used with a hint of black to play around with the green and blue effect," said Prasenjit Biswas, make-up pro. "Ease and power dressing has been merged for the looks. The white casual outfit look is perfect for an indoor party. I glammed it up with golden-colour jewellery. For the night-out look in the black outfit, we kept the jewellery minimal as make-up was the highlight. For the bold look in blue and red, we used a blue satin pantsuit that is trendy and for the formal look it was kept minimal with dual metal hoop earrings," said Neel Saha, stylist.
Pictures: Pabitra Das
Jewellery: Sasya and Adro's
Location courtesy: The Park