Models Candice Pinto and Anita Kumar in fun and candid moments at Playfest
The gorgeous duo took some time out to pose in stunning party looks and talk all things party with The Telegraph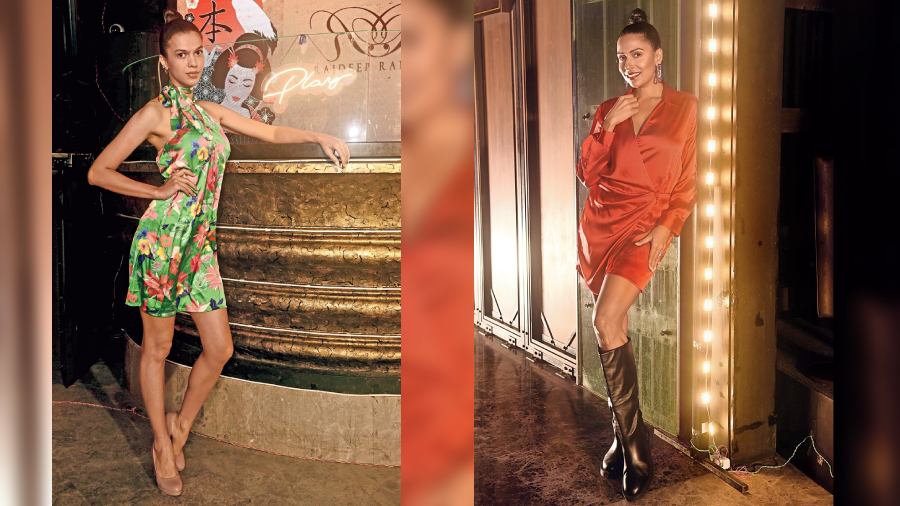 We had to ask Candice about the secret of her age-defying looks. "I have learned this from Adriana Lima (Brazilian model)... I thank my parents for this amazing DNA," she smiled. Anita felt it was more her "golden heart". "She is more beautiful on the inside. I have come across so many senior models and her golden heart is sustaining her," she said. Candice too shared the story of her bond with Anita. "I have walked with her a lot and this year especially I have learnt a lot from Anita. I haven't really spoken with her before as much as I have this year. I didn't know she was so mature. She never speaks otherwise and is in her cocoon… now I regret not speaking with her before the pandemic. I think it was all meant to be," she smiled. #goldencamaraderie.
Pictures: Pabitra Das
---
Published 05.08.22, 01:04 AM
|
---
The ageless Candice Pinto and the stunning Anita Kumar were in town to walk at Playfest in association with The Telegraph, held at JW Marriott Kolkata on July 21. On the sidelines, the beautiful girls took some time out to pose in gorgeous party looks and talk all things party, only with The Telegraph.
Let's start with your looks...
Candice: I am actually wearing a red dress by ZARA and they have come up with an amazing spring-summer collection. I have so many accessories... don't ask me where it is from! It's from all over the place. This is the fastest thing that I could pick up from my wardrobe because it was already ironed. Bright colours are always in.
Anita: I am wearing florals. It's from KAZO. I love florals in general and tropical vibes. Otherwise I am a simple person, black and white, jeans and T-shirt. This is me trying to dress up (laughs).
Candice: I think we overdo it on ramp. As models, we are wearing such amazing clothes that sometimes you just want to unwind and wear your normal easywear.
Do you both like partying?
Anita: Occasionally, yes. Otherwise I am homely. After-parties are a choice. Also, it's the company that matters. If I have good company around, I really go with the flow. Of course, we want to unwind because we've had a hectic day. So, we chill with our people, whoever's been a team.
Candice: Since we live and breathe amongst each other and travel so much, the same group of girls, the term after-party is not the right term for us. It's more like unwinding after a tedious and hectic show. And since the shows end at late hours at night, it's mostly unwinding. And if it's a group of great friends, then we sit in a room and unwind. It's not always drinking. It's always talking and we never stop talking. We have made this routine over the years… after every show to unwind and if we have early morning flights, we just head back to the room and try to sleep.
Who is your gang?
Candice: My husband (Drew Neal) is the best person to party with but otherwise I have Deepti Gujral who is very much from the city, then Anchal Kumar, Hemangi (Parte)... then I am travelling with Anita... we've been travelling together of late a lot and stuck to the hip.... After-party is instant and depends on how we feel and how tired we are.
Anita: Candice and I have been together of late. Deepti otherwise, Reha (Sukheja), Iris (Maity) on a regular basis. I also have my other gang of people... school and college friends... people I have met through work, not really related to the fashion industry.
Tell us about some of your crazy party memories...
Candice: I have so many... I have memories in Calcutta and Hyderabad. This was a club opening in Hyderabad and we were on a fashion tour with an amazing group of girls who all needed an after-party. All of us were in our stilettos and we inaugurated the club and the party got heated in terms of music. All the models landed up on the brand new sofa and we punched holes with our stilettos. The club was called Touch and we left our mark....
Anita: You left your touch!
Candice: It was an expensive sofa. So, I don't know how it touched them deeply... but I have flashbacks... the next morning we felt really bad about it.
Anita: Honestly, I don't recollect any. I am a controlled person, handling everyone else.
Candice: Back in the days, partying was a little different than what it is right now. I think we used to enjoy a lot of after-parties and would then directly catch a flight post the parties. Those days are gone.
Among the fashion designers, who throws the most legendary parties?
Candice and Anita (in unison): Manish (Malhotra).
Candice: He is a great host and a friend of ours over the years and we have this bond. We have a good time. He is who he is. Pretty transparent, which is why we enjoy his company a lot.
Anita: He takes care of everyone. From 'Have you eaten?' to... that kind of care is rare.
Candice: I have other designer friends who we have get-togethers with, but it is not a massive party... controlled crowd. We have Christmas get-togethers. Occasionally I meet designer friends here and there because I have had a relationship with them for a very long time... we are more friends now. It depends on who is throwing the party. With the Covid situation… it's been two years, suddenly everyone's unleashed....
Any party which had you in awe?
Candice: I go to any place and it's a party.
Anita: We create a vibe...
Candice: And, have a good time.
Anita: There are no expectations. We just enjoy the moment.
Candice: I have been to many fancy parties and travelled a lot abroad. It all depends on who is organising the fashion show. I have been to America where we've had great parties in New York, Africa...
Anita: Singapore.
Candice: We've done shows for Manish, Neeta Lulla and Abu (Jani)-Sandeep (Khosla).
The best place to party would be?
Candice: It is very difficult to select one place. My favourite places would be New York, Dubai and Singapore.
Anita: Europe. I like their vibe and atmosphere.
Candice: My party destination would be Ibiza. That's on my list to go again. Hopefully next year. 
What's always in your purse?
Candice: I don't carry a party purse. My purse is really massive. Perfume, lipstick, Studio Fix to touch up, cash and cards.
Anita: House keys and mascara. Pair of earrings too. Even if I am dressed simply, I can put on my earrings and I can manage. Perfume, car keys, cards, money. Lipstick is optional.
Any party hacks?
Candice: I just go to have a good time and make sure I come back in one piece. There is always Alka-Seltzer when I get back home.
What are your top tips for all the youngsters who think modelling it all about letting your hair down?
Candice: It's okay to let your hair down sometime. The times have changed. The generation has changed. Our whole generation of models was different when I started. Even fashion has changed in the last two decades. So, I have seen the transition from then till now. Nowadays people don't want to listen. Back then, I learnt from a great group of girls. People have now started off really early. When I started I was still staying with my parents. Now people have the liberty to go stay by themselves as well. Now they want to learn faster, grow up faster. They want to get there really fast. They don't want to go through the whole process. It's an individual's choice how people want to see the flip side to it, but I'd prefer going through the whole process to experience. It's the choices you make that take you to the next place. It's an individual's choice.
Anita: I will think because I'll have to come back home. Anything that makes my parents and those close to me uncomfortable, I will think. I won't do it.... Probably if I was living on my own or had a different kind of upbringing, I would be more free, yes. I don't know if that would have worked better. I think I have landed up pretty decent.
Candice: It worked better because even I was with my parents. So, it kind of balanced everything that I was doing. When I travelled out of the city, it was a different ball game, but at the back of the head, it was still like, you are going back home. It kind of builds your conscience to think clearly.