Message of Hope Through Plantation Drive
A New Year a new way of living, that's how Senco Gold & Diamonds came up with a nation-wide plantation-drive to start the year with hope and happiness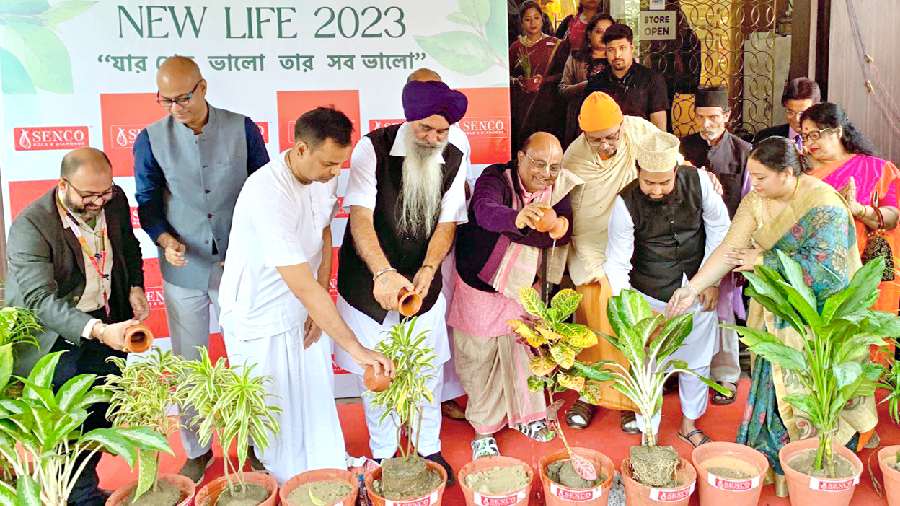 ---
Published 21.01.23, 06:15 PM
|
---
Senco Gold & Diamonds, the largest organised jewellery retailer in eastern India, organised a nationwide plantation drive to welcome the New Year with renewed hope and gratitude. Over 1,000 saplings were planted by Senco teams across all stores in different regions of the country, including 300 saplings across its stores in Calcutta. Senco Gold & Diamonds also took this opportunity to spread the message of love, hope, and respect by inviting harbingers of peace and prosperity. Messengers of peace from all Faiths — Radharaman Das of ISKCON, Md. Tanvir Asraf of Amherst Street Mosque, Swami Vedati-tananda of Ramkrishna Mission Silpamandira Belur Math, SreerajMohanty of St. James Church, D Anand Peacock of Circular RoadBaptist Chapel Church and Avtar Singh of Gurudwara Sahib (Bha-wanipore) were present at the Senco Gold & Diamonds' store in Moulali. Senco Gold & Diamonds MD & CEO Suvankar Sen and Director Joita Sen also graced the occasion. "2022 has been a year of blessings for us. With a lot of learning, enriching experiences, support and trust of our customers we are now a family of 137-plus stores, reaching and connecting with diverse cultures and people of India. We want to welcome 2023 with hearts filled with gratitude and with hope and celebration for the New Year. On this occasion, we are planting saplings symbolising compassion, empowerment, sustainability and love that we would continue to nurture in society. We pledge to build a community filled with trust, mutual respect and transparency," said JoitaSen, speaking on the occasion. One of the largest gold and diamond retail chains in the country, MalabarGold and Diamonds launched its second showroom in the city at CIT Road, Kankurgachi. It was inaugurated by Tollywood actress Subhashree Ganguly in the presence of its north India regional head Jishad NK, store head Thahsil Ahammed and others. Spread over more than 3,100sq ft, the new showroom has on display an extensive range of exquisite designs that cater to both traditional and contemporary tastes. It includes a wide array of intricately designed jewellery crafted in gold, diamonds and platinum apart from an awe-inspiring range of bridal jewellery collections embellished with traditional and contemporary designs. Also on display are exclusive designer jewellery sub-brands from the Malabar Gold and Diamonds stable such as Mine diamond jewellery, Era uncut diamond Jewellery, Precia gemstone jewellery and Ethnix handcrafted jewellery, Divine Indian heritage jewellery, Viraaz royal Polki jewellery, Zoul lightweight jewellery collections, andStarlet kids' jewellery. Commenting on the launch, MP Ahammed, chairman of Malabar Gold& Diamonds, said, "We are delighted to open our second showroom in Calcutta. We welcome all jewellery connoisseurs to experience our top-notch and exclusive jewellery shopping experience at our new showroom. Our commitment to quality and transparency along with a customer-focused retail approach has made us the most preferred jeweller in the country. We will continue with our expansion plan to emerge as the world's most preferred jeweller in terms of showroom count and turnover." LUXE RUGS
City-based pan-India organisation Arav Exports Pvt Ltd is a leading retailer of Galicha, Justmats and Makemyrug brands of rugs, mats and carpets. Dealing in high-quality floorcoverings for home and office purposes, it now sells its products in almost 40 cities across India. Partners Mudit and Vikram Choraria have set their sights on bringing the best international quality rugs and mats to Indian consumers. They also plan to manufacture custom-made carpets for their clients. Arav Exports caters to the tastes of modern customers who make smart, sophisticated lifestyle choices. The company's latest range of designs from its Aolora, Felix, Venita and Signature collections are based on modern abstract art, which is a reflection of global trends. The company's flagship store in the city as well as its online portal offers Arav's customers the opportunity to explore endless possibilities in fabulous floor coverings. "Our consumer base comprises households in the high-income bracket and top-notch corporate clients. Therefore, our products are of world-class quality and our collections are designed to suit the tastes of our niche customer base. At present, we are looking to maximise our franchise base all over India so that we can reach our collections to more and more people," said Mudit Choraria.